Tesla Motors, Inc. Announces Huge Equity Offering to Fund Growth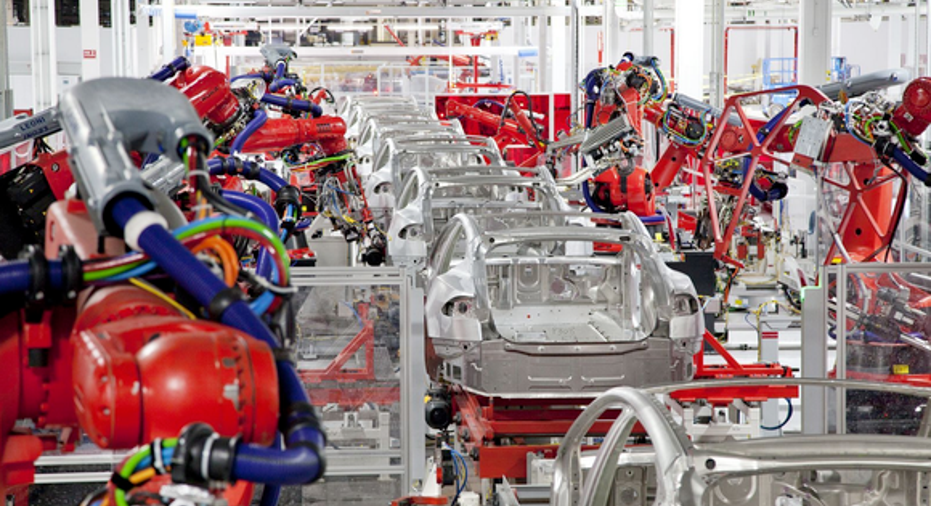 Electric-car maker Tesla Motors has announced it's selling stock to raise capital to accelerate the production of the Model 3, according to a Tesla U.S. Securities and Exchange Commission filing on Wednesday. Further, Tesla said its CEO, Elon Musk, is selling common stock to cover taxes incurred with an option he is exercising to purchase 5.5 million shares. Here's what investors need to know.
Model 3. Image source: Tesla Motors.
Funding growth plans
In total, Tesla is offering 6.8 million shares (or up to about 8.2 million shares if underwriters exercise their option to purchase additional shares) specifically for the purpose of raising cash for growth plans. From the sell of these shares, Tesla expects to raise about $1.4 billion to $1.7 billion after deducting underwriter discounts, commissions, and Tesla's estimated expenses associated with the offering.
The overall purpose of the offering is "to accelerate the production ramp of Model 3," according to Tesla.
The decision to raise capital follows Tesla's recent announcement it was doubling down on its growth plans. Before Tesla unveiled the Model 3 on March 31, it was planning to ramp up production on a path to achieve an annualized production rate of 500,000 by 2020, up from an estimated 80,000 to 90,000 vehicles this year. But higher-than-expected demand for Model 3, as demonstrated by deposit-backed reservations for the vehicle, gave management the confidence to accelerate this 500,000-build plan to 2018.
Tesla factory in Fremont, Calif. Image source: Tesla Motors.
Tesla said in the filing the company had 373,000 reservations for the vehicle as of May 15:
"We have obtained this level of reservations without any advertising or paid endorsements, with only a few social media posts leading up to the March 31st unveiling, without anybody but those who were in attendance on March 31st having had an opportunity to test drive the car, without yet publicly disclosing numerous features about the car, and with almost no attempt to drive customers to make Model 3 reservations since the week following the March 31st unveiling. If we wanted to, we believe that we could further increase the number of Model 3 reservations with minimal effort, but believe it is better to guide customers to purchase products currently in production."
The company said in its filing on Wednesday that it was "on track to achieve volume production and deliveries of Model 3 in late 2017."
Elon Musk will own even more Tesla stock
Tesla also said Musk will be exercising all outstanding fully vested stock options to purchase about 5.5 million shares, which are set to expire later this year. He will also offer about 2.8 million shares as common stock, though his proceeds will be used entirely "to satisfy taxes that he will incur in connection with the option exercise," and none will go to Tesla.
Musk is also donating 1.2 million shares to charity.
In total, Musk's ownership of Tesla stock will increase slightly.
If Tesla can truly ramp up production as aggressively as it plans to with the help of this equity raise, shareholder dilution today may pay off in the future. But there are significant risks associated with Tesla's faster production plans, including a slower path to profitability, higher capital spending, and potential unexpected production woes.
The article Tesla Motors, Inc. Announces Huge Equity Offering to Fund Growth originally appeared on Fool.com.
Daniel Sparks owns shares of Tesla Motors. The Motley Fool owns shares of and recommends Tesla Motors. Try any of our Foolish newsletter services free for 30 days. We Fools may not all hold the same opinions, but we all believe that considering a diverse range of insights makes us better investors. The Motley Fool has a disclosure policy.
Copyright 1995 - 2016 The Motley Fool, LLC. All rights reserved. The Motley Fool has a disclosure policy.