Tesla: Increasing Capacity at Supercharger Locations Now a "Top Priority"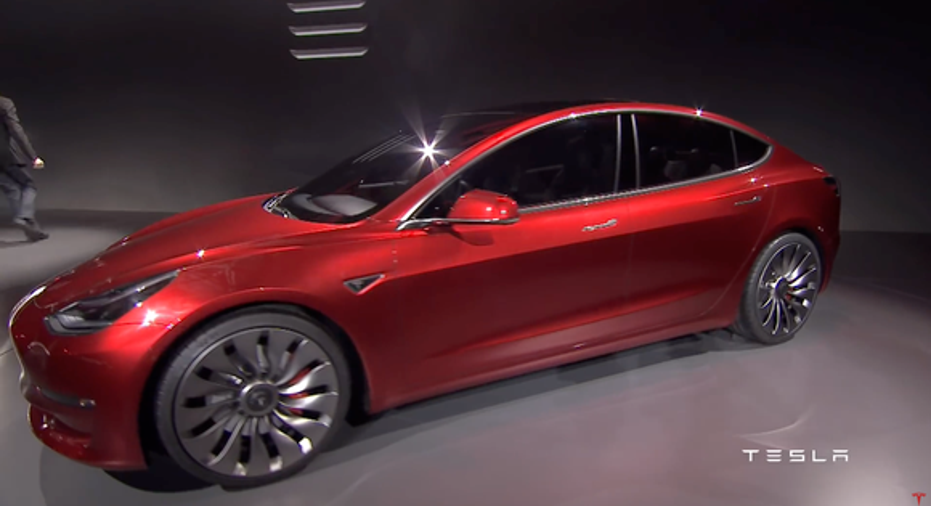 Ahead of its plans to bring to market a lower-cost, higher-volume electric car before the end of the year, Tesla Motors (NASDAQ: TSLA) has been aggressively revamping its Supercharger network in anticipation of higher demand for the charging locations. Now the company's latest move for its Superchargers is to add more charging stalls to existing locations.
Tesla Supercharger. Image source: The Motley Fool.
Increasing capacity at Supercharger locations
When someone asked Tesla CEO Elon Musk on Twitter Tuesday whether he had any plans to increase the number of charging stalls at Supercharger locations, Musk tweeted back saying, "Increasing capacity at existing Supercharger locations now has top priority. Some are overflowing while a nearby one is empty."
This top priority item adds to Tesla's growing efforts recently to reduce congestion at Supercharger locations, particularly in California, where there is a much higher density of Tesla ownership compared to other areas of the U.S. In November, Tesla announced that owners after Jan. 1 (the deadline was later extended by two weeks) would only get about 400 kilowatt-hours (roughly 1,000 miles) of free charging for long-distance travel per year. Beyond 1,000 miles, Tesla owners would be billed a small fee for incremental charging. In December, it introduced an idling fee for vehicles plugged in at a Supercharger location but no longer charging.
Tesla's active U.S. Supercharger locations. Image source: Tesla Motors.
Of course, Tesla's efforts to expand its Supercharger network aren't new. When Tesla first announced Model 3, the company said it planned to double Supercharger stations around the world by 2017, increasing them from 3,600 when the Model 3 was unveiled to 7,200. Today, Tesla already has 5,045 Superchargers at 790 different locations. But with adding Supercharging stalls currently a "top priority" for Tesla, it's likely the company's rollout of additional stalls at congested Supercharging locations will take place at a more aggressive rate in the coming months.
Necessary for Model 3
As Tesla's planned launch target for Model 3 in the second half of 2017 approaches, it's increasingly important for Tesla to improve the Supercharging experience.
Tesla expects the higher-volume Model 3 to significantly increase the size of its fleet. After garnering 373,000 deposit-backed reservations in just a month and a half after the Model 3's unveiling last March, the company set an aggressive target of expanding annual production from around 50,000 vehicles in 2015 to 500,000 vehicles in 2018, driven primarily by Model 3, of course.
Tesla Model 3. Image source: Tesla Motors.
Currently, Tesla is only producing about 100,000 vehicles per year. So, if it really can achieve an annualized rate of production of 500,000 units as early as 2018, the number of Tesla vehicles requiring a Supercharger while traveling long distance is about to increase significantly.
Tesla has said the Model 3 will come standard with the hardware for Supercharging capability, but the company hasn't specified whether the vehicle will also include about 1,000 miles of free charging per year. Either way, Model 3 owners will need to charge when traveling long distance -- free or not.
As Tesla's planned Model 3 launch approaches, expect the company to continue expanding and updating its Supercharger program.
10 stocks we like better than Tesla Motors When investing geniuses David and Tom Gardner have a stock tip, it can pay to listen. After all, the newsletter they have run for over a decade, Motley Fool Stock Advisor, has tripled the market.*
David and Tom just revealed what they believe are the 10 best stocks for investors to buy right now... and Tesla Motors wasn't one of them! That's right -- they think these 10 stocks are even better buys.
Click here to learn about these picks!
*Stock Advisor returns as of January 4, 2017
Daniel Sparks owns shares of Tesla Motors. The Motley Fool owns shares of and recommends Tesla Motors and Twitter. The Motley Fool has a disclosure policy.