Tesla, Inc.'s Solar Tiles: What You Need to Know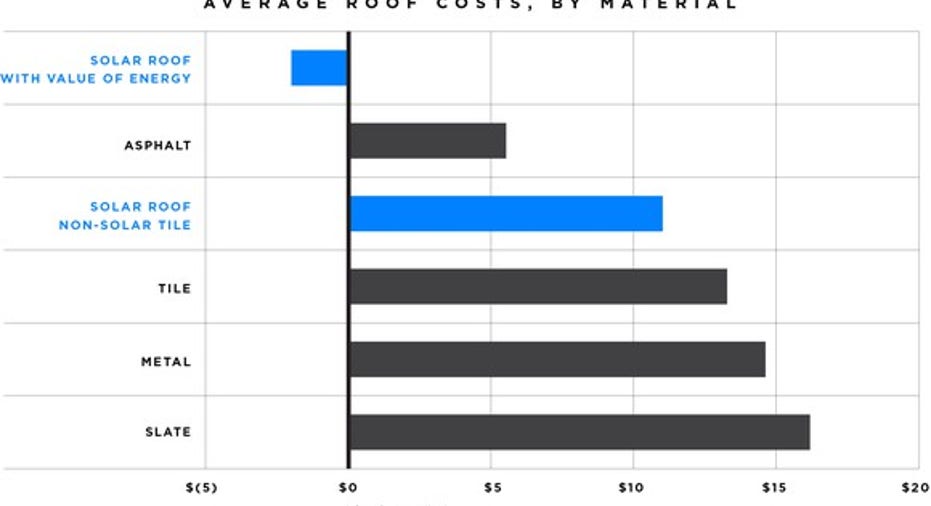 Tesla (NASDAQ: TSLA) is starting to put its recent SolarCity acquisition to work. On Wednesday, the company said it is now starting to take orders for its October-unveiled solar roof tiles. In addition, Tesla shared new information on the tiles, including pricing and a calculator for prospective customers to calculate the cost of the roof, its installation, and the removal of their old roof.
Here's what investors need to know.
Tesla Smooth Glass solar tiles, a Model S, and two Powerwalls. Image source: Tesla.
Tesla solar tile pricing
Shortly after Tesla announced its solar tiles last year, Consumer Reports did a bit of math to figure out how they would have to be priced in order to be competitive with conventional roofs. On Wednesday, Tesla said it can not only live up to the consumer rating magazine's math but also price its roof tiles even lower.
Tesla says that its cost of $21.85 per square foot is derived using similar methodology as that ofConsumer Reports. It was calculated on a roof in which 35% of tiles are solar (non-solar Tesla tiles cost less and look the same as Tesla's solar tiles). Furthermore, Tesla also says its methodology for this pricing estimate does not include any solar incentives.
According to Consumer Reports, Tesla's solar tiles are competitive with a typical asphalt roof. The big catch here, however, is that the cost of Tesla's solar tile roofs would be far more expensive up front. But Tesla says the roof makes up the difference in pricing over time from the added value of solar-generated electricity and complimentary energy storage using a Tesla Powerwall.
Image source: Tesla.
The way Tesla sees it, the bottom line about pricing is simple: Most customers will save money after taking into account energy generation and incentives.
Durability
Beyond the electricity that Tesla's solar tiles can help generate, there's one other key benefit. The tiles are extremely durable, and Tesla is backing it up with an unprecedented warranty."Solar Roof is the most durable roof available and the glass itself will come with a warranty for the lifetime of your house, or infinity, whichever comes first," Tesla said in its blog post on Wednesday.
Tesla Textured solar glass. Image source: Tesla.
Thanks to their tempered glass, Tesla says the tiles are more than three times stronger than standard roofing tiles.But it's worth noting that the guarantee for solar tile's ability to generate energy is less, at 30 years.
Availability
While Tesla started taking orders for its solar roof tiles on Wednesday, the company wasn't specific about when installations would begin, only saying that deliveries would start on a "first-ordered, first-installed basis beginning in the U.S. this year."To order Tesla's solar tiles, customers will need to make a $1,000 deposit.The company will initially only produce its Smooth and Textured glass tiles. It plans to begin delivering its Tuscan and Slate styles in "early 2018."
Demand for the solar tiles won't be a problem, according to Tesla CEO Elon Musk. During a call with the press today, Musk said he expects to be constrained by production, not demand. Similarly, Tesla expects sales of its energy storage products to ramp up dramatically toward the end of the year. Perhaps the CEO sees Tesla's new solar roof helping drive Powerwall sales.
10 stocks we like better than TeslaWhen investing geniuses David and Tom Gardner have a stock tip, it can pay to listen. After all, the newsletter they have run for over a decade, Motley Fool Stock Advisor, has tripled the market.*
David and Tom just revealed what they believe are the 10 best stocks for investors to buy right now... and Tesla wasn't one of them! That's right -- they think these 10 stocks are even better buys.
Click here to learn about these picks!
*Stock Advisor returns as of May 1, 2017
Daniel Sparks owns shares of Tesla. The Motley Fool owns shares of and recommends Tesla. The Motley Fool has a disclosure policy.