Tesla, Inc. Earnings: Model 3 to Come Into Focus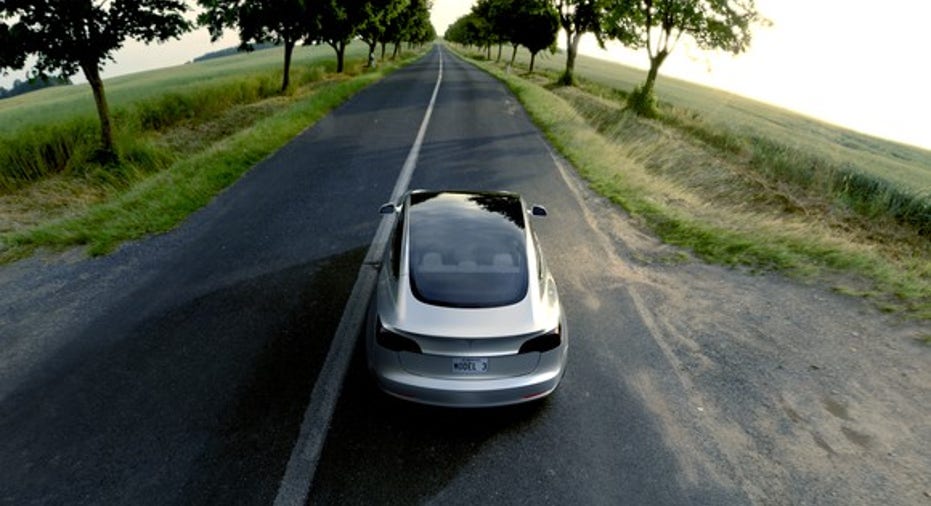 Electric-car company Tesla (NASDAQ: TSLA) just scheduled its fourth-quarter earnings release. The company will post results for the fourth quarter on Wednesday, Feb. 22, closing out a year of rapid vehicle sales growth, and marking the first reported quarter with the November-acquired SolarCity under its ownership.
Ahead of Tesla's financial results, here's some background on key areas to watch when the company updates investors.
Model 3. Image source: Tesla Motors.
The most important question: Is the Model 3 launch on track?
For Tesla, this will be a critical year. In 2017, the company importantly plans to launch its first mass-market vehicle: Model 3. The big question, therefore, is whether Tesla's Model 3 is still "on plan for volume deliveries in the second half of 2017," as Tesla said in its third-quarter update.
To put the importance of Model 3 into context, consider that Tesla expects Model 3 to help the company build 500,000 total vehicles in 2018, up from Tesla's current annualized run-rate of 100,000 units. In other words, Tesla likely anticipates Model 3 production to come close to 400,000 units in 2018. Assuming the vehicle, which has a starting price of $35,000, sells for an average price of $43,000, this would put annualized Model 3 revenue at about $17 billion once production hits these levels. Indeed, even Tesla CEO Elon Musk has said he expects Model 3 to evolve into a $20 billion program, generating $5 billion in gross profit for the company on a 25% gross profit margin.
In Tesla's third-quarter update, the automaker said the company had completed production line layouts for Model 3 and was preparing to begin the installation of new body welding and final assembly lines for the vehicle.
"As refinement of the Model 3 continues, we remain on plan for our timing, volume, vehicle capability, pricing, and margin targets," Tesla said. More recently, the company also said it expects to begin cell production for the Model 3 in the second quarter of 2017.
Big spending ahead of Model 3
Increasing production from an annualized run-rate of 100,000 units to 500,000 units in 2018 is going to require some significant step-ups in expenses and capital outlays.
Tesla car factory. Image source: author.
To this end, Tesla has said it expects fourth-quarter expenses to help drive full-year non-GAAP expenses up by about 30%, with management citing engineering, design, an expanding geographic presence, and "testing expenses related to Model 3 supplier contracts" as primary reasons for the expense growth.
Further, Tesla expects capital expenditures for the quarter to exceed $1 billion, exceeding the company's total capital expenditures in the past three quarters combined of $759 million.
Guidance: How many vehicles does Tesla expect to deliver in 2017?
Finally, one notable area to watch in Tesla's fourth-quarter update will be the company's guidance for vehicle deliveries. In past fourth-quarter updates, Tesla usually opts to provide a full-year outlook for its vehicle deliveries.
Model 3. Image source: Tesla Motors.
It's difficult to anticipate what management expects from vehicle deliveries in 2017. But guidance will likely represent a very wide range given the uncertainties surrounding the timing of a sharp ramp-up in Model 3 deliveries. However, considering Tesla has consistently increased deliveries at about 50% annually, investors should at least look for another year of 50% growth. This would peg 2017 deliveries at about 114,000. Of course, if Tesla's Model 3 production ramp-up goes as the company hopes it will, Tesla could deliver as many as 200,000 vehicles.
I'd say it's safe to expect full-year guidance for deliveries in the range of 115,000 and 200,000 units.
Model 3 will obviously be the prime item for investors to keep an eye on when Tesla reports results. Not only is it critical to helping Tesla establish itself as a higher-volume automotive company, but the vehicle's timing is needed to justify big investments Tesla is already making, including its Gigafactory and an aggressive expansion at its car factory in California.
Offer from the Motley Fool: The 10 best stocks to buy now
Motley Fool co-founders Tom and David Gardner have spent more than a decade beating the market. In fact, the newsletter they run, Motley Fool Stock Advisor, has tripled the S&P 500!*
Tom and David just revealed their ten top stock picks for investors to buy right now.
Click here to get access to the full list!
*Stock Advisor returns as of 1/30/2017
Daniel Sparks owns shares of Tesla. The Motley Fool owns shares of and recommends Tesla. The Motley Fool has a disclosure policy.