Tesla Counts On Model 3 For Profit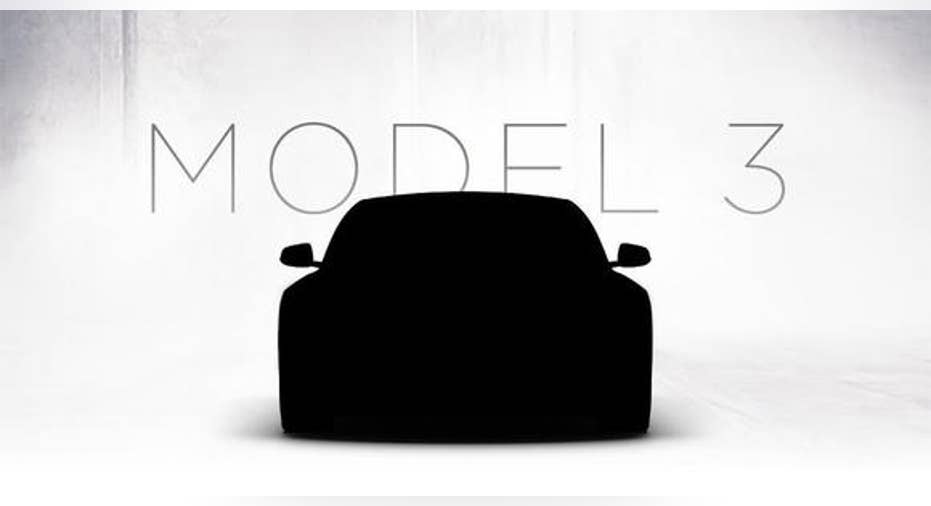 Tony Wetzel is taking Thursday off to hang out at a Tesla Motors  showroom outside of Boston and place a deposit on the electric-car maker's latest model.
Referring to Thursday as Model 3 Day in recognition of the public debut of the Silicon Valley auto maker's first affordable vehicle, the 50-year-old Marshfield, Mass., resident and Tesla sedan owner has high expectations for the car.
"I'm confident the Model 3 will have many more bells and whistles than my Model S," Mr. Wetzel said.
He isn't the only one counting on a big showing for the car, which is expected to be priced starting at about $35,000 with delivery to customers coming in late 2017. Tesla Chief Executive Elon Musk wants the car to reverse years of losses and stanch hefty cash outflows. To him, it must accomplish something the Model S and Model X have failed to do: sell at a profit.
He designed the Model 3 to be built at lower cost and in higher volumes. Unlike the company's pricey Model S and Model X -- which sell on average for more than $100,000 -- it will be made of steel instead of aluminum, and use a battery that goes fewer miles on a charge.
RBC Capital Markets auto analyst Joseph Spak says Tesla will have to make "compromises" to achieve high volumes, but "we doubt technology will be one of them." Mr. Spak believes the vehicle could have semiautonomous driving technology.
Mr. Musk's ultimate goal is get the vehicle to a wider market, helping boost the company's total annual sales to 500,000 vehicles by 2020. Much of that increase would come from a Model 3 that competes against mass-market cars from General Motors's Chevrolet brand and Nissan Motor's battery-powered Leaf car.
The auto is getting an early sales boost by fans. Several U.S. stores are planning unveiling parties, and more than 20 groups are planning to stage campouts at showrooms for one or more days ahead of the Model 3's release.
Amanda Wuest, a 36-year-old systems administrator from near Philadelphia, will be on hand. She says a Tesla is "the only car on the road that excites me." Like many planning to buy, Ms. Wuest wants to get in line because the $7,500 federal tax credit available to Tesla buyers begins to phase out when the company's total U.S. sales reach 200,000.
Barclays estimates the new vehicle will attract 95,000 reservations ahead of first deliveries, or more than three times as many as the Model S amassed when it went on salefouryears ago.
Other analysts say Mr. Musk must improve on past deliveries. The Model X, an sport-utility vehicle that went on sale late last year, faced several delays, and initial production has been hampered by problems with its seats and other manufacturing bugs.
As Tesla pursues mass-market acceptance by expanding an assembly plant in California, adding administrative and engineering overhead and building a battery "gigafactory" in Nevada, its red ink is mounting. Annual losses tripled in 2015 to $900 million despite a 27% sales increase.
Tesla's website suggests demand for the Model S sedan may be cooling. Interested shoppers can now get deliveries of the car within about a month of ordering, the site suggests, compared with the several-month wait that had been typical.
Another concern is the new battery plant near Reno, Nev., which is slated to cost $5 billion and employ thousands of workers.
"There is this timing issue with gigafactory output intended for Model 3, Credit Suisse analyst Dan Galves said. "If they are delayed a lot, it could create under-utilization," which is significant source of cash burn.