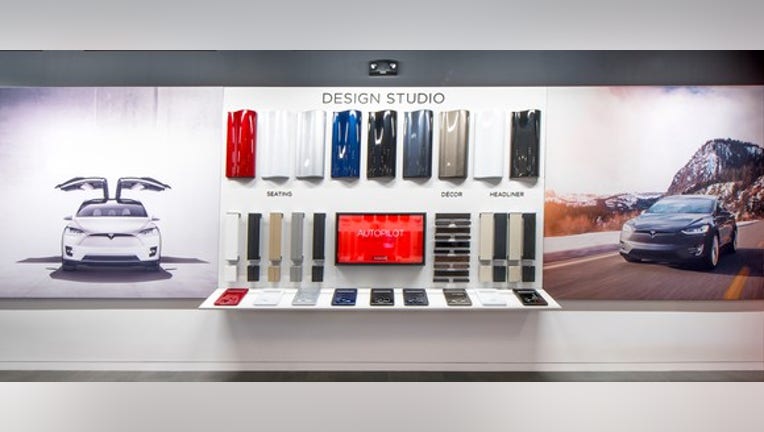 Electric-car maker Tesla (NASDAQ: TSLA) has been shaking up auto distribution over the years, eschewing the traditional franchised dealer model in favor of direct sales. Tesla stores typically have minimal inventory on site, and are located in areas with heavy foot traffic -- unheard of for traditional dealers that invest millions of dollars into large lots packed full of inventory alongside showrooms. While Tesla will sell inventory vehicles on the spot (if they're permitted to sell direct in the state), most sales are conducted online and customers frequently custom order their vehicle configuration.
Could that all be about to change for Model 3?
Tesla stores showcase different interior options. Image source: Tesla.
Rumor has it
Model 3 Owners Club founder Trevor Page has saidthat Tesla could be planning on shifting more toward an inventory sales model, according to an anonymous source. Page says that the company's Owner Advisors are already being encouraged to offer prospective customers inventory vehicles that are prebuilt.
Last year, Tesla also introduced a new feature for its online store that attempts to find a close match among inventory vehicles when a customer is designing a vehicle. Inventory vehicles can be delivered faster than a newly produced custom configuration, even if the car has to be shipped; for example, a new custom Model S order is quoted for June delivery, while new inventory vehicles deliver in 14 days.
Page says that custom orders will always be available, but that Tesla may begin to prioritize prebuilt configurations in order to streamline production.
What this could mean for investors
Shifting incrementally toward inventory-based sales would be more similar to how the rest of the auto industry has always worked in terms of distribution. While you'll still never have to haggle for hours on end at a Tesla store, expanding inventory has many implications.
Not only would carrying more inventory require more physical real estate to store those cars (many stores are located within shopping malls and are allocated a modest amount of space to store inventory), but Tesla would be taking on additional inventory risk. Tesla's inventory carrying value has been on the rise, in part because of expanding sales abroad, where it takes longer to ship vehicles. Like the rest of the auto industry today, if a manufacturer builds a configuration that the market doesn't want, it bears inventory risk if that vehicle sits unsold. In order to minimize this risk, Tesla will need to bolster its demand forecasting capabilities and determine which options and configurations are most popular. Consumer preferences vary by geography and other factors, so this is no easy task. But selling direct has given Tesla quite a bit of data on demand.
Compare that to a custom order, where a customer has already configured their vehicle, placed a deposit, and the vehicle is simply in transit to its final destination. Assuming the customer doesn't refuse delivery, there's virtually no inventory risk in that situation even if the vehicle is technically accounted for as inventory on the balance sheet. Under the dealer model, dealer retail inventories are shifted from the manufacturer's balance sheet to the dealer's, many of which are small, private local businesses.
American car buyers like instant gratification
On the other hand, U.S. car buyers generally don't build to order and prefer the instant gratification of buying a car on the spot, even if that includes paying for some superfluous bundled options; less than 5% of new car purchases in the U.S. in 2015 were custom orders, according to the National Automobile Dealers Association (NADA). In contrast, European car buyers custom order approximately half the time.
The upside, as Page points out, is manufacturing efficiency. It's more efficient to manufacture a high volume of vehicles using prebuilt configurations compared to a custom configuration for every car coming down the production line, and with the pressure on to begin ramping Model 3 production within a matter of months, shifting toward inventory sales makes sense.
10 stocks we like better than TeslaWhen investing geniuses David and Tom Gardner have a stock tip, it can pay to listen. After all, the newsletter they have run for over a decade, Motley Fool Stock Advisor, has tripled the market.*
David and Tom just revealed what they believe are the 10 best stocks for investors to buy right now... and Tesla wasn't one of them! That's right -- they think these 10 stocks are even better buys.
Click here to learn about these picks!
*Stock Advisor returns as of April 3, 2017
Evan Niu, CFA owns shares of Tesla. The Motley Fool owns shares of and recommends Tesla. The Motley Fool has a disclosure policy.