Tesaro's Path to a Billion-Dollar Blockbuster Begins With Pricing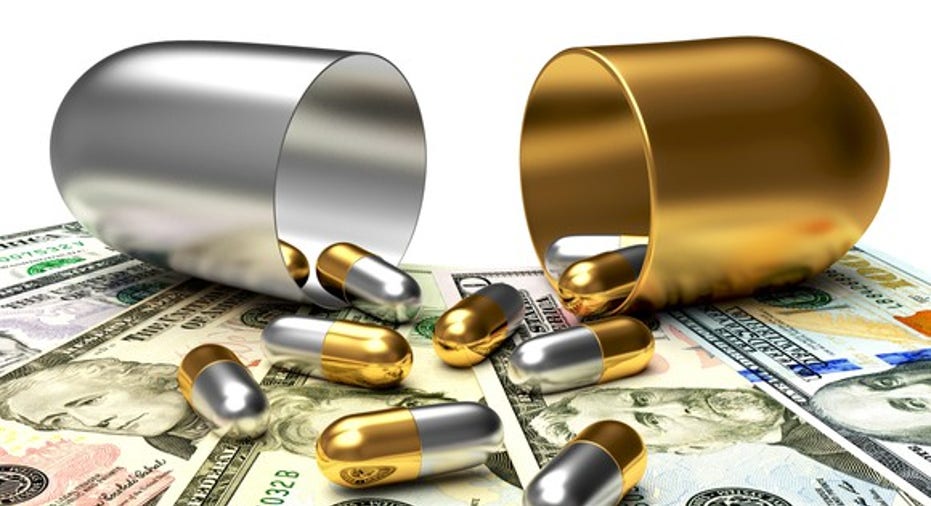 Tesaro (NASDAQ: TSRO) won FDA approval of its new cancer drug Zejula in March, and this week, management reported that Zejula is now available at a dose of 200 mg per day with a list price of $9,833 per month. The price is in the ballpark of existing drugs in Zejula's class, and given Zejula has the broadest addressable patient population, the market potential for this drug is big.
Six-figure price tags
Nowadays, most new cancer drugs hit the market with prices that eclipse $100,000 per year, and drugs that work similarly to Zejula, including AstraZeneca's (NYSE: AZN) Lynparza and Clovis Oncology's (NASDAQ: CLVS) Rubraca, already command six figures annually.
IMAGE SOURCE: GETTY IMAGES.
Therefore, Tesaro's decision to price Zejula at $9,833 per month isn't too surprising. What might be surprising, however, is that Tesaro's pricing is based on a 200 mg dose of Zejula that's lower than the 300 mg starting dose listed on Zejula's label. At that 300 mg dose, Zejula's cost would be $14,749.50 per month, or $176,994 per year, which is arguably high-end pricing for this class of drugs.
For comparison, a study last year by America's Health Insurance Plansreported that the wholesale acquisition cost of Lynparza was $134,400 per year. And after winning FDA approval in December, Clovis priced Rubraca at $13,740 per month, which works out to $164,880 per year. Lynparza's label recommends 800 mg daily, while Rubraca calls for 1,200 mg per day.
Not so fast
At first blush, Zejula's price seems a bit excessive. However, Zejula's cost to payers in the real-world setting may indeed be closer to the price for the 200 mg dose than the 300 mg dose.
While patients participating in trials began treatment with Zejula at the 300 mg dose, adjustments that lowered the daily dose to 200 mg and 100 mg per day were common.
According to Zejula's labeling information, doctors cut the dose from 300 mg to either 200 mg or 100 mg in roughly 70% of patients, and overall, the most common dose was 200 mg.
Since adverse events requiring dose adjustments don't always appear right away, a patient will probably spend between one to three months on the 300 mg dose, before stairstepping down to lower doses. As a result, Zejula's cost during the first year of treatment is likely to fall somewhere between the 200 mg annualized price of $117,996 and the 300 mg annualized price of $176,994. If so, that puts Zejula on a level that's pretty much in line with Lynparza and Rubraca.
Tapping an important market
Zejula's peak sales potential is higher than Lynparza and Rubraca, because it's approved for use in all ovarian-cancer patients who have responded to platinum-based chemotherapy. Lynparza and Rubraca are only approved for use in patients with mutations to their BRCA genes, a factor in about 15% to 20% of ovarian-cancer cases.
Furthermore, Zejula is approved as a maintenance therapy to delay disease progression in patients who are responding to their first platinum-containing chemotherapy. Lynparza is approved for use in patients in response to their third platinum-containing chemotherapy and Rubraca is approved for use in patients in response to their second platinum-containing therapy. Since Zejula is used earlier in treatment, its addressable market is bigger than that of the other two drugs.
Looking forward
Roughly 22,000 people in the United States are diagnosed with ovarian cancer annually, and many of those patients will end up progressing to advanced ovarian cancer. Sadly, the long-term survival rate for advanced ovarian cancer isn't very high, so there's a big need for additional treatment options like Zejula, Lynparza, and Rubraca.
Because there isn't a cure for ovarian cancer, there's room for all three of these drugs to be a commercial success in the indication. There's also an opportunity for these drugs to get used in other cancers too. Studies are ongoing at Tesaro, AstraZeneca, and Clovis that could result in these drugs being prescribed earlier in ovarian cancer, and eventually, allow for their use alongside other drugs in indications including prostate cancer and breast cancer.
10 stocks we like better than TesaroWhen investing geniuses David and Tom Gardner have a stock tip, it can pay to listen. After all, the newsletter they have run for over a decade, Motley Fool Stock Advisor, has tripled the market.*
David and Tom just revealed what they believe are the 10 best stocks for investors to buy right now... and Tesaro wasn't one of them! That's right -- they think these 10 stocks are even better buys.
Click here to learn about these picks!
*Stock Advisor returns as of April 3, 2017
Todd Campbell has no position in any stocks mentioned.His clients may have positions in the companies mentioned.The Motley Fool has no position in any of the stocks mentioned. The Motley Fool has a disclosure policy.