Telefonaktiebolaget LM Ericsson Shrugs Off Soft Q1 Sales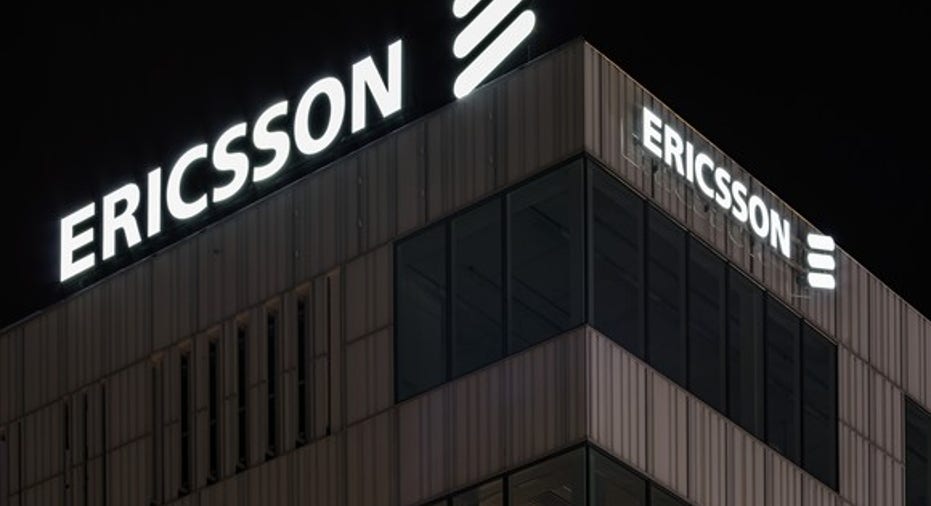 Swedish telecom equipment veteran Telefonaktiebolaget LM Ericsson (NASDAQ: ERIC) reported first-quarter earnings on Tuesday afternoon.
Here's what investors need to know about this report.
By the numbers
| Metric | Q1 2017 | Q1 2016 | Change (YOY) |
| --- | --- | --- | --- |
| Revenue | $5.2 billion | $6.3 billion | (18%) |
| Adjusted operating income | $123 million | $498 million | (75%) |
| Adjusted earnings per share (or per ADR) | ($0.27) | $0.11 | N/A |
Data source: Ericsson. Average exchange rates for each quarter from OANDA.com.
Ericsson's first-quarter sales fell 11% as reported in Swedish crowns. Falling numbers were amplified by the dollar's exchange rate rising 8% year over year against the crown. On top of that negative trend, profit margin plunged even if you back out one-time items such as restructuring charges and non-cash asset writedowns.
The business background
Mobile broadband equipment orders came in below expectations this time, especially in growth markets such as Africa, Latin America, and Eastern Europe. As previously reported, a few large orders originally expected to close in this period were accelerated for delivery in Q4 of 2016, leading to a sharper seasonal drop than usual.
Ericsson is rethinking its overall strategy, exploring "strategic opportunities" its cloud infrastructure and media hardware operations.
In general, Ericsson's management pointed to macroeconomic reasons for most of this quarter's disappointments. Sales were hurt by tight purse strings amid economic crises in Mexico and the Middle East. India and the U.S. recently completed large wireless spectrum auctions, leaving operators there to plan the next wave of large-scale infrastructure investments -- but it's still too early to score any real wins from these upcoming growth drivers.
The media and cloud segments were always small potatoes next to Ericsson's much larger network operations, so their departure will not cause any large changes to the company's top and bottom lines. Finding a buyer or spinning them out as stand-alone companies would simply allow the newly installed management team to focus more clearly on what the company does best.
LM Ericsson's HQ building in Kista, Sweden. Image source: Ericsson.
What's next?
That's more than an empty platitude. Ericsson CEO Borje Ekholm hopes to deliver real results from less-sprawling strategy.
"The more focused business strategy is expected to result in a significantly improved profitability already in 2018," Ekholm said in a prepared statement. "Beyond 2018, we believe that we can at least double the underlying 2016 operating margin."
Ericsson investors have seen share prices plunge 50% lower over the last three years, setting the stock up for either an elastic bounce or a long, slow fade to black. In my view, Ekholm's new leadership team appears to have a handle on where to go next. Ericsson's stock looks like an attractive value play at these low prices -- assuming that Ekholm can deliver on his promises, of course.
Investors appear to agree, as the stock shrugged off these dramatically negative revenue and profit trends to rise more than 2% on Wednesday. At 16 times forward earnings and just 7.5 times trailing EBITDA profits, this stock is priced to move.
10 stocks we like better than Telefonaktiebolaget LM EricssonWhen investing geniuses David and Tom Gardner have a stock tip, it can pay to listen. After all, the newsletter they have run for over a decade, Motley Fool Stock Advisor, has tripled the market.*
David and Tom just revealed what they believe are the 10 best stocks for investors to buy right now... and Telefonaktiebolaget LM Ericsson wasn't one of them! That's right -- they think these 10 stocks are even better buys.
Click here to learn about these picks!
*Stock Advisor returns as of April 3, 2017
Anders Bylund has no position in any stocks mentioned. The Motley Fool has no position in any of the stocks mentioned. The Motley Fool has a disclosure policy.