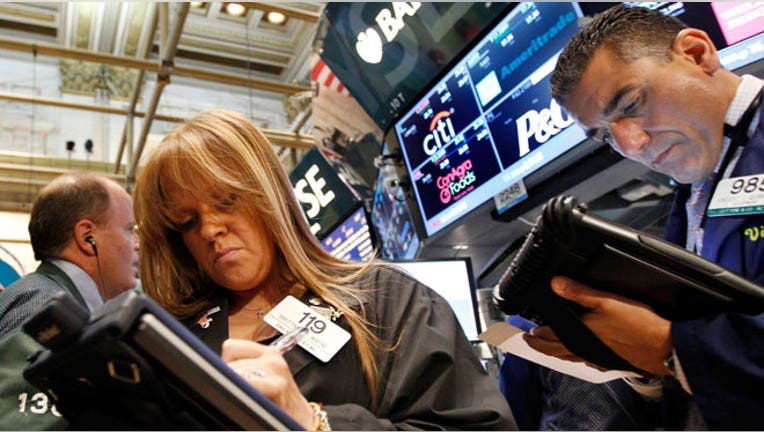 U.S. equity markets rallied into the close of trade on Wednesday as calmness came over global markets after two-straight sessions of steep declines.
The Dow Jones Industrial Average was up 293 points, or 1.83% to 16352. The S&P 500 gained 35 points, or 1.83% to 1948, while the Nasdaq Composite added 113 points, or 2.46% to 4749.
All 10 S&P 500 companies ended in positive territory with technology up the most, 2.62%.
Today's Markets
Wall Street took a breather on Wednesday after weak manufacturing data across the globe forced nearly 3% declines on all the major U.S. averages in the prior session.
Much of the selling momentum over the last several weeks has been a result of worries about steep declines in Asian markets, coupled with fears about how that concern will affect the Federal Reserve's timing of the first interest-rate hike, which was largely expected after the central bank's September 16-17 meeting.
Peter Kenny, chief market strategist at ClearPool Group, put the recent selloff into context as chatter heats up about whether Wall Street's bull market is quickly running out of steam.
"Since our last closing high for the Dow Industrials registered on May 19 of this year, the market has cratered 14.449%. On a year-to-date basis, the DJIA is off 8.83%. A bear market is defined as a move lower of 20% or more. For that to materialize, which I do not think will be the case, the Dow would have to lose an additional 1,372 points," Kenny said in a note.
As investors have grown more anxious, the Fed seems to have attempted to spread a bit of calm as several officials have reiterated the central bank's stance that it will remain data dependent before hiking rates. All eyes on Wall Street have been keenly focused on nearly every report.
On Wednesday, traders digested the latest reading on private sector employment, which came in at 190,000 new jobs, was below Wall Street expectations for 201,000. Factory orders data was expected at 10:00 a.m. But the big report everyone is waiting on – August jobs – is due out Friday morning.
John Canally, chief economic strategist at LPL Financial, said he's expecting a print of somewhere between 200,000 and 250,000 for the month with tepid wage growth around 2% with the unemployment rate dropping a tenth of a percent.
"One report is never going to change the Fed's mind, even if it's extremely strong," he warned. "They're satisfied with the job market over the last year, but they're concerned about wages. A number on the payroll count over 300,000 might get people to stand up and take notice, acknowledging a rate hike would be needed in September, but under 100,000, then the odds look weaker."
He said the wild card for this month's report will be how seasonal factors fit in: For example, students with summer jobs heading back to school, or teachers who head back into the classroom and professors who return to campus.
The outlook, meanwhile, for the remainder of the week, could be steadier as China's markets are closed Thursday and Friday to commemorate the end of World War II. The Shanghai Composite ended the session on Wednesday 0.20% lower.
The Fed also released its anecdotal Beige Book report for September on Wednesday. Overall, the central bank said economic growth continued across most of its 12 districts as manufacturing reports were "mostly positive," and retail sales "continued to expand." It noted auto sales have been above expectations thanks to strong growth in auto-related manufacturing. Further, the Fed said "tightening of labor markets was said to be pushing wages up slightly in selected industries, especially in the New York, Cleveland, St. Louis, and San Francisco Districts."
Calmer sentiment also fell over European markets where equities appeared to stabilize. The Euro Stoxx 50, which tracks large-cap companies in the eurozone, rose 0.42%, while the German DAX also climbed 0.44%. The French CAC 40 ticked up 0.42%, and the UK FTSE 100 rose 0.38%.
Elsewhere in Asia, Hong Kong's Hang Seng shed 1.18%, while Japan's Nikkei slipped 0.39.
"The markets are looking for some kind of policy response from China. They cut rates last week, they probably need to do more to convince investors it's not going from a bumpy landing to a hard landing," Canally said. "The markets don't want GDP there at 4% or 5%, they want to see 6% or 7% growth. We don't get data there until early next week."
Crude oil continued its downward momentum on Wednesday after wiping out on Tuesday the entirety of its more than 8% gain that kicked off the week. Data from the Energy Information Administration showed a build in stockpiles of 4.67 million barrels. U.S. crude settled 1.85% higher to $46.25 a barrel, while Brent, the international benchmark gained 1.90% to $50.50 a barrel.
Gold slipped 0.54 % to $1,132 a troy ounce, while silver paced 0.33% higher to $14.66 an ounce. Copper, meanwhile, rose 1.32% to $2.33 a pound.
The dollar was mixed against a handful of other currencies. The euro declined 0.65% against the greenback. The yield on the U.S. 10-year Treasury bond rose 0.003 percentage point to 2.175%.