Tech stocks continue to let air out of recent rally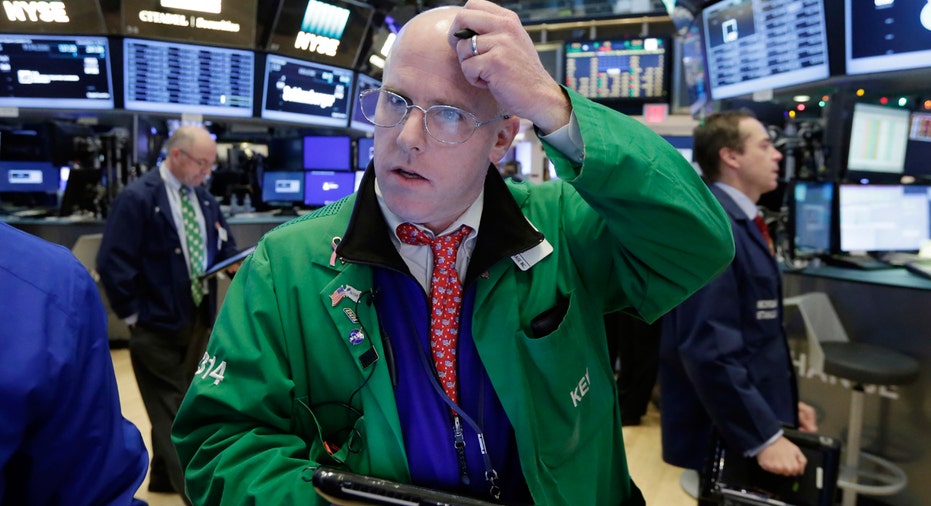 Shares of America's biggest technology companies have been battered over the last week as investors continue to let some air out of a blockbuster rally that's propelled the tech-heavy Nasdaq Composite index up more than 14% so far this year.
The so-called FAANG stocks – Facebook (NYSE:FB), Apple (NYSE:AAPL), Amazon (NASDAQ:AMZN), Netflix (NYSE:NFLX) and Google parents Alphabet (NYSE:GOOGL) – which have posted hefty gains over the last year and pushed the major averages to new records, have led the recent selloff in the tech sector. The MSCI USA tech index, which includes small to large-cap stocks, has shed $213 billion in market value since last Thursday, according to calculations by the Financial Times.
Despite a trend higher earlier this week in the sector, selling pressure was on again Thursday, led by streaming giant Netflix as it shed more than 2% at its lowest point.
Ticker
Security
Last
Change
Change %
FB
n.a.
n.a.
n.a.
n.a.
AAPL
APPLE INC.
159.28
+1.88
+1.19%
AMZN
AMAZON.COM INC.
100.61
+2.90
+2.97%
NFLX
NETFLIX INC.
305.79
+0.66
+0.22%
GOOGL
ALPHABET INC.
104.92
+3.70
+3.66%
MSFT
MICROSOFT CORP.
273.78
+1.55
+0.57%
Financial stocks also took a hit Thursday morning as investors fretted special counsel Robert Mueller's reported investigation of President Donald Trump for possible obstruction of justice could further delay the administration's actions on Trump's pro-growth agenda, which includes tax cuts and a rollback in business regulations.
Ticker
Security
Last
Change
Change %
COF
CAPITAL ONE FINANCIAL CORP.
94.56
+4.32
+4.79%
BBT
n.a.
n.a.
n.a.
n.a.
AXP
AMERICAN EXPRESS CO.
164.56
+5.82
+3.67%
AIG
AMERICAN INTERNATIONAL GROUP INC.
51.25
+2.40
+4.91%
BLK
BLACKROCK INC.
662.15
+18.59
+2.89%
The major averages clawed back some of their losses by midday action. The Dow Jones Industrial Average closed 14 points lower, or 0.07% to 21359 while the S&P 500 declined 5 points, or 0.22% to 2432. The Nasdaq Composite, meanwhile, declined 29 points, or 0.47% to 6165.
The S&P 500 technology sector was by far the biggest decliner on the session as it slid more than 1% at its session low, while the consumer discretionary sector fell as much as 0.89% and financials declined 0.25%. The telecommunications, industrials, real estate and utilities sectors saw slight gains.
Despite the risk-off sentiment on Wall Street, investors stayed away from traditionally safe haven plays including gold and government debt. The precious metal declined 1.58% in recent action to $1,255 a tory ounce as U.S. Treasury yields moved higher. The benchmark 10-year Treasury note yield rose about 0.03 percentage point to 2.16% while the longer-term 30-year bond yield added 0.01 percentage point to 2.784%.
Also weighing on U.S. sentiment was the unexpectedly hawkish tone struck by the Federal Reserve on Wednesday as it raised rates to between 1% and 1.25% -- despite a fresh round of weak inflation data – and outlined plans to begin reducing its massive balance sheet later this year. In their closely-watched Summary of Economic Projections, Federal Open Market Committee members forecasted a faster pace of rate hikes than what Wall Street is anticipating, and are betting continued tightness in the labor market will push inflation higher.
The core measure of consumer-price inflation (which strips out volatile changes food and energy prices) slipped to 1.7% in May, data released Wednesday showed, more than economists expected, despite diminished slack in the labor market that has pushed the unemployment rate down to 4.3%.
"Given the weak CPI reading for May, concerns over the growth outlook increased on the more hawkish-than-expected testimony and the yield curve and inflation expectations declined, supporting defensive stocks," said Dennis DeBusschere, Evercore ISI managing director, who said defensive plays have consistently outperformed cyclical names as inflation expectations decline.