Tear gas, broken windows disrupt Paris labor march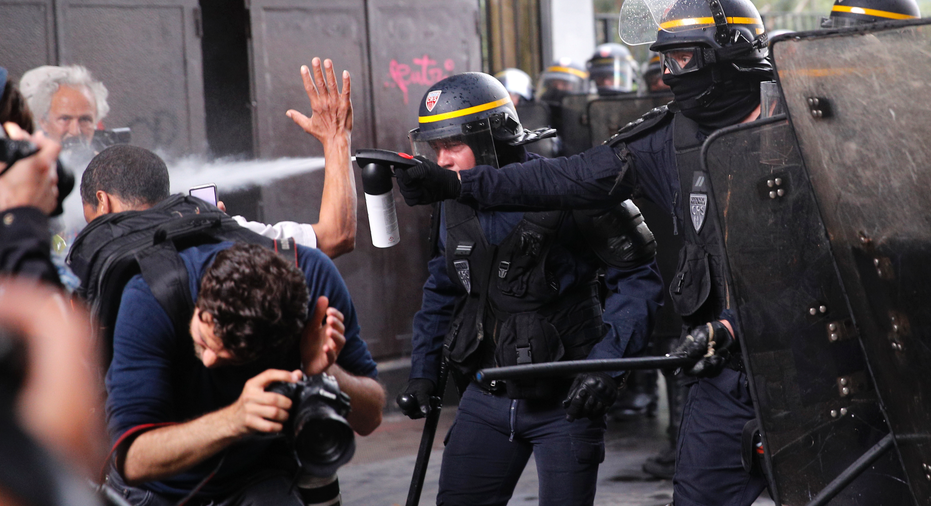 Clashes between police and groups of masked youths erupted Tuesday on the sidelines of a labor march in Paris, forcing protesting civil servants to stand clear of flying debris and tear gas canisters.
At least a hundred young people from outside the authorized trade union demonstration took position ahead of the march in the afternoon. Many had their faces covered with ski masks or balaclavas, and police moved in to isolate them.
Some of the young people smashed shop windows and threw debris at officers, who repeatedly charged the interlopers and used tear gas and bludgeons to disperse them.
Participants in the trade union protest had to suspend the march until the mayhem around them stopped.
Video journalists for The Associated Press saw several people being detained. No injuries have been reported.
French public service workers are striking to protest a government plan to cut 120,000 jobs by 2022. Nine unions are also seeking higher wages and are denouncing the increasing use of short-term contracts in public services.
The strike on Tuesday was the third nationwide work stoppage staged by public workers since French President Emmanuel Macron was elected a year ago.
Hundreds of flights to and from France were canceled since French air traffic controllers walked off their jobs.
In his campaign for the presidency, Macron promised to reduce public spending and overhaul the country's labor laws.
The government is in discussions with unions has said it intends to legislate labor reforms next year.