Team Trump: Yellen and Mnuchin Head to G20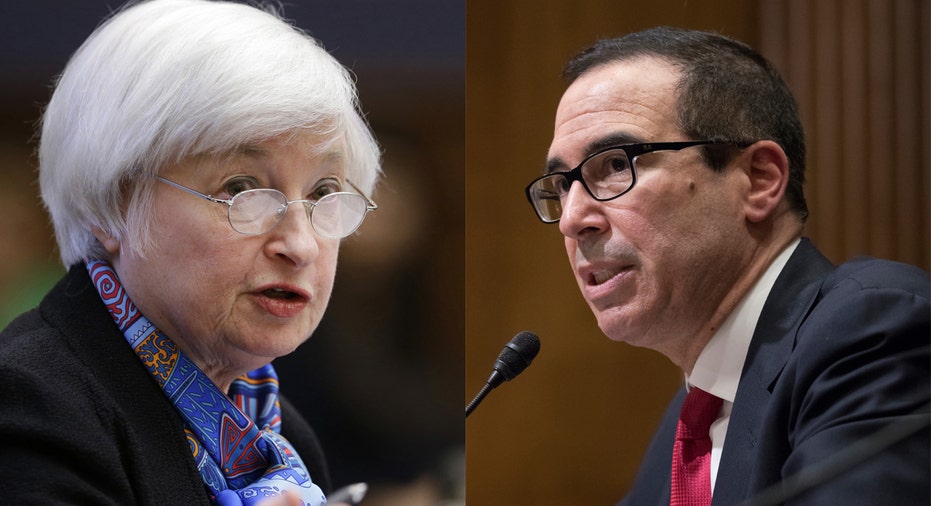 Despite taking some verbal hits from President Trump during the campaign, Fed Chair Janet Yellen insists her relationship with Treasury Secretary Steven Mnuchin is off to a good start as the two officials plan to represent the U.S. at the G20 finance ministers summit in Germany this weekend.
The meeting of 20 finance ministers from the world's largest economies will be Mnuchin's first chance to push the Trump Administration's agenda on the global stage. The G20 meeting will likely involve trade talks and currency manipulation.
"I've met a couple of times with the Treasury secretary and I am getting to know him," said Yellen during her press conference on Wednesday following the Fed's decision to raise interest rates by a quarter point. "It is traditional for Fed chairs and Treasury secretaries to meet on a regular basis and I fully expect to have a strong relationship with Secretary Mnuchin," she said.
The two have already discussed key issues. "We have had very good discussions about the economy, about regulatory objectives and work of the FSOC's [Financial Stability Oversight Council] global economic developments and I look forward to working with him," she added.
But when it comes to how fast the U.S. economy can grow, Yellen and Mnuchin are not on the same page. Mnuchin says tax reform is a top priority and has a goal of sustained 3% to 4% annual economic growth. In the Fed's updated economic forecast released on Wednesday, GDP is expected to advance a modest 2.1% this year.
Despite varying economic opinions, Mnuchin has expressed his desire to work with the Fed and has taken a softer tone with Yellen than his boss. Throughout the campaign, Trump accused Yellen of being "highly political" and said he will likely replace her when her term expires in 2018. Yellen has stated she plans to finish her term and also said she has met with President Trump.