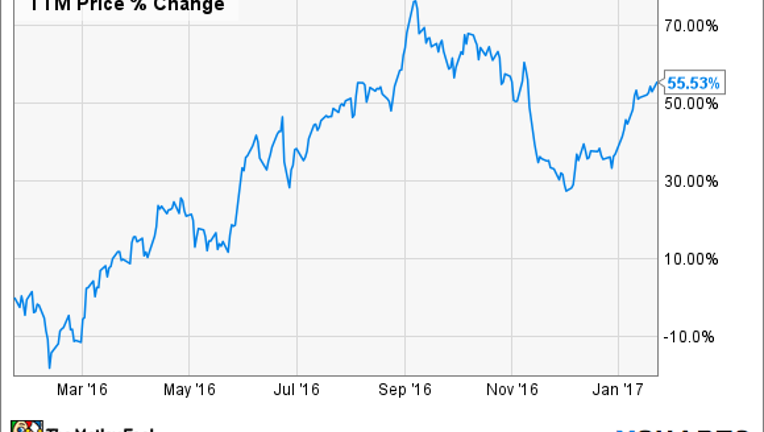 Tata Motors' (NYSE: TTM) stock has been beat up in recent months by India's surprise demonetization policy and turmoil on the board of directors of parent company Tata Group. However, with sales ticking higher and some of the leadership question marks answered, the stock is beginning to turn things around and is back on the rise.
Data by YCharts.
What happened last year
India is one of the world's fastest-growing economies, surpassing 7% annual GDP growth for the last few years. That rate came under pressure, though, when the government's surprise demonetization policy wasannounced back in November.
In an attack on tax evasion, illegal business transactions, and counterfeit money, India pulled all 500 and 1,000 rupee notes out of circulation. Those two bills made up the majority of bills in circulation. The government is replacing them with freshly printed 500 and 2,000 rupee notes.
However, the move has caused a cash crunch in the country, especially impacting small family businesses and farmers. Data has suggested that larger industries have been affected as well. In response to the uncertain effects the policy would create, investors sold off Indian stocks, Tata Motors included.
Adding to the angst was the sudden ousting of the Tata Group's chairman of the board Cyrus Mistry. The sack of Mistry led to a very public argument between him and the Tata family head Ratan Tata, a feud that has since been taken to the courts. While that battle continues to smolder, the Tata family of companies has named a new chairman, Natarajan Chandrasekaran, CEO of Tata Consultancy Services.
With the effects from demonetization starting to work through the system, and Tata hiring a new chairman, Tata Motors stock is starting to reverse its late-year hiccup. Helping it along have been strong business results.
Jaguar Land Rover sets records in 2016
Despite some of the negative headlines, sales were on the rise through all of 2016 for both Tata's Indian-based auto business and British subsidiary Jaguar Land Rover. For the India business, which sells cars and commercial vehicles domestically and exports to other Asian countries, the story revolved around rebounding sales after a tough 2015.
The new Tata Motors HEXA SUV was released in January. Image source: Tata Motors.
Demand slumped that year as an economic slowdown swept across emerging markets, especially in China. Things began to pick up in 2016, though, and Tata's sales were also helped by the Indian government's investment spending to prop up infrastructure development.
Jaguar Land Rover posted a best-ever year for sales as new model rollouts paid off big. The Discover Sport, new in 2015, had its first full-year of sales in 2016. For Jaguar, there were multiple new releases. The XF got a refresh, and the company also launched two new entry-level models in the XE and a first-ever SUV in the F-PACE.
Between the rebound in Asia and the new lineup of luxury vehicles, the Tata family of auto businesses had a great year, far surpassing the previous year's sales numbers.
Data source: Tata Motors monthly sales volumes. Chart by author.
Sales increases became much more modest by the end of the year, especially in the Indian business, but some of that can be chalked up to the demonetization policy. However, even including that headwind, sales continued to outpace 2015 at a healthy clip.
The 2017 game plan
The Jaguar I-PACE electric SUV will be released in 2018. Image source: Jaguar.
Looking to build on last year's success, the new year has more model releases slated. A new Land Rover Discover model is due this summer, and Jaguar will soon begin releasing more details on its first electric vehicle, the I-PACE SUV, due in 2018. Tata also has recently unveiled a new line of light pickup trucks and HEXA SUV for India.
The leadership situation has also gained some clarity, and India's demonetization efforts will continue to ease. If sales continue their "up and to the right" trend line, the stock looks like it will bounce back from its end of 2016 stumble.
10 stocks we like better than Tata Motors When investing geniuses David and Tom Gardner have a stock tip, it can pay to listen. After all, the newsletter they have run for over a decade, Motley Fool Stock Advisor, has tripled the market.*
David and Tom just revealed what they believe are the 10 best stocks for investors to buy right now... and Tata Motors wasn't one of them! That's right -- they think these 10 stocks are even better buys.
Click here to learn about these picks!
*Stock Advisor returns as of January 4, 2017
Nicholas Rossolillo owns shares of Tata Motors. The Motley Fool has no position in any of the stocks mentioned. The Motley Fool has a disclosure policy.