TASER International, Inc.'s Biggest Failure in 2016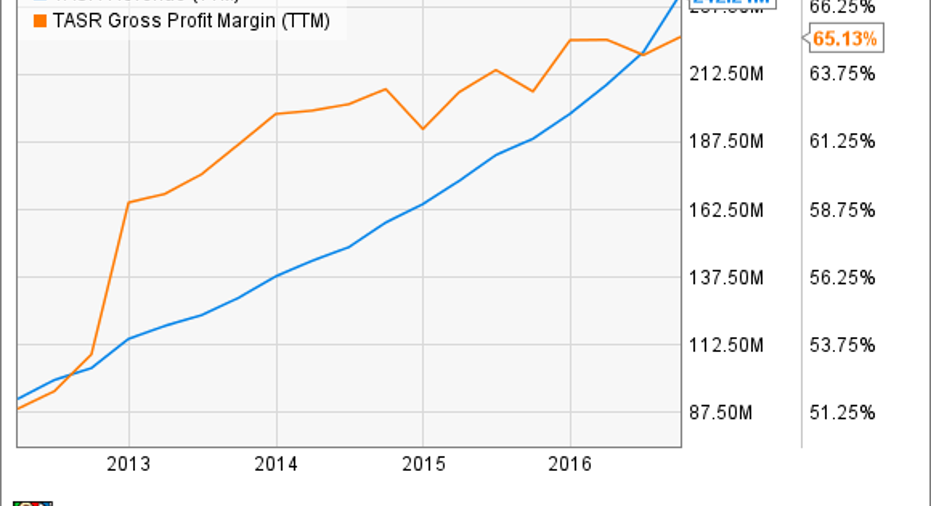 There wasn't a lot TASER International, Inc. (NASDAQ: TASR) got wrong in 2016. The company saw Taser sales surge and body cameras gain traction, accompanied by long-term contracts to buy the company's cloud service, Evidence.com.
But there was one major New York Police Department contract loss that investors never seemed to get over. And it's still hanging over the company in 2017.
Image source: TASER International.
The one that got away
The NYPD took bids for a limited rollout of body cameras, and TASER International was right at the top of the list. But when the contract win was announced, it was upstart Vievu, owned by The Safariland Group, that beat out TASER with an aggressive bid. The real concern wasn't the 1,000-unit loss, but rather the contract that could have followed if all NYPD officers were eventually outfitted with body cameras, a contract that could be worth $250 million.
It was a shocking loss for TASER, and the company's stock dropped double digits the following day while management offered free body cameras to the NYPD to prove they were better than Vievu's. The offer was a bit desperate, and management started lobbying hard to discredit Vievu's products, but the damage was already done.
TASER International now has a major competitor grabbing a foothold in the nation's most visible law enforcement agency. And if Vievu succeeds, it will reinforce the idea that companies other than Axon can make body cameras that customers will find to be viable options for their needs.
How this impacts the future
The loss of a single contract isn't a terrible sign in and of itself. But if it leads to more lost contracts or more contracts being won based on price (i.e., lower margins), TASER's financials could suffer. And given the growth trends the company has displayed over the past five years, pressure on the top or bottom line wouldn't be good for the stock.
TASR Revenue (TTM) data by YCharts.
In the months since the NYPD contract loss, TASER has won some key contracts around the country. Seattle went with TASER's Axon product, and the Louisiana State, Chattanooga, Chesterfield, and Garland Police Departments bought Axon products, on top of Taser purchases from San Bernadino County, the Massachusetts State Police, and Australia and New Zealand.
TASER International's momentum is still strong, even if there is another player in the market. Sometimes competition can even help push the product line forward, which would be good for TASER International, which holds a leadership position in the market.
What to think of TASER International's stock in 2017
The market seems to freak out every time TASER loses a contract, but the company is still the industry leader in both Tasers and body cameras for law enforcement agencies around the world. And as more customers demand these products, the opportunities for growth will increase. I think TASER's future is only getting brighter, and slip-ups like the NYPD contract are more of a distraction than a sign that something is fundamentally wrong with the company right now.
10 stocks we like better than Taser International When investing geniuses David and Tom Gardner have a stock tip, it can pay to listen. After all, the newsletter they have run for over a decade, Motley Fool Stock Advisor, has tripled the market.*
David and Tom just revealed what they believe are the 10 best stocks for investors to buy right now... and Taser International wasn't one of them! That's right -- they think these 10 stocks are even better buys.
Click here to learn about these picks!
*Stock Advisor returns as of January 4, 2017
Travis Hoium owns shares of Taser International. The Motley Fool recommends Taser International. The Motley Fool has a disclosure policy.