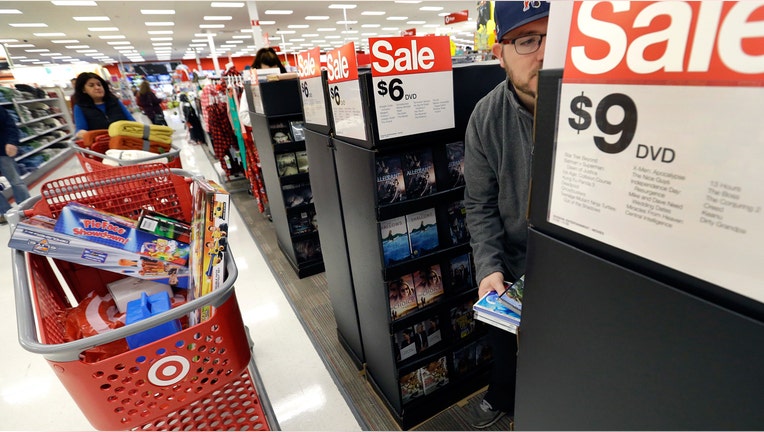 Consumers gleefully reached deep into their pocketbooks during the critical holiday-shopping season last year, but more evidence is surfacing that cheer was on short supply at many traditional retailers.
Target (NYSE:TGT) on Wednesday said sales in November and December at stores open for at least a year fell 3% thanks to lower-than-expected in-store traffic and deeper discounting to compete against online giants like Amazon (NASDAQ:AMZN). While online sales grew more than 30% over the period for Target, that segment accounts for only a portion of the company's business, so overall fourth-quarter sales expectations were revised lower. The discount retailer now sees a decline in same-store sales in the range of -1.5% to -1%, from a previous forecast for -1% to 1% sales growth.
"The costs associated with the accelerated mix shift between our stores and digital channels and a highly promotional competitive environment had a negative impact on our fourth-quarter margins and earnings per share," said Target Chairman and CEO Brian Cornell in a statement.
Still, he noted full-year 2016 earnings are expected to reach an all-time high of $5, though that is lower than the company's prior guidance for profits per share of between $5.10 and $5.30.  Target is set to report its 4Q results on February 28.
More on the Retail-Industry Changes
Investors punished the stock, sending it down more than 5% as the broader consumer discretionary sector declined as well.
Target isn't alone in its sales struggles. Despite a 4% overall bump in holiday sales from a year ago as calculated by the National Retail Federation, Target's announcement is just the latest in a string of disappointing Christmas-season sales figures from a range of retailers including Macy's (NYSE:M), Toys R Us, Khol's (NYSE:KSS) and J.C. Penney (NYSE:JCP) all of which are struggling to attract in-store customers and continue to face stiff competition from strong players in e-commerce.
The pain isn't over just yet, according to research analysts at Credit Suisse, who reported Wednesday they expect e-commerce to take as much as 40% of overall industry sales over the next five to 10 years, compared to its current 15% to 20% share.  That's likely to come alongside continued growth in deep-value retail, which includes fast-fashion stores like Forever 21, Zara, and H&M. That segment could grow from 20% of industry sales to more than 30%.
"In short, we are at (or even past) a tipping point for the traditional full-price mall environment," the Credit Suisse analysts said. "The transition to e-commerce and deep value has already disrupted store productivity, eroded profitability, and perhaps more important, shifted the marginal productivity of capital investments."
As that shift happens, consumers can expect to see continued store closures – especially in the department-store category. Already announcements from Macy's and Nordstrom have lead the way as they look to reduce their bricks-and-mortar footprint, and dedicate more resources toward online and tech-forward options for consumers.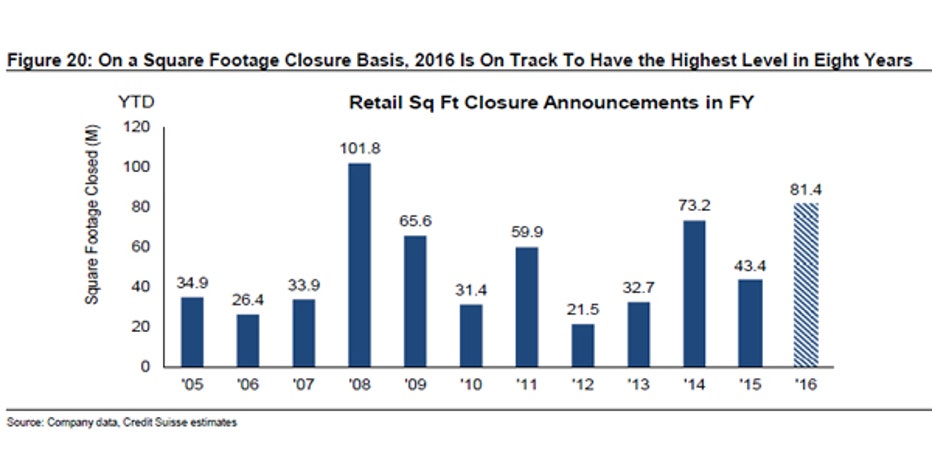 Alongside the development of critical e-commerce platforms, Credit Suisse research showed traditional retailers also stand to benefit from offering unique brands to drive foot traffic in still-standing bricks-and-mortar locations.
"If the 90s model was 'our store environment is better than yours, so we'll take the traffic,' today's model has to be predicated on 'we have the brands you need, no one else does,'" the analysts said noting attractive displays and sales alone are no longer enough to drive shoppers into the store.
As a tidal wave of change looms over the retail industry, consumers have benefitted from lower costs as retailers lure shoppers in with steep discounts nearly all-year round. That promotional environment, combined with the promise of lower taxes under the incoming Trump administration, will likely provide more room for retail sales to grow in 2017. The question is whether certain retailers can adapt quickly enough to capture any momentum.