Target Corporation's Sales Growth Slows to a Crawl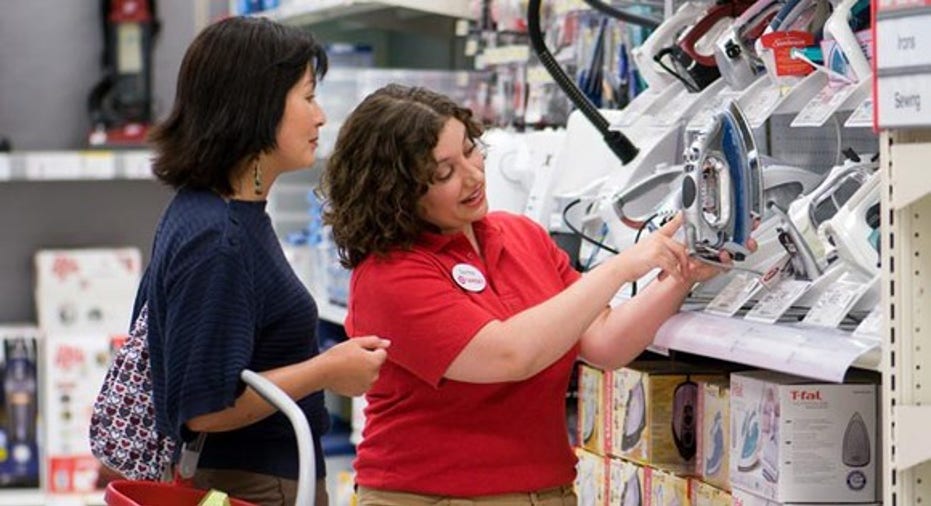 Target (NYSE: TGT) posted first quarter results this week that were hurt by what management called an "increasingly volatile consumer environment." Like peers Nordstrom(NYSE: JWN) and Macy's (NYSE: M), the retailer endured a sales slump that caught management by surprise.
Target's updated forecast also implies that it could soon post its first drop in customer traffic in almost two years.
Here's how the results stacked up against the prior-year period:
| Metric | Q1 2016 Actuals | Q1 2015 Actuals | Growth (YOY) |
| --- | --- | --- | --- |
| Revenue | $16.2 billion | $17.1 billion | (5.4%) |
| Net income | $632 million | $635 million | N/A |
| EPS | $1.05 | $0.98 | 7% |
Data source: Target's financial filings.
What happened this quarter?
Target managed its sixth consecutive quarter of traffic growth -- but only by the tiniest of margins as transactions rose 0.3% compared to a 1.3% gain in the prior quarter. Other highlights of Q1 include:
Comps improved by 1.2% thanks to the traffic uptick and a slight increase in average spending per customer. That result beat Macy's 6% decline and edged Nordstrom's 2% dip, but it was below Target's forecast of 2% comps for the full year.
Gross margin ticked up to 31% of sales (compared to 36% for Macy's and 34% for Nordstrom's), mainly thanks to the sale of the pharmacy business. That steady profitability helped power a 17% bounce in adjusted earnings to $1.29 per share, above consensus estimates targeting $1.19 per share.
Digital sales grew 23% but only contributed 0.6 percentage points of growth, compared to 1.3 percentage points last quarter. E-commerce fell to 3.5% of the business from 5% in Q4.
Target's high-margin categories of apparel, baby, kids, and wellness again outgrew the rest of the store, which helped protect profits even as sales growth decelerated.
What management had to say
Executives counted those fast-growing signature categories, along with rising in-store and digital traffic, as Target's key wins in Q1. "We are pleased with our first-quarter financial results, which demonstrate the effectiveness of our strategy in an increasingly volatile consumer environment," CEO Brian Cornell said. "Strong execution by our team delivered stronger-than-expected growth in Adjusted EPS."
Image source: Target.
Yet customers aren't frequenting Target's stores at the pace that management had aimed for. "The Company's view of second quarter results has been tempered by the recent slowdown in consumer trends," executives explained.
Cornell suggested that the issue isn't a fundamental problem, which contrasts with comments that other retailers have made recently. "We are not counting on the consumer to spend more," Macy's CEO said last week. Instead, Cornell described Target's struggles as a consequence of "a challenging short-term consumer landscape."
Looking forward
While leaving its full-year profit forecast in place, Target's Q2 outlook calls for comps that could decline by as much as 2% (the high end of its guidance range only projects flat sales). That implies its full-year target of 2% comps growth isn't likely to happen, especially as customer traffic is now on pace to drop in the current quarter.
The fact that the e-commerce business fell back down to around 3% of sales suggests that last quarter's huge growth was more a function of Target's aggressive promotion strategy (15% off of everything on Cyber Monday) than a new normal for the retailer. Digital sales remain a big priority for Cornell and his team, but there's still plenty of work to be done to establish Target as a consistent leader in that channel.
The article Target Corporation's Sales Growth Slows to a Crawl originally appeared on Fool.com.
Demitrios Kalogeropoulos has no position in any stocks mentioned. The Motley Fool recommends Nordstrom. Try any of our Foolish newsletter services free for 30 days. We Fools may not all hold the same opinions, but we all believe that considering a diverse range of insights makes us better investors. The Motley Fool has a disclosure policy.
Copyright 1995 - 2016 The Motley Fool, LLC. All rights reserved. The Motley Fool has a disclosure policy.