Tale of Two Consumers: Politics Deeply Divides Shopper Sentiment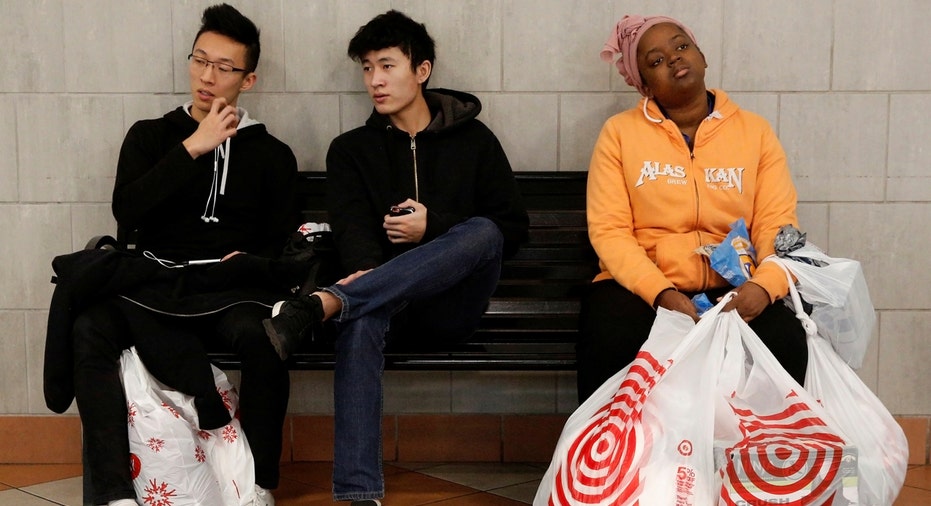 For American consumers, President Donald Trump presents a glass half-full, half-empty economic outlook – depending on whom you ask.
A closely-watched gauge of consumer sentiment from the University of Michigan on Friday slipped 2.8% from a 10-year peak in early February. The index declined to a reading of 95.7 from 98.5 the month prior. On the surface the minor decline may seem like small potatoes, but a deeper dive into the data show two very different consumer moods shaping up across the country.
Through free-response questions, the survey allowed respondents to answer in their own way without pre-planned answer choices. When asked to describe recent news about the economy, 30% answered with a favorable aspect of the president's policies, while 29% mentioned an unfavorable view, according to that data. As a result, nearly six-in-ten of survey respondents made mention of government policies, which Surveys of Consumers Chief Economist Richard Curtin said has never happened in the survey's history.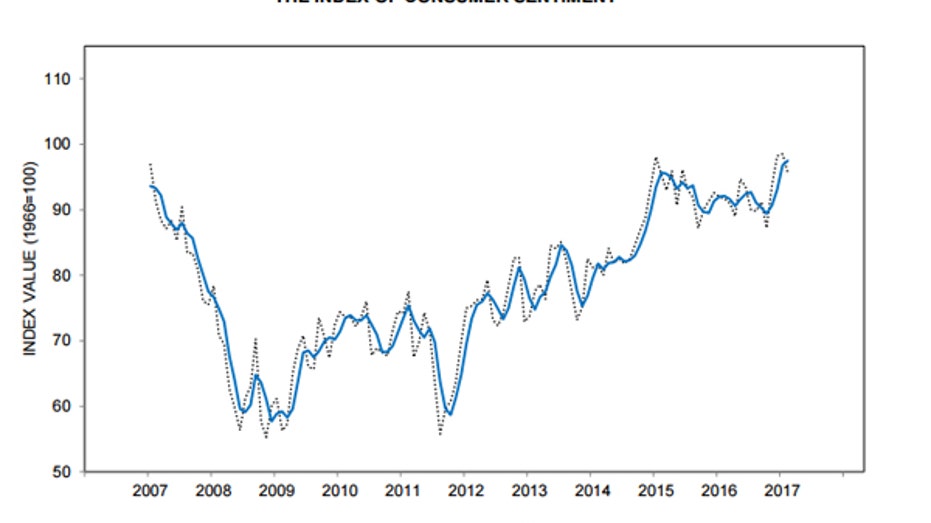 "Never before have these spontaneous references to economic policies had such large impact on the sentiment index," he said. "These differences are troublesome: The Democrat's Expectations Index is close to its historic low (indicating recession) and the Republican's Expectations Index is near its historic high (indicating expansion)."
Indeed, the nation has been split since Trump's Nov. 8 election about how the businessman-turned-president's proposed policies will impact the U.S. economy. From Election Day through Inauguration Day, Wall Street hit new records on his campaign-trail promises of lower taxes, less Wall Street regulation and more fiscal spending through infrastructure investment. During the first month of the year, the "Trump Rally" faded somewhat as tax reform plans appeared to take a backseat on the First 100 days agenda. The rally seemed to turn back on Thursday, though, when Trump promised a "phenomenal" announcement on tax reform in the coming weeks.
While tax breaks could help put more money in the hands of American consumers, the nation is divided about how to enact reforms. What's more, the White House has faced a judiciary hold on his immigration Executive Order, which would block immigration from seven predominantly-Muslim nations. A federal appeals court panel on Thursday refused to reinstate the temporary travel ban.
While negative expectations are typically more influential than positive ones on spending levels, despite the clear partisan divide, consumer confidence overall remains "quite favorable," according to Curtin. From the same period last year, the gauge posted a 4.4% jump, and just five other readings in the last decade have been higher than the current consumer confidence level.
"Overall, even at this level, the index remains consistent with strong consumer sentiment and is supportive of GDP growth in the near term," said Barclays Capital economist Blerina Uruci, who also noted the 12-month inflation expectations measure improved from the prior month while the current conditions index was mostly unchanged.