Take-Two at E3: What Investors Need to Know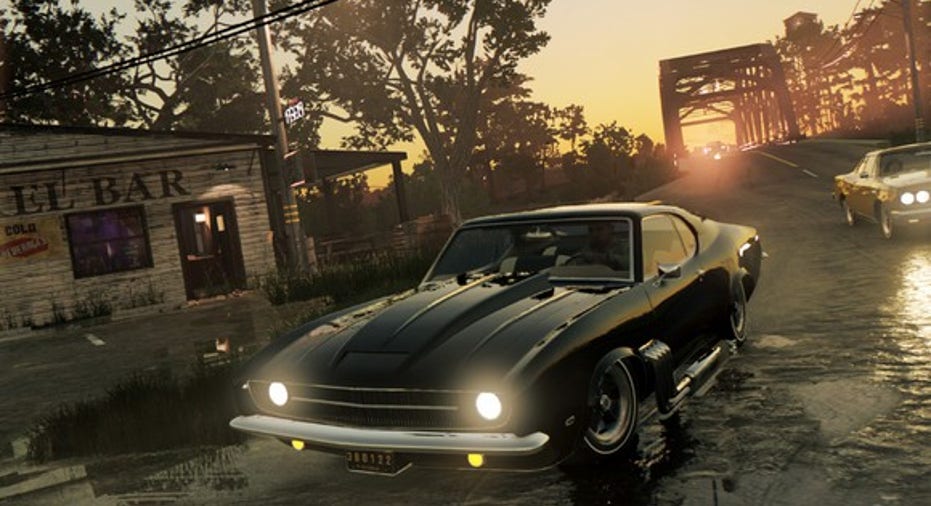 TakeTwo focused onMafia 3at E3 2016; Image source: Take Two.
Shares of Take-Two Interactive fell roughly 3% from June 13 to June 17, a period that spanned the unofficial start of this year's Electronic Entertainment Expo gaming trade show through a post-show reaction window.The company's decision to present a sparse selection of content for the show, on the heels of more than 30% gains over the last year, represents a possible impetus for the sell-off.
Here's what investors need to know about what the company did and did not show at E3 2016, and a look at what the future might have in store for Take-Two.
Take-Two was not at E3 "in a big way"
TheGrand Theft Autopublisher stoked anticipation for its E3 2016 showing, and it's fair to say that it failed to live up to expectations.
In the lead-up to this year's E3 event, Take-Two CEO Strauss Zelnick stated that his company would be at the trade show "in a big way." These comments were given in an interview with gaming news outlet MCV UK in response to aquestion about whether a sequel to its hitRed Dead Redemptionfranchise or a new project fromBioshock creator Ken Levine would be debuted at the event -- likely stoking the belief that one or both projects would be forthcoming.
Ongoing rumors about these games, hints from management, and expectations from fans and investors that they are on the near horizon, combined with Zelnick's indication that the company would have a major presence at the show, set the stage for potential disappointment, and it's fair to say that the company's E3 lineup underdelivered.
What Take-Two brought to the show
The company's lineup revolved around Mafia 3, NBA 2K17,WWE 2K17, Sid Meier'sCivilization VI, and Battleborn.
Mafia 3, slated for an Oct. 7 launch this year, was first unveiled in August 2015and represented the centerpiece of Take-Two's E3 presence -- a disappointment for gamers as well as investors. While the game might prove to be a quality release that builds the profile of theMafiafranchise, the series does not come close to matching the stature and fanfare associated with aGrand Theft AutoorRed Deadrelease. Investors should not bank onMafia 3being a big sales hit.
Similarly.Sid Meier's Civilization VIlooks to be a quality release in the strategy genre, but it will likely be a niche product and not a big revenue stream for the company.
Both NBA 2K17andWWE2K17were announced prior to E3 this year, and while each game should perform well sales-wise (particularlyNBA 2K17), neither title's showing delivered much in the way of a surprise factor.
As forBattleborn, the game's presence at E3 was something of a formality. The title released in May and has failed to garner much interest, as Activision Blizzard's competing title,Overwatch,is currently dominating the genre. Take-Two introduced microtransactional purchases for the game on June 16, but the move is unlikely to generate much revenue due to the game's small player base.
While Take-Two did outline new updates forGrand Theft Auto V's online mode, the updates were not on the scale of a major expansion.
Taken in sum, the company's E3 lineup mostly consisted of annualized sports titles and mid-tier franchise installments -- a fair cause for disappointment after indications that something big was in store.
Time for Take-Two investors to worry?
With anticipation for major game announcements or aGrand Theft Auto Vexpansion pack going unfulfilled, Take-Two delivered the most unsatisfying E3 presence of the major third-party publishers. However, that should not be taken as an indication that it's time for investors to jump ship or let fears about the publisher's future ferment.
A sequel toRead Dead Redemption, a game that had shipped over 14 million copies as of August 2015, is almost certainly still on the way, and the title's absence from this year's E3 show should not present any real impediment to its sales performance. Game assets for a new Red Deadhave reportedly started to leak online, and some rumors suggest that a trailer for the game was pulled from either Sony's or Microsoft's press conference due to it featuring heavily violent content on the heels of the Orlando shooting. Regardless of whether the asset leaks and rumors are true, investors can probably count onRed Dead Redemption 2being announced in the near future.
The absence of new entries in theRead DeadandGrand Theft Autoseries, or the debut of a new, high-profile intellectual property, meant that there wasn't much about Take-Two's E3 presence to be excited about from an investor perspective. Even so, there's a high probability that Take-Two is reasonably far along in readying its next top-tier releases, so a weak E3 showing should probably not be a core component of an investment thesis.
The article Take-Two at E3: What Investors Need to Know originally appeared on Fool.com.
Keith Noonan owns shares of Activision Blizzard and Take-Two Interactive. The Motley Fool owns shares of and recommends Activision Blizzard and Take-Two Interactive. The Motley Fool owns shares of Microsoft. Try any of our Foolish newsletter services free for 30 days. We Fools may not all hold the same opinions, but we all believe that considering a diverse range of insights makes us better investors. The Motley Fool has a disclosure policy.
Copyright 1995 - 2016 The Motley Fool, LLC. All rights reserved. The Motley Fool has a disclosure policy.