Takata's bankruptcy years in the making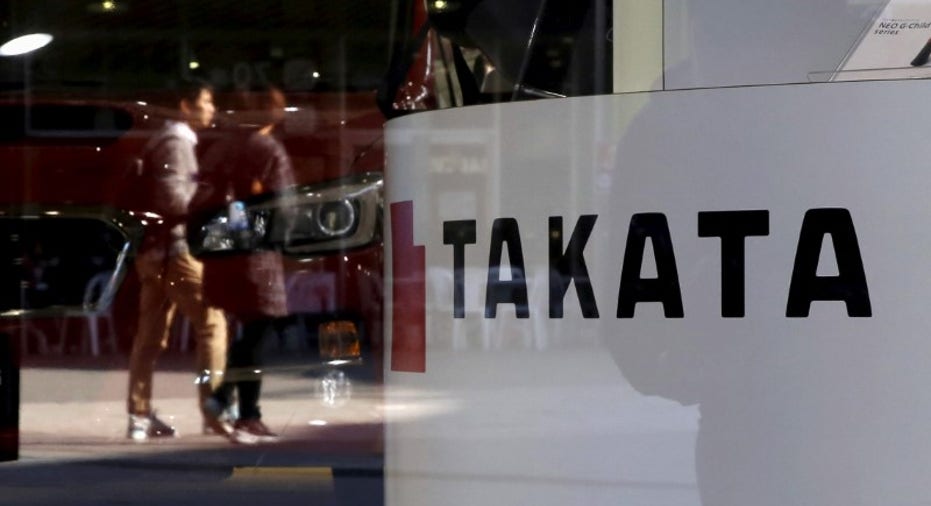 Takata, the Japanese auto supplier at the center of a costly air bag recall, filed for bankruptcy protection Monday to stay afloat and continue making replacement parts.
The bankruptcy filing comes four years after automakers publicly identified a problem with Takata air bag inflators, a defect that led to 16 deaths.
These are the key events surrounding the air bag recall--the largest in U.S. history--leading to Takata's bankruptcy:
Late 1990s: Takata begins making air bags with ammonium nitrate. The substance can quickly inflate the bag after a crash, but it's highly combustible.
2000: Takata executives Shinichi Tanaka, Hideo Nakajima and Tsuneo Chikaraishi realize that the air bags can rupture but they don't inform automakers.
2001: First recall issued relating to Takata's air bags, for the 2000-2001 model year Isuzu Rodeo and the Honda Passport. Takata says the passenger side air bags contain an improper amount of generant, which produces the gas that makes them inflate. Isuzu says the problem was caught quickly so it doesn't send recall notices.
2002: Honda recalls 2,686 Honda Accord and Acura TL sedans from the 2000 model year because their passenger air bags can inflate with too much pressure. Takata blames improper welding.
2008: Honda recalls 3,940 Accords and Civics from 2001 model year. Takata blames the handling of air bag propellant chemicals.
2009: Ashley Parham, 18, dies when the Takata air bag in her 2001 Honda Accord explodes after her car bumps into another car in a parking lot. Parham bleeds to death after shrapnel from the air bag slices open her carotid artery.
2009: Senior Takata executives learn that air bag reports were falsified, but they take no action against lower-level executives until 2015.
2013: Toyota, Honda, Nissan, Mazda and General Motors recall nearly 3.4 million older-model vehicles worldwide due to defective Takata air bags. Takata blames two human errors: a worker who forgot to turn on the switch for a system weeding out defective products and workers who improperly stored parts and exposed them to humidity.
2014: Lawmakers push for a nationwide recall of Takata air bags during congressional hearings.
May 2015: Takata admits its air bags are defective and increases the number of recalls to 34 million inflators in the U.S.
November 2015: The National Highway Traffic Safety Administration imposes a record civil penalty of up to $200 million against Takata and requires it to recall all inflators with ammonium nitrate unless it can prove they are safe.
May 2016: The U.S. government more than doubles the size of the Takata recall to 68 million air bag inflators that must be replaced through 2019.
February 2017: Takata pleads guilty to one count of wire fraud and agrees to pay $1 billion in penalties, including $975 million in restitution to automakers and injured drivers. Three former executives are also charged with falsifying test reports, but they remain in Japan.
June 26, 2017: Takata files for bankruptcy protection in Tokyo and the U.S.
The Associated Press contributed to this report.