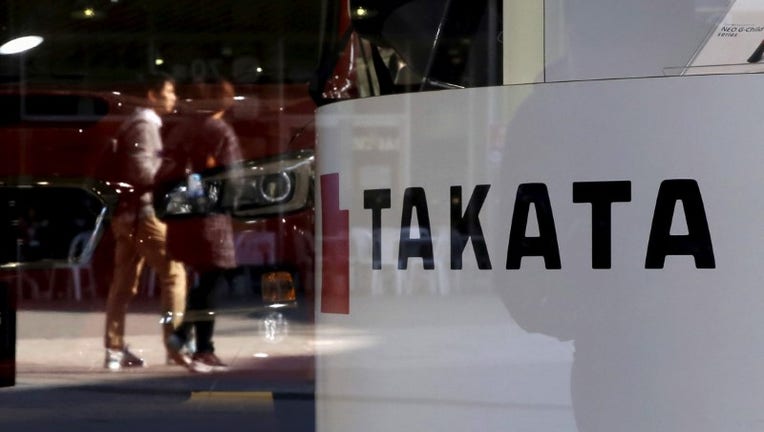 Takata Corp. is nearing a settlement with federal prosecutors to resolve allegations of criminal wrongdoing in the Japanese automotive supplier's handling of rupture-prone air bags linked to numerous deaths and injuries, said people familiar with the discussions, with an agreement expected early next year.
Takata's lawyers and U.S. Justice Department officials are discussing the prospect of the company pleading guilty to criminal misconduct as part of the settlement, the people said. The two sides are aiming to settle a criminal case against Takata as soon as January, though the timing could slip, the people said.
Takata is expected to pay a financial penalty of up to $1 billion to settle the case developed by federal prosecutors, though the final figure could be in the high hundreds of millions of dollars, the people said.
The Japanese company faces significant financial pressures from an onslaught of recalled air bags. Under settlement terms being discussed, Takata is expected to pay some of the financial penalty up front and the rest over a number of years, the people said. The total financial penalty isn't likely to eclipse $1 billion, they said.
Prosecutors are weighing charging Takata with wire fraud after determining the company likely made misleading statements and concealed information about air bags that can explode and spray shrapnel in vehicle cabins, a safety problem linked to 11 deaths and 184 injuries in the U.S., the people said.
One focus of the criminal probe centers on Takata providing misleading testing reports to customers including Honda Motor Co., the people said. Takata has acknowledged the lapses, while adding the discrepancies weren't tied to later air-bag ruptures.
The expected settlement of a criminal case would mark one bookend to an unprecedented safety crisis gripping Takata, regulators, motorists and nearly all car companies across the globe.
In the U.S. alone, 19 auto makers are recalling 42 million vehicles with nearly 70 million Takata air bags that risk rupturing. The crisis represents the largest automotive safety recall in U.S. history and has sparked widespread litigation and government probes.
The Justice Department and other government agencies are racing to complete long-running corporate investigations before Inauguration Day. The practice, common in an administration's waning days, reflects top officials' eagerness to finish work before leaving their perches and some uncertainty over how the incoming Trump administration will approach open cases.
Two European banks agreed last week to pay $12.5 billion in cash and help to consumers to resolve financial crisis-era investigations into the banks' selling of mortgage securities. Volkswagen AG earlier this month agreed to a second civil settlement with the Justice Department over emissions-cheating claims, though discussions to resolve a related criminal probe are likely to languish into the next administration, according to people familiar with the matter. Volkswagen, which has admitted to the emissions cheating and promised to make amends, has said it is cooperating with U.S. officials.
For Takata, a settlement that further cements future financial liabilities would likely help smooth negotiations with suppliers bidding for control of the Japanese company to put it on surer footing. Takata is expected to reach a deal with a rival supplier next year and eventually seek bankruptcy protection to address mushrooming recall costs and help clear a path for a takeover, people familiar with the matter have said.
Takata earlier admitted to failing to alert regulators within five days of uncovering safety defects as legally required, according to a November 2015 civil settlement with the National Highway Traffic Safety Administration. The agency found Takata several times produced testing reports with "selective, incomplete or inaccurate data" and failed to "clarify inaccurate information" provided to regulators during a January 2012 presentation, according to settlement documents.
With the expected Justice Department settlement, Takata is likely to agree to an independent monitor who will audit the company's safety practices, the people familiar with the matter said. It isn't clear whether that monitor would be separate or the same as one assigned to Takata in the previous settlement with regulators.
Auto makers so far have recalled 29 million vehicles with 46 million Takata air bags, according to regulators. As of Dec. 2, roughly 12.5 million air bags have been fixed.
U.S. regulators this month increased pressure on Takata and auto makers to address the rupture-prone air bags, setting new deadlines for recalling and fixing millions of the devices. A government order parcels the air bags into a dozen priority groups based on their risk of exploding and requires auto makers to launch recalls by certain dates and complete them within 2½ years.
Air bags at the greatest risk of rupturing are older and have had prolonged exposure to heat and humidity that can destabilize the chemical compound used to inflate the devices. That prioritizes air bags in humid climes such as Texas and Florida.
By Mike Spector and Aruna Viswanatha