Takata Is Ready to Recall Additional 35 Million Air Bags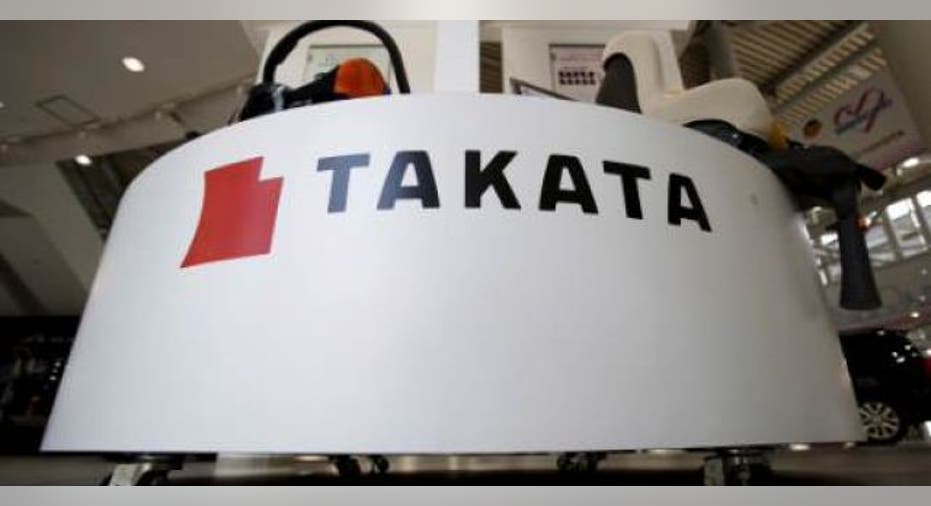 Takata is preparing to recall at least another 35 million rupture-prone air-bag inflaters that U.S. regulators have deemed a safety risk, said people familiar with the matter, further escalating a crisis at the Japanese supplier linked to numerous deaths and injuries.
U.S. regulators could unveil the expanded recall as soon as this week, the people said. The National Highway Traffic Safety Administration and Takata remained in discussions Tuesday, the people said, and the details of the expanded recall haven't yet been completed.
It isn't clear how many vehicles will be affected by the additional recalls, but it is likely to be tens of millions. In addition, the number of inflaters being recalled could increase, one of the people said. The latest safety campaign adds to a current U.S. recall of 28.8 million inflaters affecting some 24 million vehicles.
More than a dozen auto makers are currently recalling vehicles equipped with Takata air bags in one of the largest such actions in U.S. history. The air bags can rupture and spray shrapnel, a safety defect linked to 11 deaths globally and dozens of injuries.
The air-bag inflaters expected to be recalled employ ammonium nitrate as a propellant and lack a drying agent that aims to keep moisture from building, a factor cited in destabilizing the devices and causing explosions. Other air-bag inflaters, including those containing desiccant to prevent moisture, aren't expected to be recalled.
U.S. regulators concluded additional air-bag inflaters should be recalled after studying three separate probes conducted by Takata; a group of 10 auto makers; and Honda Motor Co., the manufacturer most affected by the problematic devices, respectively, one of the people said. A consent order Takata signed in November gives regulators broad authority to order the Japanese company to conduct additional recalls.
U.S. auto-safety regulators are "reviewing the findings of three separate investigations into the Takata air-bag ruptures," a NHTSA spokesman said "The recall of Takata air-bag inflaters covered by the NHTSA Consent Order continues and the agency will take all appropriate actions to make sure air bags in Americans' vehicles are safe."
"Takata is working with regulators and our auto maker customers to develop long-term, orderly solutions to these important safety issues," a spokesman for the Japanese company said. "We strongly urge all consumers to check NHTSA's www.safercar.gov website and contact their dealers immediately if they discover their vehicle is subject to a recall."
The swelling recalls are likely to increase financial pressure on Takata, which has suffered large stock declines and faced increased warranty costs amid the continuing safety crisis. The Japanese supplier earlier this week disclosed $189 million in additional financial losses for the year ended in March because of recall costs and settling legal claims from victims of air-bag ruptures.
Takata is in the midst of trying to sell an interiors division to raise cash and has enlisted prominent restructuring lawyers in the U.S. as recalls have mounted, The Wall Street Journal has reported.
The additional recalls don't cover all air-bag inflaters employing ammonium nitrate currently on U.S. roads, which could prompt criticism from Capitol Hill lawmakers looking for regulators and Takata to take more aggressive actions. Some Senate Democrats long critical of regulators and Takata have called for all air-bag inflaters using ammonium nitrate to be recalled.
Takata, regulators and auto makers have pointed to prolonged exposure to humidity and the age of inflaters as contributing causes to air-bag ruptures. Pinpointing a specific root cause for the ruptures has proved elusive. Officials have said it could take years to address the tens of millions of affected vehicles.
U.S. regulators in November fined Takata $70 million for failing to alert the government to defective air bags in a timely manner and ordered the company to eventually stop using ammonium nitrate in inflaters. The penalty could grow to $200 million should regulators flag Takata for additional infractions. Takata also could face another hefty financial penalty depending on the outcome of a continuing U.S. Justice Department criminal probe. Takata has said it is cooperating with government officials.
Write to Mike Spector at mike.spector@wsj.com