Taco Bell Wants to Eat McDonald's Lunch at Breakfast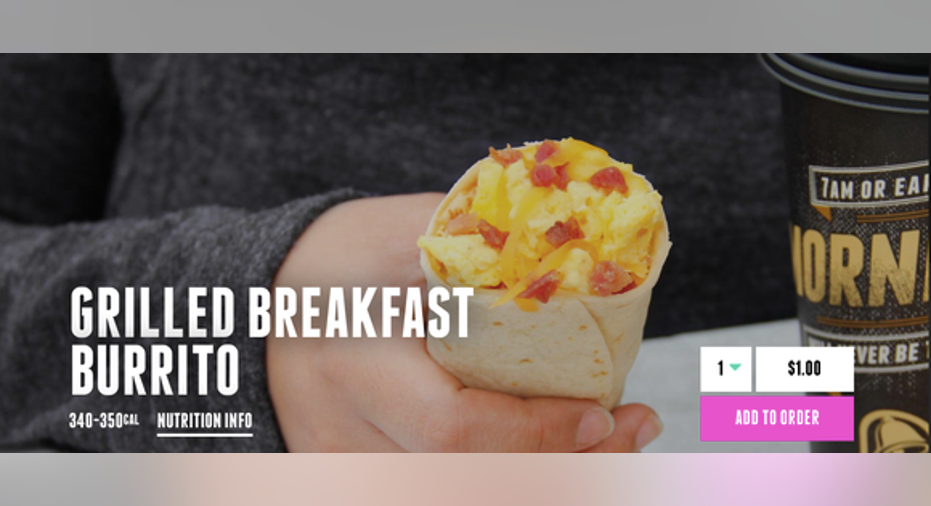 A selection of new $1 breakfast menu items seeks to win back the morning daypart discussion. Image source: Taco Bell.
The launch of McDonald's all-day breakfast promotion last year successfully commandeered the conversation from sliding sales and new competitors in the morning daypart to the opportunity to buy an Egg McMuffin at four o'clock in the afternoon.
Where rivals like White Castle and Taco Bell had generated a lot of buzz with the introduction of their own breakfast menus -- Yum! Brands Mexican food chain saw the Waffle Taco and a.m. Crunchwrap quickly account for about 6% of overall sales -- the burger joint wrested back control of the menu and the buzz by posting two straight quarters of higher comparable sales that it credits, at least in part, to the all-day breakfast menu.
Now Taco Bell looks to turn the tables once more by focusing attention on how McDonald's has abandoned the discount end of the menu.
The Mexican food outlet is offering a new $1 Morning Value menu that it launched with a tongue-in-cheek press release indicating research proves "consumers cite their radical preference to spend $1 vs. more than $1." It did note with surprise, however, that 16% of Americans actually want to pay more.
The new dollar menu will feature four new items including a small bowl of seasoned breakfast potatoes, scrambled eggs, cheese, and pico de gallo; a soft breakfast taco; and a sausage flatbread quesadilla. It will have 10 items in all.
By launching a dollar menu, Taco Bell is poking a stick at McDonald's, Wendy's , and others that are moving away from dollar menus and toward bundled package meals.
Wendy's offers four menu items for $4; Burger King gives customers five for $4, and McDonald's just changed up its McPick 2 menu that gave customers two items for $2 to one that gives them more selection but costs them $5. While such bundles help lure customers in, the burger chain's franchisees find them not as profitable as the premium items on the menu and McDonald's has found it a difficult balancing act to satisfy its customers' desires and it restaurant owners' needs.
Taco Bell's parent Yum! Brands also got into the act with its KFC chain offering a $5 "Fill Up" meal that gives customers an entree, drink, certain side orders, and a dessert for just $5.
The abandonment of the dollar menu gives Taco Bell a chance to make further inroads into the daypart,which is truly big business. According to the market researchers at NPD Group, breakfast visits at restaurants grew 5% for the year ending last June, after rising just 2% the year before. It also broke down individual breakfast item order growth, too:
Bacon servings rose 2%
Breakfast sandwiches increased 3%
Pancakes were up 7%
NPD Group said that translates into 1.1 billion bacon servings, 3.6 billion breakfast sandwiches, and 816 million servings of pancakes. Notsurprisingly, Taco Bells says its new menu is the only one that offers bacon in some of its dishes.And the daypart is arguably more important to McDonald's than to others as it accounts for a quarter of its sales and an estimated 35% to 40% of its profits.
With its new emphasis on value, Taco Bell may successfully cause McDonald's breakfast momentum to stall and necessitating a new salvo to be launched on the value endof the menu.
The article Taco Bell Wants to Eat McDonald's Lunch at Breakfast originally appeared on Fool.com.
Rich Duprey has no position in any stocks mentioned. The Motley Fool has no position in any of the stocks mentioned. Try any of our Foolish newsletter services free for 30 days. We Fools may not all hold the same opinions, but we all believe that considering a diverse range of insights makes us better investors. The Motley Fool has a disclosure policy.
Copyright 1995 - 2016 The Motley Fool, LLC. All rights reserved. The Motley Fool has a disclosure policy.