Tab swells to $25 billion for nuclear-power plant in Georgia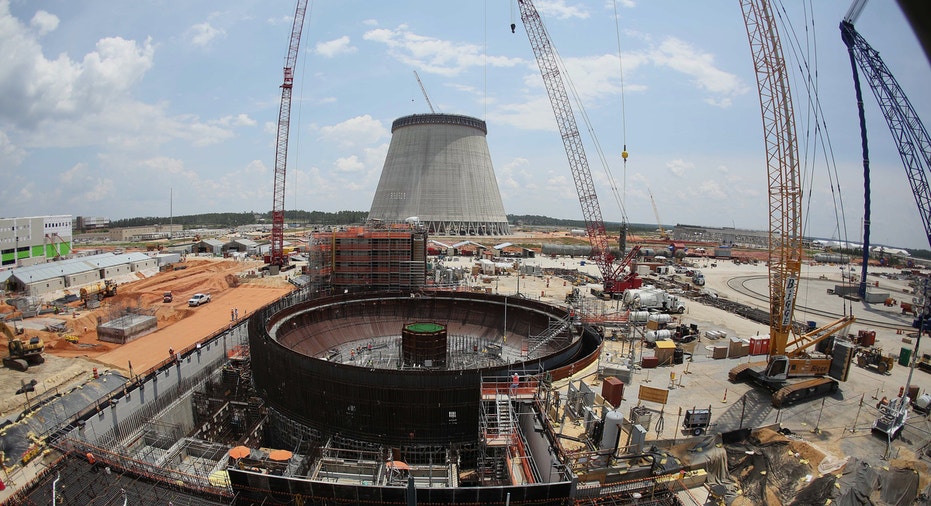 It will cost more than $25 billion to complete a Georgia nuclear power plant, according to a new estimate released Wednesday, raising new questions about whether the sole remaining nuclear facility under construction in the U.S. will get built.
The disclosure from utility Southern Co. comes two days after Scana Corp. pulled the plug on a similar nuclear plant in South Carolina following years of delays and rising costs that also put final completion of that facility above $25 billion.
The escalating expenses, which have nearly doubled over the past nine years, have heightened concern that what was supposed to be a rebirth of the nuclear power industry in the U.S., driven by Westinghouse Electric Co. reactors, is becoming a costly failure.
On Wednesday morning, Southern released a preliminary estimate that indicated overall costs for its Vogtle Electric Generating Plant have risen to at least $25.2 billion. In 2008, when it first proposed building the plant's two reactors, it said it expected to spend $6.4 billion for its 45.7% stake, meaning the entire project would cost roughly $14 billion.
The company also said the earliest the reactors could be operational would be February 2021 and February 2022. Previously, the company said it expected them to be in service by 2019 and 2020.
Southern said it would make a recommendation to Georgia regulators later this month about whether it would proceed with the project. Thomas A. Fanning, Southern's chairman and CEO, is expected to talk to investors Wednesday afternoon on a conference call to discuss quarterly earnings.
A company spokesman confirmed the latest figures on the Georgia plant, but declined to comment on its future.
Earlier this week, Santee Cooper, a state-owned electric utility that was a part owner of South Carolina's V.C. Summer Nuclear Station along with Scana Corp., said total costs of that facility had swelled to $25.7 billion, more than twice the original cost of $11.5 billion proposed in 2008. The utilities decided to cancel the project on Monday, citing the higher costs and anticipated additional delays.
Both Southern and Scana tried to shield investors from the risk of escalating costs by negotiating fixed-cost contracts with Westinghouse, the plants' designer and contractor. But cost overruns forced Westinghouse to seek bankruptcy protection earlier this year, a situation that threatened the financial health of its Japanese parent, Toshiba Corp.
Construction at the Georgia facility is 44% complete, compared to 35% for the South Carolina plant. What's more, Southern negotiated a $3.7 billion financial settlement with Toshiba Corp., which sought to cap its exposure to higher costs from the Westinghouse projects by cutting deals with the utilities.
Vogtle is the only nuclear power plant under construction in the U.S., and the first to be started since the 1980s.
The soaring costs of building new plants are reminiscent of the 1970s and early 1980s, when rising costs contributed to a total halt in new nuclear construction. In 2008, Westinghouse proposed a new design that was intended to be easier to build on time and on budget. This has not turned out to be the case.
The troubles with building new plants come at a time when the idea of generating electricity from nuclear power has received a boost. Some environmentalists have supported nuclear plants as a way of providing power that doesn't emit carbon dioxide. And President Donald Trump said earlier this summer he wanted to "revive and expand our nuclear-energy sector."
Southern said on Wednesday morning that it posted a $1.38 billion loss in the second quarter of the year, compared to a $623 million profit in the same period a year earlier.
The change was almost entirely due to a $2.8 billion pre-tax charge the company took related to an expensive, and ultimately unsuccessful, attempt to build a power plant In Mississippi that could cleanly burn coal and capture much of its carbon-dioxide output.
In June, Mississippi regulators said they were unwilling to pass any additional costs onto to electricity customers. The plant cost $7.5 billion and seven years to build, but Southern couldn't get the carbon dioxide technology to operate properly for extended periods.
Write to Russell Gold at russell.gold@wsj.com
(END) Dow Jones Newswires
August 02, 2017 12:41 ET (16:41 GMT)