T-Mobile Wants to Untether Your Phone Number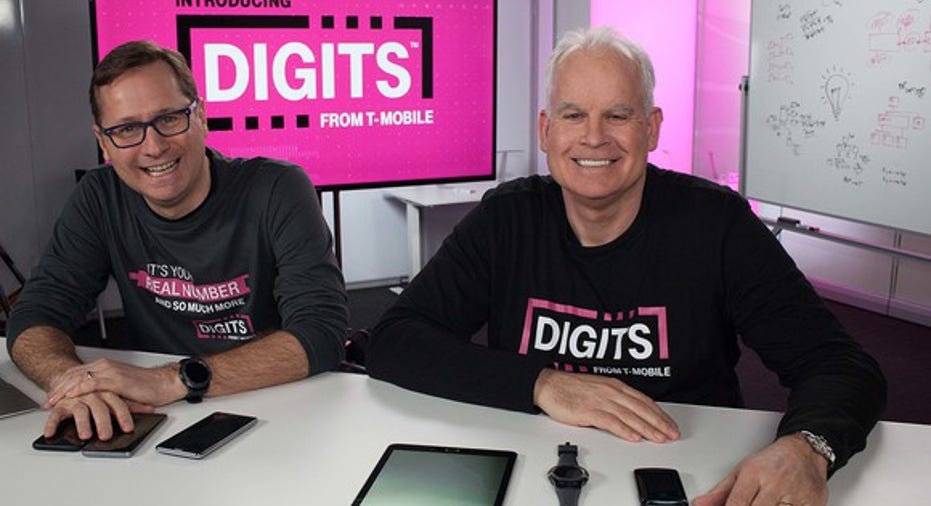 T-Mobile's COO Mike Sievert and CTO Neville Ray announce the T-Mobile DIGITS beta. Imagesource: T-Mobile.
Un-carrier T-Mobile (NASDAQ: TMUS) has unveiled its latest offering: Digits, which essentially untethers phone numbers from specific devices. Instead, multiple phone numbers can work on the same device, and numbers can be shared across multiple devices as well. That includes phones, tablets, wearables, and computers. A core demographic for this feature will be business users, who often have to use different devices for work and personal lines. T-Mobile estimates that 30 million people in the U.S. carry multiple devices, and that double-paying for work and personal lines costs consumers $10 billion per year.
Even things like call history, messages, and voice mails will be available across devices, and customers will be able to quickly switch between numbers. The service will be accessible through an app as well as on the web via desktop browsers, which is how it will sync information. Digits launches today as a limited beta and is currently only available on a select number of high-end Samsung devices. In a press release announcing Digits, COO Mike Sievert called the service a "breakthrough technology that won't be replicated any time soon."
It's different this time
Here's the thing: AT&T (NYSE: T) launched an extremely similar service a year ago called NumberSync, which likewise allows users to access the same phone number across multiple devices. At the time, Sievert had said T-Mobile was working on a competing service that would make NumberSync "look small."
On the surface, both NumberSync and Digits appear similar, but T-Mobile does appear to be doing some heavy lifting behind the scenes in terms of technical differentiation. Jackdaw analyst Jan Dawson notes that the Un-carrier is using industry standard technologies while adding some proprietary methods of implementing phone numbers in a device-independent fashion. It could very well be years before rival carriers launch offerings that match Digits on a technical level.
All about that enterprise
It should go without saying that Digits is clearly targeting enterprise users, as these are the users that end up carrying around multiple devices. On top of that, enterprise customers are less price-sensitive since the company often foots the bill. Digits will not be a free service like NumberSync, and personal users are unlikely to pay for this functionality. T-Mobile has not detailed pricing yet.
The problem that T-Mobile will face is that enterprise users that carry around two devices aren't only concerned about phone numbers. Those users often need to access a wide range of work-related items from their phones, from email to attachments and other proprietary data. That information often needs to be secured, which is partially why business users carry separate devices in the first place -- it's easier for an IT department to secure and manage the device. In Dawson's words, "simply offering a second phone line on a single device doesn't meet any of those needs."
Digits appears to have some promising potential, but in practice it probably won't be a game changer.
10 stocks we like better than T-Mobile US When investing geniuses David and Tom Gardner have a stock tip, it can pay to listen. After all, the newsletter they have run for over a decade, Motley Fool Stock Advisor, has tripled the market.*
David and Tom just revealed what they believe are the 10 best stocks for investors to buy right now... and T-Mobile US wasn't one of them! That's right -- they think these 10 stocks are even better buys.
Click here to learn about these picks!
*Stock Advisor returns as of Nov. 7, 2016
Evan Niu, CFA has no position in any stocks mentioned. The Motley Fool recommends T-Mobile US. Try any of our Foolish newsletter services free for 30 days. We Fools may not all hold the same opinions, but we all believe that considering a diverse range of insights makes us better investors. The Motley Fool has a disclosure policy.