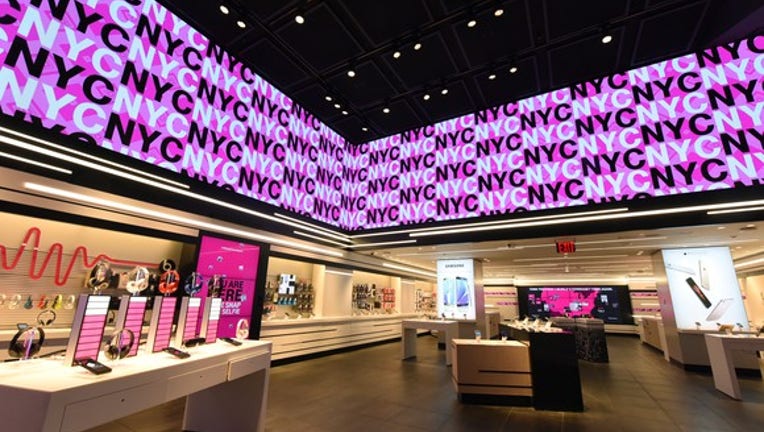 T-Mobile retail store in Times Square. Image source: T-Mobile.
Net neutrality be damned, Un-carrier T-Mobile (NASDAQ: TMUS) is taking a direct shot at AT&T's (NYSE: T) new DIRECTV Now service, which launched just weeks ago. T-Mobile is launching a promotion that offers a free year of DIRECTV Now for customers that switch from Ma Bell. The promotion is valued at $420, which is given through monthly bill credits of $35 -- the starting price of DIRECTV Now. Never the shy one, CEO John Legere added, "AT&T wants you to think DIRECTV is theirs exclusively, but that's a load of crap."
In order to qualify, AT&T customers must activate two lines and port their numbers over, and also sign up for T-Mobile One. T-Mobile takes another jab at its larger rival, acknowledging that even if customers hate the service since it's an AT&T product, they'll still be getting unlimited LTE data through One (although there are some caveats, particularly around video). DIRECTV Now is also being added to T-Mobile's Binge On list for Simple Choice customers, meaning that like other Binge On participants, it won't count against customer data caps (although Binge On content is downscaled to 480p for bandwidth considerations).
It's worth noting that the promotion, which is good through Feb. 16, 2017, can not be combined with other promotions like Carrier Freedom, T-Mobile's long-standing offer to cover early termination fees or remaining handset installments that customers may still owe. The promotional value for free DIRECTV Now is higher, but customers that take advantage may still have some friction switching.
Net neutrality, schmeutrality
AT&T has been under fire from consumer advocacy groups and regulators alike for zero-rating DIRECTV Now, since the offering undermines net neutrality and threatens to inhibit competition in the long run. The FCC sent a strongly worded letter to AT&T earlier this month expressing its concerns. Of course, AT&T maintains that this is merely a consumer benefit, but it's pretty clear that DIRECTV Now enjoys a critical competitive advantage over other competing services if AT&T customers can stream it for free while other services count against data caps.
At $35 per month, DIRECTV Now is priced fairly aggressively. In its letter, the FCC estimates that a third-party mobile video service provider would have to pay AT&T $16 per month for a customer that uses 10 minutes of LTE video per day if it wanted to compete and cover the costs of Sponsored Data and not have the service count against the customer's data cap. That soars to $47 per month if the customer watches 30 minutes per day. The alternative is that the video provider does not pay for Sponsored Data, its usage counts against the customer's data cap, and the customer pays a higher monthly bill for increased usage.
T-Mobile is no stranger to net neutrality criticisms, although the context is different since T-Mobile does not directly own or operate any mobile video streaming services. But its Binge On service has drawn similar criticisms since it displays favoritism with services that participate. It's true that T-Mobile is more objective than AT&T, but it's also still true that certain services are being favored over others.
With the incoming Trump administration likely appointing net neutrality opponents to the FCC (although they must be confirmed by the Senate), this issue is only going to get more complicated before it gets simpler.
10 stocks we like better than T-Mobile US When investing geniuses David and Tom Gardner have a stock tip, it can pay to listen. After all, the newsletter they have run for over a decade, Motley Fool Stock Advisor, has tripled the market.*
David and Tom just revealed what they believe are the 10 best stocks for investors to buy right now... and T-Mobile US wasn't one of them! That's right -- they think these 10 stocks are even better buys.
Click here to learn about these picks!
*Stock Advisor returns as of Nov. 7, 2016
Evan Niu, CFA has no position in any stocks mentioned. The Motley Fool recommends T-Mobile US. Try any of our Foolish newsletter services free for 30 days. We Fools may not all hold the same opinions, but we all believe that considering a diverse range of insights makes us better investors. The Motley Fool has a disclosure policy.