T-Mobile Is Trying to Ruin AT&T's Holiday Season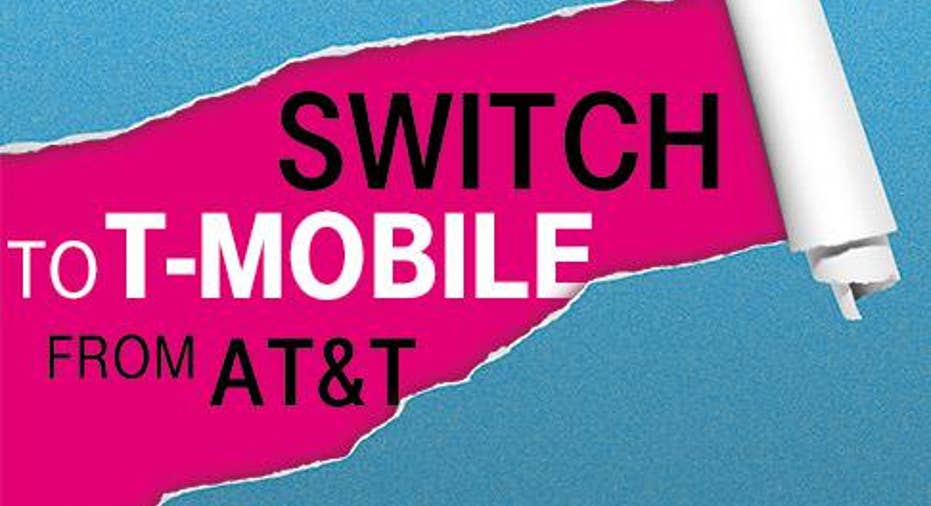 Source: T-Mobile.
The holiday season is one for celebration and peace on Earth for most, but for wireless carriers it's typically a time of cutthroat promotions aimed at stealing away subscribers. (Happy holidays!)
Not surprisingly, T-Mobile is offering up some of the most aggressive offers this season, taking aim directly at AT&T subscribers. This year, T-Mobile is offering a 128 GB iPhone 6s for just $649.99, the same price the carrier sells the 16GB version for) to AT&T subscribers, if they switch to T-Mobile.
Additionally, AT&T subscribers receive 50% off accessories over $70 when they switch to T-Mobile. The discount is good for up to $125 off the total price and includes things such as wireless Bluetooth speakers and Beats headphones.
If that sounds like a good deal, consider that it comes on top of T-Mobile's permanent offer to new subscribers, in which it pays up to $650 per line to cover early termination fees to device payoffs when users switch to the carrier.
And if T-Mobile's track record is any prediction, this new offer is likely to pay off.
These promotions are fueling T-Mobile's growthLast year, T-Mobile brought in about five times the amount of postpaid net subscribers than AT&T did,and that growth quickly spilled into 2015. T-Mobile has added 1 million or more net subscribers for the past 10 consecutive quarters.
That type of growth has come from aggressive offers such as the one T-Mobile just launched for AT&T subscribers, and it's not likely to let up. T-Mobile is offeringSprint customers (which includespostpaid, prepaid, Boost, and Virgin Mobile customers)an additional $200 per line -- on top of the $650 it offers for switching -- when they leave Sprint, and it won't require customers to trade in their phones when they join. T-Mobile CEO John Legere alsotweeted that the carrier will soon reveal details on how it plans to woo Verizon subscribers this holiday season as well.
Promotions like these helped T-Mobile become the third largest U.S. wireless carrier by subscriber numbers this year, and it now sits squarely behind AT&T.
More of the sameWe'll have to wait until T-Mobile's next earnings report to see if the carrier can continue the same neck-snapping subscriber growth, but the new promotion geared toward AT&T subscribers should certainly help.
T-Mobile's new offering may come at an especially bad time for AT&T, as a recent investor note from Jefferies says AT&T executives won't chase after subscribers -- even as other carriers are fighting for wireless customers.
Even Verizon, which is the nation's largest carrier and has the best overall network, according to RootMetrics, is offering new and existing customers 2GB of additional data each month for each phone added or upgraded, through Jan. 6.
AT&T may not need to fight for subscribers now, but if it continues to treat T-Mobile's promotions as anything but detrimental to its business, it may find T-Mobile celebrating a happy holiday while it starts off 2016 on the wrong foot.
The article T-Mobile Is Trying to Ruin AT&T's Holiday Season originally appeared on Fool.com.
Chris Neiger has no position in any stocks mentioned. The Motley Fool recommends Verizon Communications. Try any of our Foolish newsletter services free for 30 days. We Fools may not all hold the same opinions, but we all believe that considering a diverse range of insights makes us better investors. The Motley Fool has a disclosure policy.
Copyright 1995 - 2015 The Motley Fool, LLC. All rights reserved. The Motley Fool has a disclosure policy.