T-Mobile Has Raised Prices for New Customers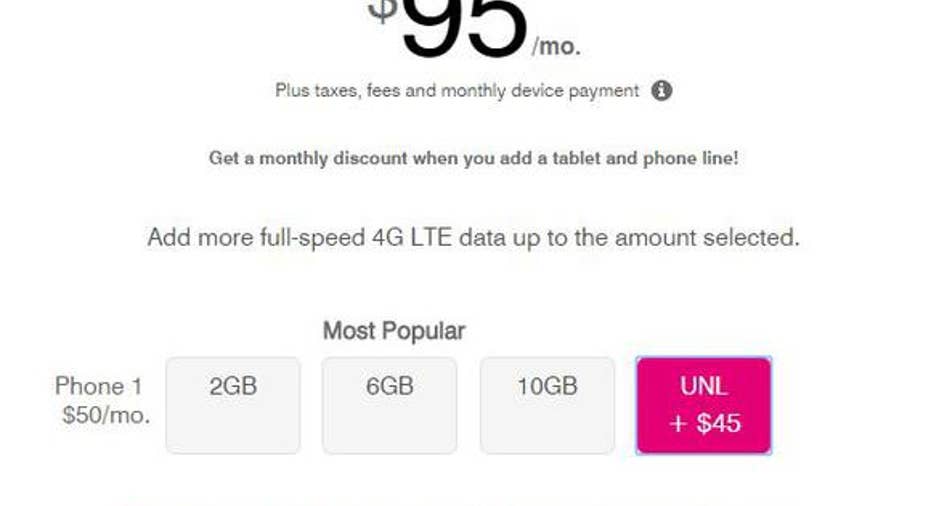 T-Mobile continues to shakeup the wireless industry, offering a growing number of perks designed to attract even more subscribers to what's still the nation's fastest-growing network. But not every move the company has made in recent weeks has been pro-consumer: last month, T-Mobile raised the price of some of its plans.
T-Mobile's growth has been stellar, and management expects it to continue -- but with its prices increasing, it could open itself up to competition, particularly from Sprint .
More data, more moneyPreviously, T-Mobile offered four different plans with different data allotments: 1GB, 3GB, 5GB, and unlimited. Those plans were priced at $50, $60, $70, and $80, respectively. Now, T-Mobile offers plans in 2GB, 6GB, 10GB, and unlimited increments, and prices them at $50, $65, $80, and $95. That's better for some customers (T-Mobile subscribers can now get 6GB of data for $65, when they were previously paying $70 for 5GB) but worse for others. T-Mobile's unlimited data plan saw the biggest price increase, going from $80 per month to $95.
Source: T-Mobile
Existing customers on T-Mobile's unlimited plan can keep their current rate for at least two years, but after that, they could be due for a price increase.
Overall, the move seems aimed at encouraging T-Mobile customers to stay away from its unlimited data plan. T-Mobile's second- and third-tier plans are now much more attractive, and offer enough data so that for many consumers, going with the unlimited plan may not be necessary.
A $25 differenceVerizon and AT&T don't offer unlimited data plans to new customers, so even at $95, T-Mobile's unlimited data plan remains a bargain, relatively speaking. Sprint, however, does, and with T-Mobile's price increase, it looks much more attractive. Under T-Mobile's old pricing standards, the difference between its plan and Sprint's was a mere $10 per month -- but under its new prices, the difference is a full $25. Sprint's unlimited data plan costs only $70 per month.
T-Mobile has tried to distract from its price increase with other promotions that Sprint isn't currently offering. For the next three months, most current T-Mobile subscribers will get three full months of unlimited LTE data regardless of their plan, and with Binge On, they can now stream unlimited amounts of video from most of the popular providers.
Most T-Mobile subscribers likely aren't on its unlimited data plans anyway. The firm doesn't break out the popularity of individual plans, but its average revenue per user (ARPU) came in at just $47.99 last quarter -- far less than the cost of its unlimited data plan. During its earnings call in October, T-Mobile CFO Braxton Carter cited its aggressive family plan promotion to explain its modest ARPU. For much of the year, T-Mobile has offering families four lines, each with 10GB, for $120 per month.
And customers still see T-Mobile as offering great service for the price. In a survey released earlier this month, Consumer Reports named T-Mobile the top carrier in the nation, largely on the basis of value.
An opportunity for SprintT-Mobile officially overtook Sprint earlier this year, becoming the nation's third-largest carrier in the process. T-Mobile has added more than 1 million postpaid customers in each of the last five quarters, and has outgrown the industry in each of the last seven quarters. T-Mobile's management expects this growth to continue. "We've had 10 quarters in a row with overall positive postpaid porting ratios and I don't intend to stop that trend now," said T-Mobile's CEO John Legere on the company's last earnings call.
But Sprint has also seen some positive momentum. For the first time in two years, Sprint recorded positive postpaid customer additions last quarter -- suggesting that its own initiatives have finally having some success.
This price increase may not be significant enough to slow T-Mobile down, but if it becomes a trend, its rapid growth could moderate.
The article T-Mobile Has Raised Prices for New Customers originally appeared on Fool.com.
Sam Mattera has no position in any stocks mentioned. The Motley Fool recommends Verizon Communications. Try any of our Foolish newsletter services free for 30 days. We Fools may not all hold the same opinions, but we all believe that considering a diverse range of insights makes us better investors. The Motley Fool has a disclosure policy.
Copyright 1995 - 2015 The Motley Fool, LLC. All rights reserved. The Motley Fool has a disclosure policy.