Synergy Pharmaceuticals: Approval, Now What?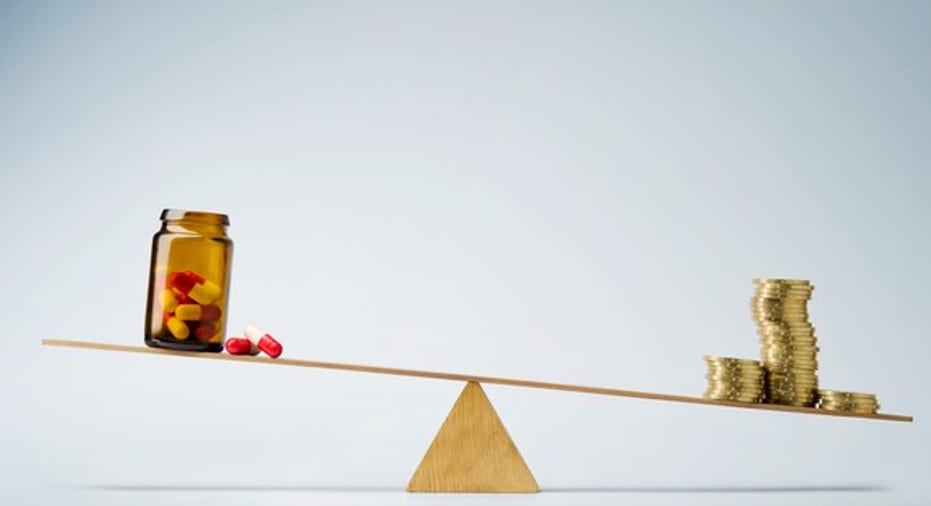 Shares of Synergy Pharmaceuticals(NASDAQ: SGYP)are up more than 100% from their 2016 lows, and the company finally received FDA approval of its drug Trulance (plecanatide) in January of this year. However, since the drug's approval, the stock has traded down over 20% due to a combination equity raise as well as a classic "buy the rumor, sell the news" market reaction. Here's why the investors that are selling the stock off are wrong.
What's happened so far
Synergy's only commercial product is the aforementioned Trulance (plecanatide), a once-daily oral treatment forChronic Idiopathic Constipation. While CIC may sound like an unfamiliar indication, the market for this disorder is huge. As many as 35 million Americans suffer from CIC. Currently, the most common form of treatment for this condition comes in the form of Linzess, a product developed and commercialized by Ironwood Pharmaceuticals (NASDAQ: IRWD) and Allergan (NYSE: AGN).
While trials of Trulance in CIC reported similar efficacy to Linzess, Trulance is far from an also-ran, as it offers several substantive advantages over the current standard of care. Most notably, Trulance users reported diarrhea (the most common adverse event) less frequently -- specifically at rates of 5% versus Linzess' 16%. In addition, Trulance was also associated with lower rates of abdominal pain, flatulence, and upper respiratory tract infection. And finally, Linzess must be taken on an empty stomach before the first meal of the day while Trulance is good for ingestion at any time. Overall, these benefits should mean that Trulance will have a sustainable advantage over Linzess within the CIC market.
Image source: Getty Images.
The state of the market
In terms of overall sales, the branded prescription CIC market is both large and growing. In fact, the value of the prescription constipation market has almost doubled from 2013 to 2015 from $642 million to over $1.2 billion. Just as apoint of comparison, for full-year 2016, Ironwood reported total sales of Linzess at $626 million, up 38% year-over-year. Ironwood management has guided for total sales of Linzess to exceed $1 billion by 2020. So, it seems to be entirely possible for multiple drugs to successfully compete and expand within this one indication.
What's next
In terms of pipeline, Synergy has also completed two phase 3 trials of Trulance in irritable bowel syndrome with constipation (IBS-C). In both of these studies, Trulance met its primary endpoint of percentage of patients classified as overall responders versus placebo. Synergy management has announced that they plan to file an sNDA for Trulance in IBS-C later on this quarter.
At the beginning of February, Synergy announced the pricing of a secondary round of equity raising in anticipation of thecommercial launch of Trulance. While the stock dropped as a result of this news, the underwriting yielded net proceeds of $122 million, and this is after the company ended 2016 with $82 million in cash and equivalents. While it is unknown what exactly Synergy's cash burn rate will be upon commercializing Trulance, analysts have pegged the number somewhere around $30 million per quarter. Current cash levels shouldbe enough for the company to make it until at least mid-year 2018.
While rumors were circulating that Synergy would be an appetizing takeout candidate for such firms as Allergan or Takeda (and this is certainly still a possibility), these options seem less likely after the equity raise. For myself, I believe there is a large opportunity for Synergy to go it alone. While Synergy is still a small-cap biotech, the fact that they already have an approved product set to launch and a large market opportunity make this one of the less-risky small cap biotech plays available. For the long-term investor, I'd say Synergy is a buy.
10 stocks we like better than Synergy PharmaceuticalsWhen investing geniuses David and Tom Gardner have a stock tip, it can pay to listen. After all, the newsletter they have run for over a decade, Motley Fool Stock Advisor, has tripled the market.*
David and Tom just revealed what they believe are the 10 best stocks for investors to buy right now... and Synergy Pharmaceuticals wasn't one of them! That's right -- they think these 10 stocks are even better buys.
Click here to learn about these picks!
*Stock Advisor returns as of February 6, 2017
David Liang owns shares of Synergy Pharmaceuticals. The Motley Fool has no position in any of the stocks mentioned. The Motley Fool has a disclosure policy.