Surprise! Halliburton Company Pre-Announces Q1 Results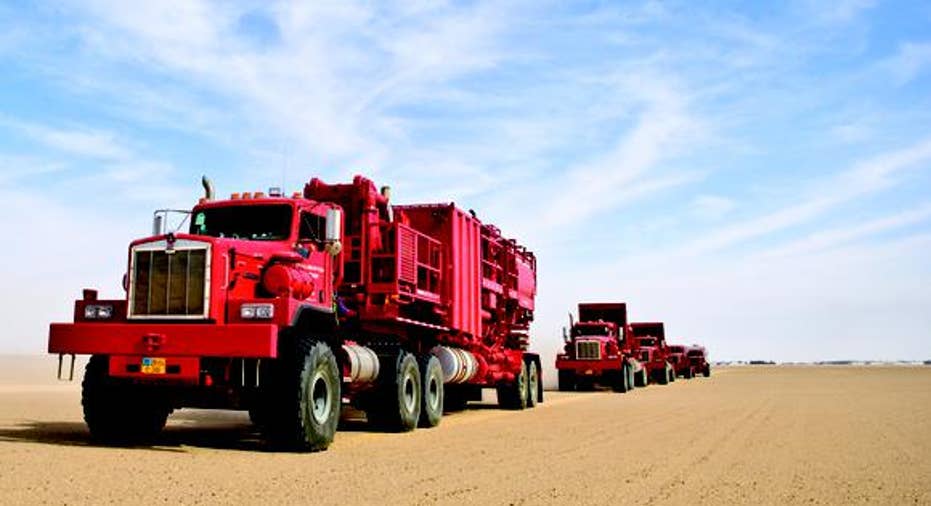 Image source: Halliburton.
In a surprise move, Halliburton pre-announced its first-quarter revenue in an operational update released after markets closed on Friday evening. Typically, when a company pre-announces results and does so on a Friday night, it's an ominous sign. However, in this case the numbers as a whole weren't as bad as expected, though they weren't all that great, either.
Originally, Halliburton had planned to release its first-quarter results on Monday morning. However, with an end-of-the-month deadline looming for its pending merger with Baker Hughes , it decided to postpone the full earnings release and its first-quarter conference call until early May. It's a move that suggests that there is more news pending regarding that troubled deal.
Drilling down into the numbersHalliburton said its first-quarter revenue was $4.2 billion, which was down 17% from last quarter. While that sounds awful, and it's not a great number by any means, it is a better result than was expected. Not only did the company's revenue decline outperform the global rig count, which was 21% lower sequentially, but it was also better than analysts' expectations of $4.14 billion.
The company's North American segment in particular was stronger than anticipated. Going into the quarter, Halliburton had expected that segment's revenue to decline as steeply as the U.S. rig count, which was down 27%. However, Halliburton's revenue in that segment was down just 17% from last quarter:
| Segment | Q1 2016 Revenue | Q1 2015 Revenue | YOY Change | Q4 2015 Revenue | QOQ Change |
| --- | --- | --- | --- | --- | --- |
| North America | $1,794 | $3,542 | (49%) | $2,155 | (17%) |
| Latin America | $541 | $949 | (43%) | $694 | (22%) |
| Europe/Africa/CIS | $778 | $1,097 | (29%) | $962 | (19%) |
| Middle East/Asia | $1,085 | $1,462 | (26%) | $1,271 | (15%) |
IN MILLIONS OF DOLLARS. DATA SOURCE: HALLIBURTON COMPANY.
However, the company did note that the segment lost $38 million, which was slightly worse than the "about breakeven" that it had been guiding to deliver. Speaking of earnings, Halliburton didn't pre-announce earnings results, other than the operating earnings of its geographic regions.
Turning to its other geographic segments, Halliburton reported weaker revenue results across the board. It had been guiding for "revenues to decline by a mid-teens percentage" in Latin America, but it delivered a 22% revenue decline. That was due to reduced activities in Mexico, Brazil, and Colombia, as well as the company's decision to begin curtailing its activity in Venezuela as a result of that country's financial woes. Meanwhile, Halliburton thought that revenue in the Eastern Hemisphere would "decline sequentially by a low-double-digit percentage," but it instead delivered a 15% decline in Middle East/Asia and a 19% decline in Europe/Africa/CIS. Driving this weaker result was a "sharp reduction in activity in the North Sea," as well as activity and pricing reductions in Asia Pacific.
What to expect nextHalliburton and Baker Hughes have until the end of this month to obtain regulatory approval for their merger. If that doesn't occur, either company could terminate the transaction or both parties could agree to once again extend the deadline to continue seeking approval. As it stands right now, this is a very tight time frame, especially given that the U.S. Department of Justice brought a civil suit to block the deal earlier this month. Either way, investors will know more about what both companies plan to do by May 3, which is when Halliburton now plans to hold a conference call to discuss its first-quarter results.
In addition to the uncertainty surrounding that transaction, there's still immense uncertainty about when the oil market will start to recover. Halliburton noted in its press release that "life has changed in the energy industry" and that many producers are just "fighting to maintain some value for their shareholders" at the moment. Further, the company warned that even when producers feel better about the oil market, they'll probably be cautious about ramping up activity levels, given the stress on their balance sheets. This situation could lead to a much slower recovery in drilling activity than Halliburton had been anticipating.
Investor takeawayHalliburton surprised investors by pre-announcing some of its first-quarter results while postponing the full announcement and subsequent conference call until early next month so it can get past a key deadline for the Baker Hughes merger. What numbers it did provide investors were a mixed bag. On one hand, North American revenue wasn't quite as bad as expected, which led to a better-than-expected overall revenue number. On the other hand, the company's international operations were under a lot of pressure, and the company clearly faces a challenging oil market in 2016.
The article Surprise! Halliburton Company Pre-Announces Q1 Results originally appeared on Fool.com.
Matt DiLallo has no position in any stocks mentioned. The Motley Fool owns shares of and recommends Halliburton. Try any of our Foolish newsletter services free for 30 days. We Fools may not all hold the same opinions, but we all believe that considering a diverse range of insights makes us better investors. The Motley Fool has a disclosure policy.
Copyright 1995 - 2016 The Motley Fool, LLC. All rights reserved. The Motley Fool has a disclosure policy.