SunPower Has Its Sights Set on Rooftop Solar Growth in 2016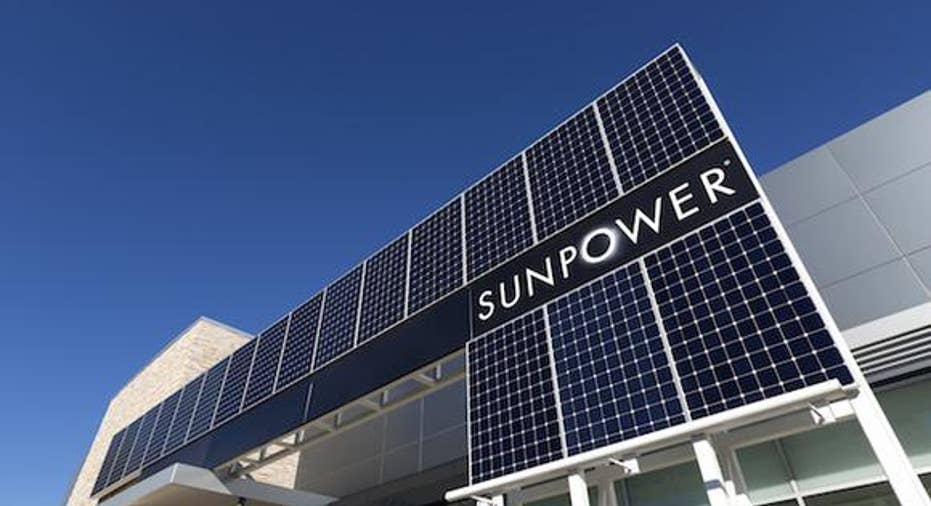 Image source: SunPower.
Solar earnings season is in full swing, and the market doesn't seem to know what to make of it. First Solar beat estimates last week, only to see its stock drop; and even afterSunPower followed suit with better than expected numbers, there was little excitement for the stock.
As we've seen over and over again in solar, beating expectations doesn't always mean a stock will go up. For hints as to why this is the case, let's take look at what we learned from SunPower in Q1.
Beating expectations has become a trend We can pretty much expect that SunPower will meet or exceed its guidance every quarter at this point. Management typically doesn't promise what it can't deliver, and since it's easy to predict solar installations three months out, it typically beats expectations.
| | Q1 2016 Guidance | Q1 2016 | Q2 2016 Guidance |
| --- | --- | --- | --- |
| GAAP Revenue | $280-$330 million | $384.9 million | $290-$340 million |
| GAAP Gross Margin | 11%-12% | 13.4% | 10%-12% |
| GAAP Net Loss | ($115-$90 million) | ($85.4 million) | ($90-$65 million) |
| Non-GAAP Revenue | $290-$340 million | $433.6 million | $310-$360 million |
| Non-GAAP Gross Margin | 12%-13% | 13.6% | 12%-14% |
| EBITDA | $0-$25 million | $6.3 million | $0-$25 million |
Source: Company earnings releases and presentations.
The earnings beat was primarily due to revenue recognition from the Hooper project, which was sold to yieldco 8point3 Energy Partners . Management had expected that sale to happen in Q2, but it was pulled forward into Q1. But it's worth noting that the revenue didn't come with any margin, which was recognized in Q4 2015 when the company sold the tax equity portion of the project.
Image source: SunPower.
Big trends to watch The big news from yesterday's earnings report and conference call is that SunPower is doing incredibly well in residential and commercial solar, a reversal of its low margins in those segments the last few years. The introduction of fully engineered systems, known as Helix (commercial) and Equinox (residential), are helping lower costs and increase demand. For the full year, management increased installation guidance for both residential and commercial by 50 MW to 350 MW-450 MW. In total, the company could install 900 MW of residential and commercial solar.
What's incredible is that after years of struggling with margins in both segments, SunPower is now generating solid margins on both. GAAP gross margin for residential solar was 22.2%, and non-GAAP margin was 23.4%. Commercial margins were 13.4% on a GAAP basis and 15.9% on a non-GAAP basis. As Helix and Equinox become a larger percentage of installations, management expects residential margins in the mid-to-high 20s and commercial margins in the low 20s. And that's with 60%-70% of residential systems sold outright with cash or loans.
On top of these great margins and the upfront cash, SunPower is gaining market share. Management expects to double commercial solar market share this year, and grew 50% in residential solar in Q1. By contrast, SolarCity is expecting to grow just 18% in Q1, so we could see power shifting in the industry.
While residential and commercial solar are going extremely well and should continue to grow steadily over the next few years, the same can't be said for power plants, and that's probably what the market is most concerned about. There is uncertainty in power plants in 2017 to 2018, in part because there's no rush for utilities in the U.S. to buy energy from solar projects. The investment tax credit extension that was scheduled to take place at the end of 2016 (before it was extended) drove a lot of the contracts signed for this year. That's why this year will be big for power plants, but it's also why utilities aren't eager for projects that will be completed in 2017 or 2018.
CEO Tom Werner told me after the conference call that this dynamic will cause SunPower to shift its focus to some international markets in the next few years, which will mean it probably won't be the developer of many of its projects (as it is this year). But it will sell fully engineered solutions to customers, known as Oasis in the power plant business. In other words, power plant revenue may drop in 2017, even if the number of MW deployed stays flat or rises slightly. SunPower isn't taking as big a chunk of the pie if it isn't the developer, although it's also taking less risk. That could be good or bad, depending on how you look at it.
The curveball to this is that utilities may sign contracts for 2017 or 2018 projects in the next few months, creating short lead time opportunities. But that's only speculation until those contracts actually show up, hence the uncertainty in power plants.
Image source: SunPower.
Financial markets for solar are changing One of the question marks for 2016 and beyond is the financing of solar projects. The thought was once that 8point3 Energy Partners would buy a lot of the projects SunPower built, but its low stock price makes it difficult to issue shares at attractive enough prices to buy accretive growth in the future. There are a few projects the yieldco will buy later this year, but with 650 MW of utility and commercial projects due to be completed in 2016, there may not be enough capacity to buy as much as management once hoped.
That's why it sounds like SunPower will likely start using the 51/49 structure more on projects. This is where the company sells the tax benefits and 51% of the cash flows to an investor and then maintains a 49% stake in the project. That 49% stake can be held long-term or sold to 8point3 or another party if the price is right. Depending on timing, this could push revenue from projects built in 2016 into 2017 or beyond.
The other big item on the financing front was a $200 million revolver for SunPower to build commercial projects. It can finance up to 100% of the project's cost with the debt, and the cost is a very low LIBOR at +1.5%. This compares favorably to SolarCity's revolverwith LIBOR + 3.25%, and even higher for weaker competitors, so SunPower's low financing costs are becoming an advantage.
SunPower's management has tried to maintain a strong balance sheet so that it has flexibility with project financing. And with competitors (think SunEdison) squeezed on the financial front, that should lead to better margins long-term.
Uncertainty ahead, despite bright future When you're a project developer like SunPower, financial results can be very lumpy quarter to quarter and year to year. So I wouldn't read too much into the net loss -- it was expected and it's partly due to project timing, as seen by a massive $1.73 per share profit in the fourth quarter of 2015.
Instead, I would look at SunPower's competitive position and margin trends, and both are looking up. The company is taking share in residential and commercial solar while maintaining a decent backlog of project long-term in power plants. And in the next few months it should add more to the power plant business as utilities decide on plans for 2017.
Slowly but surely, SunPower is building a solid position in the solar industry with a more efficient product than competitors' and an elegant fully engineered solution in each of the markets it serves. That should lead to strong profitability eventually, even if those profits didn't show themselves yet in the first quarter.
The article SunPower Has Its Sights Set on Rooftop Solar Growth in 2016 originally appeared on Fool.com.
Travis Hoium owns shares of 8point3 Energy Partners LP, First Solar, and SunPower. The Motley Fool owns shares of and recommends SolarCity. Try any of our Foolish newsletter services free for 30 days. We Fools may not all hold the same opinions, but we all believe that considering a diverse range of insights makes us better investors. The Motley Fool has a disclosure policy.
Copyright 1995 - 2016 The Motley Fool, LLC. All rights reserved. The Motley Fool has a disclosure policy.