SunPower Corporation Lays Out Growth Plans After Tough Quarter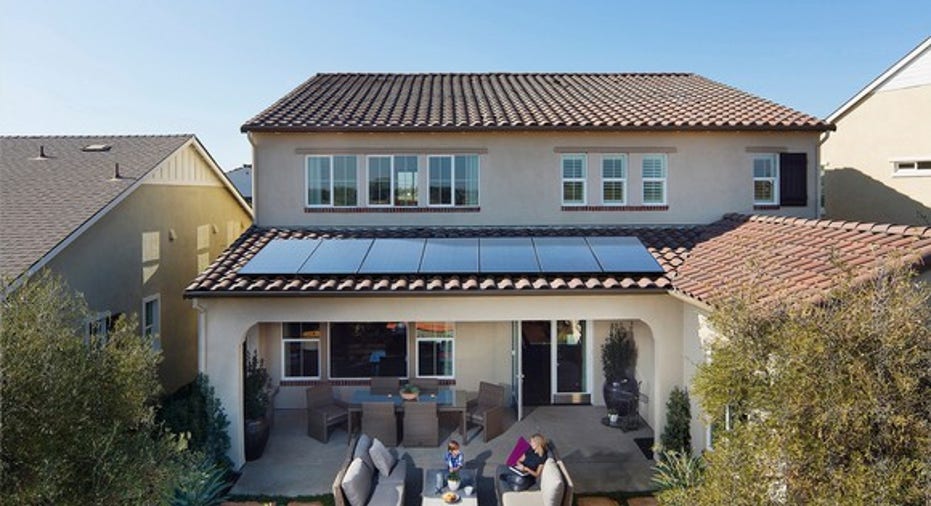 2017 is a survival year for SunPower Corporation (NASDAQ: SPWR), there's no question about that. The company is expecting to lose money after shutting down a large chunk of production and is transitioning its business from developing and building power plants to supplying other developers with the components they need to build solar power plants, large and small.
The process is painful, but if it works out as planned, SunPower could be a bigger, more profitable company while simultaneously taking less risk. And SunPower's first-quarter earnings report showed where the company is now betting on its future.
Image source: SunPower.
The numbers
Before we get to the future, I'll highlight financial results for the first quarter. On a GAAP basis, revenue was $399.1 million, and net loss was $134.5 million, or $0.97 per share. Operating cash flow was negative $126.9 million, and adjusted EBITDA was $8.6 million. Results were affected by a seasonally weak quarter in residential and commercial markets, along with a utility-scale business that will be back-half loaded because of anticipated project sales.
What's more notable is that full-year guidance was reiterated with GAAP revenue expected to be $1.8 billion to $2.3 billion with positive operating cash flow and adjusted EBITDA. If the company can just generate cash from operations in a tough year for the solar industry, that will be a big win. But the real story is in how SunPower is transforming itself for the future.
Changing strategies in the power plant business
The residential and commercial businesses are solid for SunPower, but they aren't enough to sustain the business. In 2017, the company will ship about 750 MW of residential and commercial systems, which would generate around $1.5 billion in revenue ($2 per watt). And even if these segments generated 20% gross margins (which they won't in 2017), they would only generate about $300 million in gross margin. That's not enough to break even considering $350 million in operating costs and any financing costs for the business. So, even in the best scenario, SunPower needs the power plant business to make money.
The problem with SunPower's power plant business is that its high-efficiency solar panels aren't competitive in the segment, and the development business has become so competitive that there's no money to be made. As a result, gross margin on a non-GAAP basis was 3.1% in Q4 2016 and just 1.5% in Q1 2016.
What SunPower decided to do was bet on the new P-Series solar panel that's essentially shingled commodity solar cells. And this product changes the entire business model in the power plant business.
SunPower's big bet on P-Series
P-Series has two significant advantages that SunPower is hoping to leverage to grow in the future. First, it uses commodity solar cells to build panels, meaning SunPower can make a low-cost panel and change technology as cell technologies improve. Second, it has a low capital cost of around $0.05 per watt of capacity with about a 6-month lead time to build capacity. So, SunPower can build a lot of capacity with very little capital in a short timeframe. It could even sign supply contracts and then build out capacity later. All of this lowers the risk that capital investments won't pay off, which has been the downfall of many solar companies.
Carports are a big part of SunPower's plans. Image source: SunPower.
SunPower's plan is to rapidly build out P-Series capacity and combine it with the Oasis system of power plant design with drones to design project layouts and racking to track the sun. This full solution could be sold around the world and be a pre-engineered solution for developers. If successful, SunPower could grow deployments far beyond the 1.3 GW to 1.6 GW management plans to deploy in 2017, including residential and commercial projects.
To that end, SunPower has built 400 MW of P-Series capacity in Mexico and signed a joint venture in China to make up to 5 GW of P-Series panels. If successful, P-Series and Oasis could account for billions in sales every year. And when you add that to SunPower's residential and commercial business, the company could be very profitable if the new power plant strategy works out as planned.
Next-generation products are on the way
Management didn't give a lot away about SunPower's next-generation, high-efficiency products, which will eventually upgrade or replace the X-Series panels that are the industry's most efficient. X-Series' biggest disadvantage is its higher cost compared to competing products, something the new manufacturing process is supposed to address.
There's been no public disclosure about when, where, or how much of this new capacity will be built, but expect an announcement by the end of 2017. And if SunPower can expand its sales in the residential and commercial market with a lower-cost, high-efficiency product, it could improve sales and expand margins long term.
The anchor around SunPower
Working against all of this potential improvement is a long-term contract SunPower signed to buy polysilicon. $100 million in losses are expected to be recognized in 2017, and the contract to buy polysilicon at above-market prices runs through fiscal 2020. For nearly four years, polysilicon bought at above market prices will undermine all of the financial improvement P-Series or X-Series growth could bring.
Creating a whole new SunPower
SunPower is transitioning its business from developing solar projects to selling components for projects to residents all the way to massive, utility-scale projects. By the end of 2017, the projects SunPower is developing that have been a drag on results, plus the less competitive E-Series panels being used in utility projects, will be rolling off the income statement and balance sheet. Then, the company will begin looking more like the component sales company it intends to be.
I'll go more in depth into what the company's finances might look like in a future article, but I want to ballpark the numbers, here. The potential profit of a component based SunPower is much better than what the company looks like today. Ballpark, if the China joint venture and Mexico plant make 1.2 GW of P-Series panels and Oasis sales at $1 per watt and a 15% gross margin in 2018, combined with 800 MW of residential and commercial sales for $2 per watt and a 20% gross margin, SunPower could be profitable. $500 million of gross margin and $350 million of operating costs would leave a $150 million operating profit.
If SunPower's China JV indeed grows to 5 GW, the Mexico plant grows to 1 GW, and X-Series and E-Series sales grow to 1 GW, with the same economics, the gross margin would be $1.3 billion with operating profit of $950 million. These are growth projections that are not only possible, they're within SunPower's plans. This is what SunPower is trying to build. Whether it can get there is another story, but this will be a solar company to watch this year and beyond.
10 stocks we like better than SunPowerWhen investing geniuses David and Tom Gardner have a stock tip, it can pay to listen. After all, the newsletter they have run for over a decade, Motley Fool Stock Advisor, has tripled the market.*
David and Tom just revealed what they believe are the 10 best stocks for investors to buy right now...and SunPower wasn't one of them! That's right -- they think these 10 stocks are even better buys.
Click here to learn about these picks!
*Stock Advisor returns as of May 1, 2017.
Travis Hoium owns shares of SunPower. The Motley Fool has no position in any of the stocks mentioned. The Motley Fool has a disclosure policy.