Sunoco LP's String of Acquisitions Couldn't Shake an Analyst Downgrade in June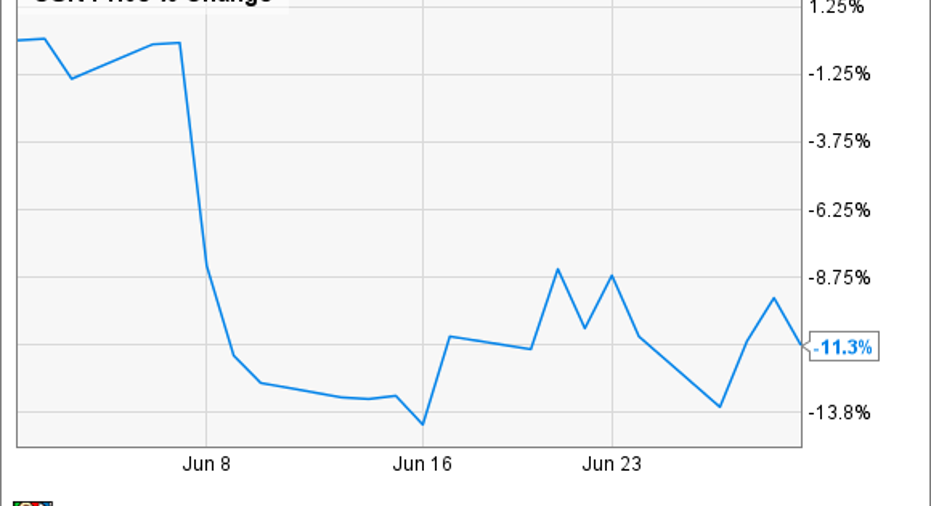 Image source: Sunoco LP corporate website
What: Shares of Sunoco LP declined 11.3% in June. The biggest reason for the stock plummeting was a downgrade from analyst group Jeffries, but the company gave some hope of better times as it inked three separate transations in the month to bolster its fuel retail network.
So what: According to the Jeffries, Sunoco is getting a little too cavalier with its debt load. The analyst group downgraded Sunoco because the company's current debt to EBITDA stands at 5.4 times. The reason this is troublesome is that some of its debt covenants specify that it cannot surpass a level of 5.5 times starting in 2017. This means that if there is any slip up in profitability or if the company uses debt for much more capital spending, then it could be in violation of these covenants pretty soon.
While typically we should take analyst upgrades and downgrades with a grain of salt, the points that are made here are pretty valid. Many master limited partnerships as of late -- no matter how consistent their cash flows are -- have struggled with the balance of growing, paying shareholders, and keeping a balance sheet in order.
What makes this situation slightly less dire is that thanks to the most recent major dropdown acquisition from sister partnership Energy Transfer Partners, the company likely isn't going to be making any large acquisitions soon. Rather, it will probably grow through small acquisitions that could be paid for with internally generated cash if the company decides to keep its dividend growth modest. These three most recent acquisitions are examples of this:
Retail locations in Upstate New York with additional tracts of land for $76 million.
Retail and wholesale operations in Texas for an undisclosed amount
A $176 million purchase of Emerge Energy Services wholesale fuel processing and transportation network.
Now what: A big challenge for companies that grow via acquisition like Sunoco is not overpaying for assets. An extra couple million here or there on a deal might not seem like a huge deal by itself, but doing that multiple times a month can really stack up for a company, especially when those purchases are being made with outside sources of capital. Considering where Sunoco is on the debt scale, it may be a good time for the company to tap the brakes and focus on a slightly cleaner balance sheet. After completing its massive acquistiion at the end of the first quarter, it's probably best for investors to see what a couple quarters of earnings reports look like and how Sunoco prioritizes its cash uses before making any big decisions with this stock.
The article Sunoco LP's String of Acquisitions Couldn't Shake an Analyst Downgrade in June originally appeared on Fool.com.
Tyler Crowe has no position in any stocks mentioned.You can follow him at Fool.comor on Twitter@TylerCroweFool.The Motley Fool has no position in any of the stocks mentioned. Try any of our Foolish newsletter services free for 30 days. We Fools may not all hold the same opinions, but we all believe that considering a diverse range of insights makes us better investors. The Motley Fool has a disclosure policy.
Copyright 1995 - 2016 The Motley Fool, LLC. All rights reserved. The Motley Fool has a disclosure policy.