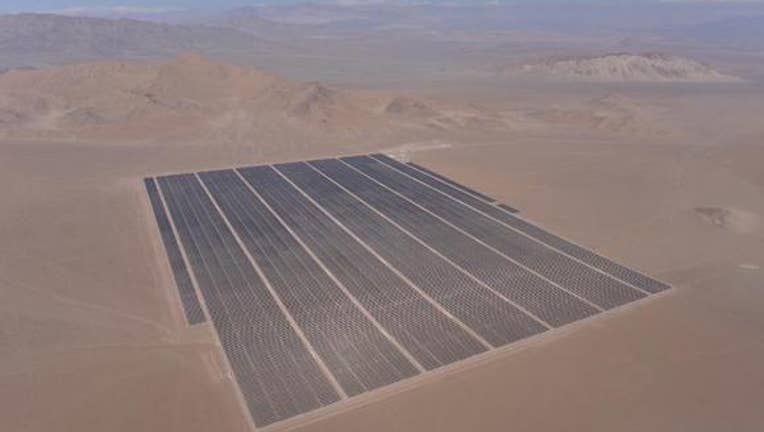 Image source: SunEdison.
SunEdison has been through a whirlwind in the second half of 2015, and its downfall is starting to affect its yieldcos,TerraForm Power and TerraForm Global . On the surface, TerraForm Powerand TerraForm Globalseem like safe companies with projects that will generate consistent cash flow for years to come. And with implied dividend yields of 15.3% and 24.9%, they look like steals for investors.
But the warts of SunEdison's business and its relationship with yieldcos is starting to become a problem for everyone involved. And the yieldcos may now just be a piggy bank SunEdison is using to cover up its own financial problems.
Solar project in Chile. Image source: SunEdison.
The yieldco piggy bank One of the problems with creating a yieldco that's a public entity tied to SunEdison is that there's an inherent conflict between the sponsor's (SunEdison) interests and the interests of public shareholders. SunEdison wants to maximize the price it gets for assets going to the yieldcos, while the yieldcos want to pay less to maximize their returns. Companies usually get around this by having independent board members and by making transactions at "arm's length," but SunEdison has been breaking down that independence.
It hasn't been happening as planned, starting with SunEdison essentially dumping all of the 930 MW of the Invenergy Wind Global acquisition on TerraForm Power for $1.1 billion,instead of TerraForm Power buying 460 MW initially, and housing 470 MW in a SunEdison warehouse facility as originallyplanned. As Moody's pointed out, this ads $388 million in equity requirements for an Invenergy warehouse facility that TerraForm can't afford.
The next red flag was SunEdison's sale of 425 MW in projects in India to TerraForm Global for $231 million, some of which aren't complete. This dropdown coincided with a management shakeup that's suspicious, to say the least.
SunEdison takes full control of TerraForm At a board meeting on November 20, the conflicts between SunEdison and its yieldcos boiled over. Forbes highlighted the drama here, but in short, independent directors Mark Lerdal and Hanif Dahya resigned from the board of directors over what they thought were growing conflicts of interest in TerraForm Power, and Altai Capital Management's Steven Tesoriere -- who was responsible for pushing the yieldco model in the first place -- resigned as well.
This was the same meeting where the board of directors fired TerraForm Power CEO Carlos Domenech Zornoza and CFO Alejandro Hernandez, who were immediately replaced by SunEdison CFO Brian Wuebbels as CEO, and the CFO role was taken by SunEdison senior vice president and CFO of Global Asset Management Rebecca Cranna. Both would take the same roles at TerraForm Global as well.
Suddenly, TerraForm Power and TerraForm Global went from having the look of independent companies with an affiliation with SunEdison to being controlled by SunEdison insiders with little independent oversight. SunEdison could dump projects on TerraForm at its whim, helping its own position while hurting the yieldcos.
Tepper's power move All of these questionable transactions and the management moves caused hedge fund billionaire David Tepper to send a letter to management calling into question "obvious conflicts." But he also pointed to the company's acquisition of Vivint Solar as a move that's sole purpose is to help SunEdison.
The letter caused the entire SunEdison group of companies to pop on Tuesday, but it doesn't fix the conflicts that already exist, or change the fact that SunEdison has far more debt than it can handle.
Not a risk worth taking There seems to be an unexpected turn at every corner, and the transactions and management changes at TerraForm Power and TerraForm Global make me worry that these companies are headed for disappointing results ahead. They've become piggy banks SunEdison can use when it has financial difficulty, and right now, that seems like it's happening on a regular basis.
Since SunEdison hasn't given investors any confidence it will put the long-term interest of these yieldcos ahead of its own needs, they aren't stocks I would invest in today. They could be great yieldco assets, but they're being used the wrong way, a risk not many people saw coming.
The article SunEdison's Messy Situation Only Getting Worse originally appeared on Fool.com.
Travis Hoium has no position in any stocks mentioned. The Motley Fool has no position in any of the stocks mentioned. Try any of our Foolish newsletter services free for 30 days. We Fools may not all hold the same opinions, but we all believe that considering a diverse range of insights makes us better investors. The Motley Fool has a disclosure policy.
Copyright 1995 - 2015 The Motley Fool, LLC. All rights reserved. The Motley Fool has a disclosure policy.