SunEdison Powers Forward With Modified Vivint Solar Deal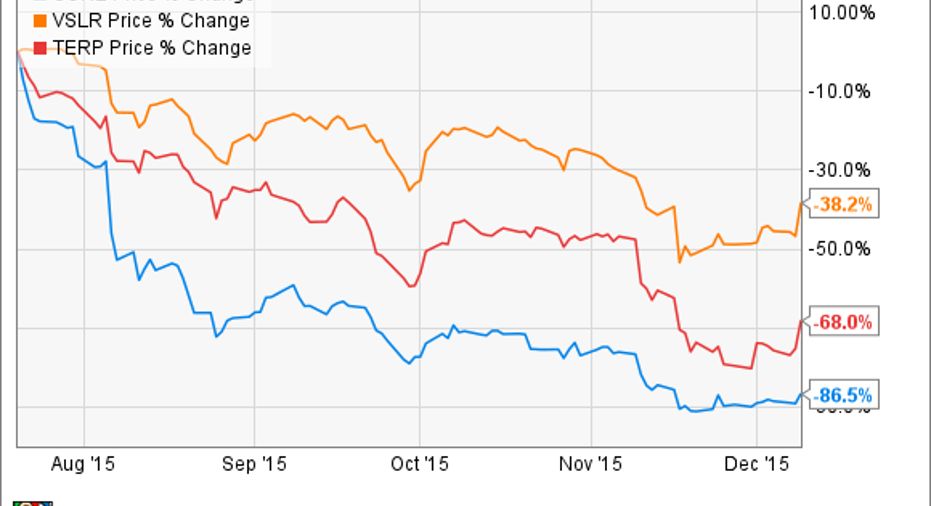 Image source: SunEdison.
SunEdison is indeed going to buy residential solar installer Vivint Solar , albeit for far less than the $2.2 billion originally agreed upon. The risk of the merger between the two companies falling apart was greater than the risk of it breaking down for both sides -- apparently.
This should end some uncertainty for both companies, but it doesn't alleviate the long-term challenges both face -- and that should be more concerning than pushing a deal like this through.
How SunEdison got the deal done Since this deal was announced, shares of SunEdison, Vivint Solar, and TerraForm Power have all fallen apart. Things had gotten so bad that Vivint Solar's shares had fallen below the cash per share price that was supposed to be paid to shareholders, indicating that investors didn't think the deal would get done as planned.
This left Vivint Solar with two options. It could try to get out of the deal, or renegotiate, and give some concessions to ensure the acquisition was completed. Management clearly chose the latter, feeling they would get more value by being acquired than by trying to go it alone.
The modifications to the acquisition are laid out below, the biggest being a $2 reduction in cash paid to Vivint Solar shareholders. The stock portion was increased by $0.75, but with the decline in SunEdison's stock, it's still far less in value than Vivint was originally supposed to get.
Data source: SunEdison and Vivint Solar press releases.
Interestingly, TerraForm Power will be paying $799 million for up to 523 MW of acquired residential solar systems instead of the original $922 million. SunEdison has said it will try to sell some of those systems to third parties, although it's unknown if it'll be able to find a buyer, or what price it could get. This is at least a small nod to the pressure TerraForm Power has been getting for both overpaying for solar systems as well as for getting into residential solar in the first place.
To pay for the deal, Blackstone (a major shareholder of Vivint Solar) has agreed to provide a $250 million credit facility, and Goldman Sachs will provide $300 million in funding as well.
Is excitement the right answer? Clearly, the market is excited about this deal, with shares of SunEdison, Vivint Solar, and TerraForm Power all surging following the announcement. But the transaction will still eat away at SunEdison's and TerraForm Power's balance sheets and add leverage through debt long term. And it's now getting into the complex residential solar business, which is higher risk than the utility-scale projects both companies have traditionally focused on.
I have my doubts about how SunEdison and Vivint Solar work together, though, and adding debt to get a deal done only makes those doubts grow. Time will tell if that cautious view is correct, or if SunEdison can turn its broad range of renewable energy assets into a growth platform long term.
The article SunEdison Powers Forward With Modified Vivint Solar Deal originally appeared on Fool.com.
Travis Hoium has no position in any stocks mentioned. The Motley Fool has no position in any of the stocks mentioned. Try any of our Foolish newsletter services free for 30 days. We Fools may not all hold the same opinions, but we all believe that considering a diverse range of insights makes us better investors. The Motley Fool has a disclosure policy.
Copyright 1995 - 2015 The Motley Fool, LLC. All rights reserved. The Motley Fool has a disclosure policy.