SunEdison Inc's "Material Weakness" Could Further Erode Investor Confidence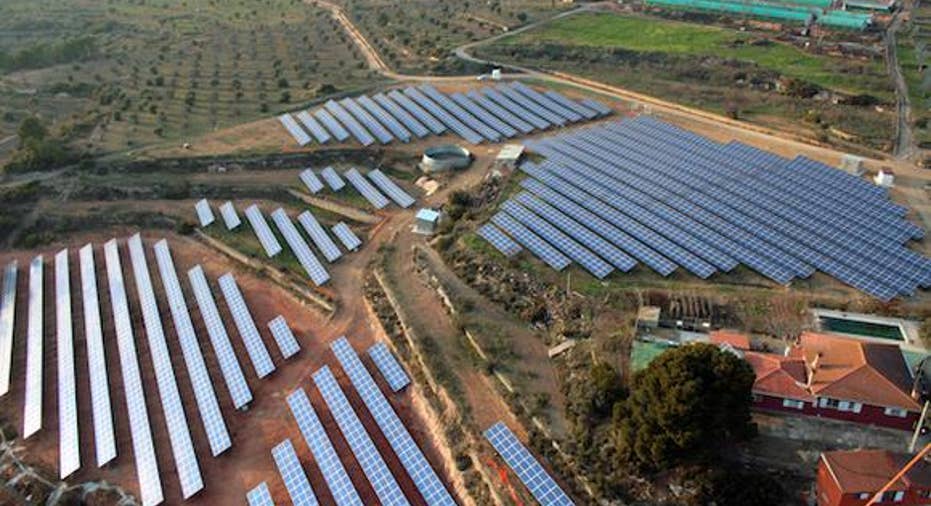 Image source: SunEdison.
The speculation that's driven SunEdison Inc's shares higher over the last few weeks took a breather on Wednesday as real concerns about the company's future took over. The company delayed its annual SEC earnings filing, known as a 10-K, due to "material weakness." That's code for bad news, and investors should be very worried.
Why alarm bells are going off at SunEdison SEC rules state that a company has to file its 10-K within two months of the end of the quarter. That would have been February 29, which is when SunEdison made a filing with the SEC that said its earnings filing would be two weeks late because of an internal investigation. The filing read, in part:
There are a couple things of note, here, for investors. The first is that former executives were the ones who brought up inaccuracies in financial statements, and the second is that no wrongdoing had been found.
Wednesday's release said the 10-K would be even later because of problems that have been uncovered. The most telling statement was this:
"Material weakness" is never a phrase an investor wants to hear, and it implies that past financial statements may contain errors. This is a big deal for SunEdison because the company is trying to regain both debt and equity investors' trust. It's hard to do that if your financial statements aren't even correct.
Image source: SunEdison.
Why yieldcos are going down with SunEdison SunEdison's yieldcos, TerraForm Power and TerraForm Global , have also dropped today because they're tied to SunEdison's accounting problems. The companies rely on their parent company for many functions, like accounting, so when SunEdison has problems, it can quickly trickle down to the yieldcos.
TerraForm Power also got a delisting notice from Nasdaqon Wednesday because of its delayed filing. It has to complete its 10-K by May 16, 2016, or risk being delisted from the exchange.
Delays are rarely good news While the delays haven't yet revealed that financial statements will be restated, or what exactly is wrong at SunEdison, TerraForm Power, and TerraForm Global, they're not good news. When there's material weakness within a company, it erodes investor confidence and will make it harder to fund the projects necessary to make each company profitable.
That's the real risk for SunEdison and its companies right now. Even if no wrongdoing is found, confidence in the marketplace is lost, and that could lead to serious financial trouble down the road.
The article SunEdison Inc's "Material Weakness" Could Further Erode Investor Confidence originally appeared on Fool.com.
Travis Hoium has no position in any stocks mentioned. The Motley Fool has no position in any of the stocks mentioned. Try any of our Foolish newsletter services free for 30 days. We Fools may not all hold the same opinions, but we all believe that considering a diverse range of insights makes us better investors. The Motley Fool has a disclosure policy.
Copyright 1995 - 2016 The Motley Fool, LLC. All rights reserved. The Motley Fool has a disclosure policy.