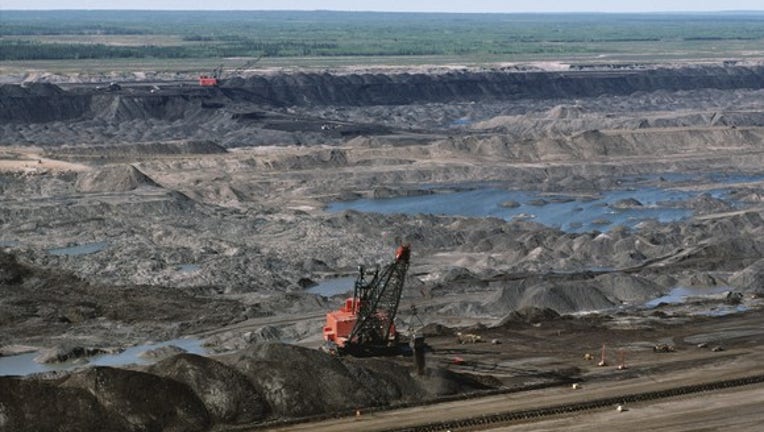 2016 wasn't a particularly good year for Suncor Energy (NYSE: SU), but the company did finish on a high note that should set it up well for 2017 and beyond. Suncor used the downturn in the oil and gas industry to increase its ownership of the massive Syncrude oil sands project. This was a transformative acquisition that has the potential to produce loads of free cash flow for years into the future.
Now that this acquisition is complete, though, it looks as though the company is starting to take a new tone with how it delivers value to shareholders. Here are a few quotes from Suncor's most recent conference call that highlight some of the changes that investors can expect in the coming years.
Image source: Getty Images.
Oil sands isn't the high-cost product you thought it was
One of the biggest knocks on oil sands as an investment in the oil and gas industry is that it is a high-cost source of oil that takes a long time and a lot of upfront capital to develop. There is one part of that statement that simply isn't true, though, and CEO Steven Williams was quick to point out that the operational costs for Suncor's oil sands are much lower than many investors might think:
A large portion of that gain was from its larger investment in, and optimization of, the Syncrude project. Williams said:
These numbers are promising as is, but it also makes for something interesting for Suncor investors to follow in 2017. If those low costs can be achieved when there were major outages for the wildfires in Alberta this past year, it will be worth seeing what can be achieved when it has a full year of uninterrupted operations.
Winding down spending, winding up dividends
2017 is going to be another big year of milestones for Suncor as it expects to see first oil from both its Fort Hills oil sands project and its Hebron offshore platform off the coast of Newfoundland. Not only are these two projects significant sources of new production, but they are also large portions of the capital spending budget. Once these projects come online, Williams says it is going to be a boon for its investors:
Oil sands development coming to an abrupt end?
Suncor is one of Canada's largest oil sands producers. Based on the company's operational performance mentioned above, it's not much of a stretch to see Suncor developing more oil sands assets at those low costs. According to Williams, quite shockingly, that isn't the case:
That is a shocking development. Basically, one of the champions of the industry is saying that no new money will be spent on this kind of development for a long time. There are a couple of things that go into that, of course. One example of this is a lack of takeaway capacity. Consumer demand in Northwest Canada isn't very big, and so almost all of the crude in the region needs to be moved somewhere for refining and consumption. Unfortunatelyfor the industry, the current pipeline system mostly delivers to the U.S. Gulf Coast and pipelines elsewhere such as Enbridge's Northern Gateway, Kinder Morgan's Transmountain, and TransCanada's Energy East are meeting some political resistance. Without pipelines and more markets to which they can sell, oil sand producerswould be fighting for limited space on the existing infrastructure and would lower price realizations for everyone in the industry.
All quiet on the acquisitionfront
It wasn't that long ago that Suncor was being very aggressiveby acquiring greater stakes in the Syncrude project from Canadian Oil Sands and Murphy Oil. According to Williams, though, the opportunities to grow via acquisitionaren't as attractive nowadays:
If there are no new oil sands opportunities out there and the acquisition market is looking a little too expensive, then...
...what do you do with that cash?
Plain and simple: Dividends and buybacks. Here's Williams again on how Suncor's management is looking at dividends and buybacks today.
If Suncor isn't going to be spending a lot on new oil sands for close to a decade and the acquisition environment doesn't look that great, there will be a lot of free cash to deploy toward these shareholder-friendly initiatives. Keep in mind that decline rates at oil sands operations is almost non-existent compared to conventional production, so maintenance and growth capital will mostly go toward its normal exploration and production and downstream business units. These are much smaller in size and scope compared to Suncor's oil sands operations, so capital spending is likelygoing to decline significantly once Fort Hills and Hebron are up and running.
10 stocks we like better than Suncor EnergyWhen investing geniuses David and Tom Gardner have a stock tip, it can pay to listen. After all, the newsletter they have run for over a decade, Motley Fool Stock Advisor, has tripled the market.*
David and Tom just revealed what they believe are the 10 best stocks for investors to buy right now... and Suncor Energy wasn't one of them! That's right -- they think these 10 stocks are even better buys.
Click here to learn about these picks!
*Stock Advisor returns as of February 6, 2017
Tyler Crowe has no position in any stocks mentioned. The Motley Fool owns shares of and recommends Kinder Morgan. The Motley Fool has a disclosure policy.