Sun Hydraulics Shares Surge Even as Sales and Earnings Decline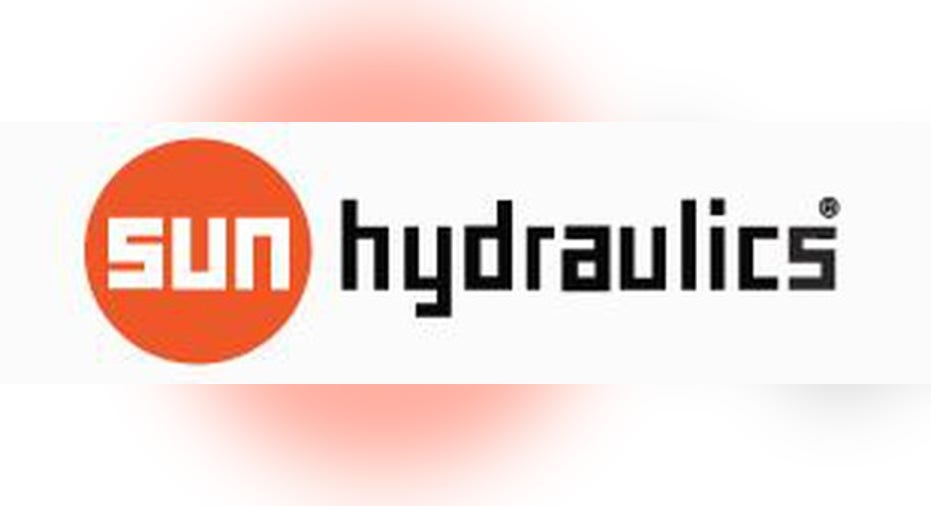 Image source: Sun Hydraulics.
Three months ago, Sun Hydraulics (NASDAQ: SNHY) promisedinvestors that it would deliver $46 million in sales in its fiscal third quarter, and earn between $0.19 and $0.21 per share on that revenue. Three months later, Sun Hydraulics has fallen short on its revenue promise -- but still managed to deliver on earnings, if only barely. Investors are cheering the news, with Sun Hydraulics shares up more than 12% in Tuesday trading.
Sun Hydraulics results: The raw numbers
Data source: Sun Hydraulics. YOY = year over year.
What happened with Sun Hydraulics this quarter?
Sun Hydraulics kept investors waiting a good week after its expected earnings date before finally revealing its numbers on Monday. When they finally came out, they were less than impressive. For the second quarter in a row, sales dropped 6% year over year. And whereas three months ago Sun Hydraulics was forced to report a profits decline of 24% (with a 26% decline in profits per share), this time the damage was even worse -- profits down 41%, and profits per share likewise.
Management deadpanned its commentary on the results, with CEO Wolfgang Dangel calling the numbers merely "below expectations." Although the strong U.S. dollar hurt earnings somewhat, he mainly blamed "sluggish end markets ... in the Americas and Europe" for the weakness.
What management had to say
That said, management quickly segued to laying out its vision for the future. As Dangel noted:
"October order rates are encouraging" as the company transitions into Q4.
"Sales and marketing efforts are ramping up regionally," in particular to capitalize on 12% sales growth in the Asia-Pacific region.
And "lean initiatives are taking shape [to] drive profitability" in future quarters.
Meanwhile, Dangel continues to hold out the prospect of Sun Hydraulics eventually "reaching critical mass," with $1 billion in annual sales by 2025.
Looking forward
The past five years, of course, have seen Sun Hydraulics not growing much at all, but rather flatlining at about $200 million in annual sales, year after year after year. After booking $204 million in 2011, Sun grew sales to a recent high of $228 million in 2014 before sinking back to $201 million last year. With sales on the downturn this year, 2016 looks likely to be (yet another) $200 million-ish year.
So how will Sun Hydraulics succeed in its quest to grow sales five times in 10 years? That remains to be seen. Dangel continues to believe that half of the company's sales growth will come from acquisitions, and the other half from organic growth. The first half of the picture became clearer yesterday, when the company announced its purchase of "Enovation Controls' Vehicle Technology and Power Controls lines of business" for an estimated $250 million.
It's the other side of the equation -- organic growth -- that remains in doubt.
10 stocks we like better than Sun Hydraulics When investing geniuses David and Tom Gardner have a stock tip, it can pay to listen. After all, the newsletter they have run for over a decade, Motley Fool Stock Advisor, has tripled the market.*
David and Tom just revealed what they believe are the ten best stocks for investors to buy right now... and Sun Hydraulics wasn't one of them! That's right -- they think these 10 stocks are even better buys.
Click here to learn about these picks!
*Stock Advisor returns as of November 7, 2016
Rich Smithdoes not own shares of, nor is he short, any company named above. You can find him on CAPS, publicly pontificating under the handleTMFDitty, where he's currently ranked No. 336 out of more than 75,000 rated members.
The Motley Fool recommends Sun Hydraulics. Try any of our Foolish newsletter services free for 30 days. We Fools may not all hold the same opinions, but we all believe that considering a diverse range of insights makes us better investors. The Motley Fool has a disclosure policy.