Suddenly, "Weaponized" Drones Are Everywhere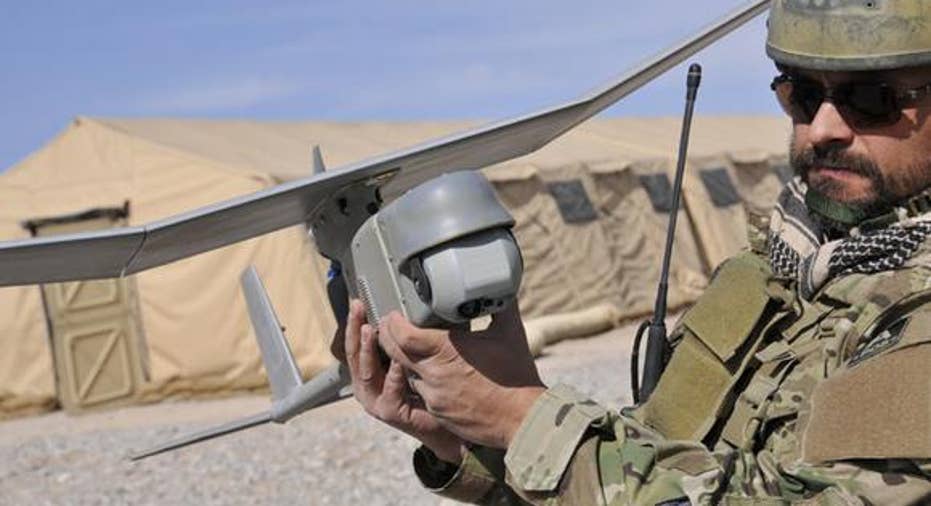 The Pentagon made waves in the drone world last month -- and may now be preparing to unleash a torrent of foreign arms sales.
U.K. Reaper -- has missiles, will travel. Image source: Cpl Steve Bain ABIPP/MOD for U.K. Ministry of Defence.
In the first such transaction seen outside of the U.S. or U.K., the Pentagon's Defense Security Cooperation Agency notified Congress of plans to sell the Italian air force a package of Hellfire missiles and laser-guided bombs. Once they're installed on Italy's fleet of Reaper unmanned aerial vehicles, this gives Italy a weaponized drone capability.
Now Spain wants in.
Droning onHard on the heels of November's news, aerospace watcher Flightglobal is reporting that Spain, too, "will eventually try to weaponize its future fleet of General Atomics Aeronautical Systems MQ-9 Reaper unmanned air vehicles." As you'll recall, Spain only just placed its order for the Reapers in October, asking Congress to approve the sale of four unarmed drones from U.S.-based General Atomics, in a $243 million arms deal.
The country still plans to initially fly its Reapers as unarmed intelligence, surveillance, and reconnaissance (ISR) platforms. But now that Italy has received authorization to arm its drones, Spain will probably want to as well (possibly after 2020, by which time Spain's drone fleet should reach full operating capability).
How do we know this? In an indication of how quickly the multibillion-dollar international market for drones is developing, Spain is also seeking to buy domestically designed"Atlante" drones built by Airbus -- capable of carrying both sensors and weapons.
Airbus Defense Atlante UAV. Image source: Airbus.
Who will win the drone (sales) war? Atlante's sales price is not known, but its capabilities are-- and they're not remotely close to what General Atomics' Reaper offers. Half the length of a Reaper, and with a wingspan less than half as wide, Atlante flies at a top speed of just 120 mph -- less than half Reaper's top speed of 300 mph. Atlante is actually smaller than Reaper's predecessor, the well-known Predator drone, and accordingly can probably not carry much ordnance.
Just as important as the Reaper's greater capabilities, though, may be its "first-mover" status. As Flightglobal explains, one of the reasons Spain is focusing on Reapers is because the drone has "commonality with NATO allies." In other words, other NATO countries are already buying Reapers, and new drone buyers want to operate the same systems to better coordinate with their allies on NATO operations.
What it means to investorsAs a result, the more drone sales American companies book now, the more likely they'll be successful at selling additional drones later. With international drone sales already a $6.4 billion market, and moving rapidly to $10 billion annually, this bodes well for U.S. drone manufacturers that have already established a beachhead in European militaries.
AeroVironment , for example, has sold its RQ-11 Raven drones to multiple European nations -- Italy, Spain, and the U.K. among them. Northrop Grumman recently inked a deal to supply NATOwith five Global Hawk high-altitude, long-endurance surveillance drones. In a separate deal, Northrop is continuing to negotiate with Germany over a $1.3 billion sale of four tailor-made "Euro Hawks" to the German military in particular. If these UAVs succeed in becoming the de facto "NATO standard" for military drones, selling more of them will get just that much easier.
Final noteMeanwhile, General Atomics continues to make inroads of its own. In addition to Italy -- and Spain -- we learned this week from Vice News that NATO ally Canada is also looking to buy weaponized Reaper drones. Reportedly, Canada likes the drones' "significantly greater" endurance in comparison to manned fighter jets, their "wide range of capabilities," and in particular, their ability to loiter on station for a long time, then "provide an immediate precision strike" when a target appears.
After years of "loitering" about the international arms market, America's defense contractors might finally get a chance to "strike" a few deals of their own.
An AeroVironment Raven Drone is tiny -- but if you sell enough of them, the sales add up. Image source:AEROVIRONMENT.
The article Suddenly, "Weaponized" Drones Are Everywhere originally appeared on Fool.com.
Rich Smithdoes not own shares of, nor is he short, any company named above. You can find him onMotley Fool CAPS, publicly pontificating under the handleTMFDitty, where he's currently ranked No. 321 out of more than 75,000 rated members.The Motley Fool owns shares of and recommends AeroVironment. Try any of our Foolish newsletter services free for 30 days. We Fools may not all hold the same opinions, but we all believe that considering a diverse range of insights makes us better investors. The Motley Fool has a disclosure policy.
Copyright 1995 - 2015 The Motley Fool, LLC. All rights reserved. The Motley Fool has a disclosure policy.