Study: A National Medical Marijuana Program Would Save Medicaid $1 Billion a Year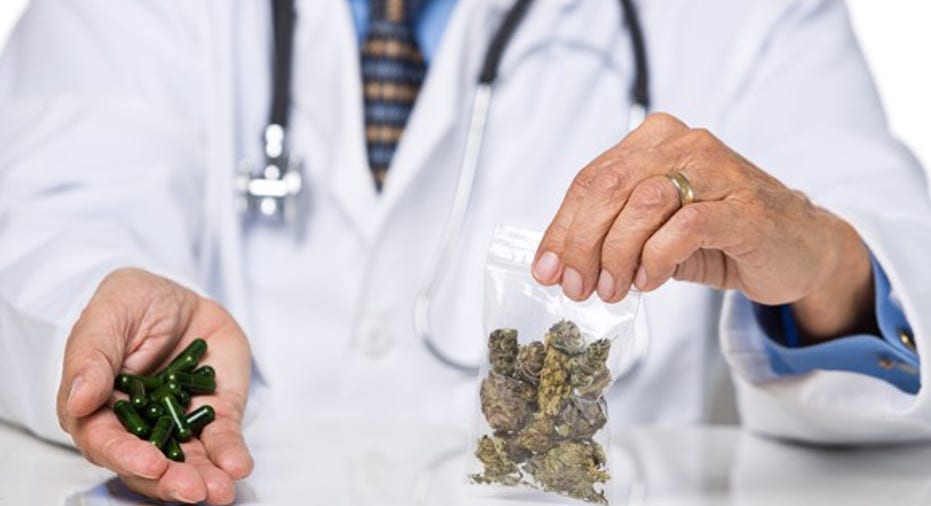 The marijuana industry is growing like a weed. Last year, legal weed sales grew by 34%, according to cannabis research firm ArcView, and by 2021, legal sales (which includes medical and recreational pot) are expected to exceed $22 billion. Investment firm Cowen & Co. has an even more bullish forecast on legal weed, calling for $50 billion in sales by 2026. These estimates are what have revenue-hungry state governments, as well as investors, drooling with excitement.
Take Colorado as a good example. Residents in Colorado legalized recreational cannabis in 2012 along with Washington, becoming the first two states to do so. Last year, Colorado generated more than $1.3 billion in legal weed sales, two-thirds of which came from the recreational side of the equation, leading to almost $200 million in tax and licensing-fee revenue.
Image source: Getty Images.
Investors have relished in the growth as well. Most marijuana stocks have doubled or tripled in value over the past year, if not more. We've even seen a few Canadian medical marijuana producers and retailers turning a quarterly profit, which is a nice departure from the years of losses investors have been accustomed to with pot stocks.
The federal government constrains pot's potential
But the major hurdle the marijuana industry has yet to overcome is escaping its restrictive Schedule 1 status from the U.S. federal government. As a Schedule 1 drug, marijuana is recognized as having no medically beneficial qualities, and is illegal. This leaves cannabis companies to face a number of disadvantages that include having little to no access to basic banking services, and having to pay tax on their gross profits instead of net profits since they can't take normal business deductions.
Most lawmakers and investors look at the marijuana industry from a profit-loss standpoint, but there's also a human factor involved. Medical marijuana is currently approved in 28 states and Washington, D.C., and it's often prescribed to treat a host of ailments including glaucoma, epilepsy, and pain associated with cancer, to name a few. Because the U.S. doesn't have a nationwide medical marijuana program (which is something 93% of survey takers in the latest Quinnipiac poll would like to see happen), tens of millions of Americans are denied access to medical cannabis.
Image source: Getty Images.
A national medical marijuana program could save a lot of money
Yet, a recent study suggests that if a medical marijuana program existed, it would not only save lives but a sizable amount of money in the process.
As background, in July 2016, father-daughter duo David and Ashley Bradford of the University of Georgia published a study in the journal Health Affairs that examined the effect of medical cannabis on Medicare in states that had legalized medical pot. What they found was a $165.2 million reduction in prescription drug expenses for Medicare in states that had legal medical weed. Across the U.S., they estimated that nearly $500 million could be saved for Medicare if medical marijuana were legalized nationally.
In particular, the July 2016 study notes that there were 1,826 fewer doses of pain pills issued under Medicare in legal medical weed states, 562 fewer doses of anxiety meds, and 541 fewer doses of nausea pills, all based on 2013 data. The lower doses of pain pills is of particular interest because opioid overdose-related deaths totaled 20,101 in 2015, according to the American Society of Addiction Medicine. Though it's possible to overdose on marijuana, too, no one has died from a pot overdose. Thus, some pundits have suggested that access to medical marijuana is a way to fight the opioid epidemic in order to save lives and reduce costs.
Image source: Getty Images.
This month, the Bradfords were at it again, releasing a brand-new study in Health Affairs that examined the impact a national medical marijuana program would have on Medicaid. The researchers examined quarterly data on all fee-for-service Medicaid prescriptions between 2007 and 2014, paying particular attention to states where medical marijuana was legal. They estimated that if a national medical marijuana law were in place in 2014, it would have resulted in $1.01 billion in savings for Medicaid.
They noted that in legal medical marijuana states under Medicaid, there was a 17% reduction in nausea prescriptions filled, a 13% decrease in depression prescriptions, and once again an 11% drop in pain medications filled.
Long story short, medical pot would save the federal government about $1.5 billion annually, based on the Bradfords' findings, if it were legalized nationally.
Two major issues with the Bradfords' thesis
While the Bradfords' study paints a pretty encouraging picture for medical pot, there are two major issues with it.
First and foremost, the $1 billion "saved" in Medicaid and the nearly $500 million "saved" from Medicare aren't going into anyone's pockets in particular. The difference is that instead of the federal government footing the bill for prescription medicines, consumers will be on the hook for the out-of-pocket costs associated with medical marijuana. As a Schedule 1 drug, no insurer is going to cover cannabis as an approved therapy, and even if it were legalized, there's no guarantee that insurers would cover the drug. This means a national marijuana program would save the federal government money by transferring about $1.5 billion in costs to consumers who choose to buy pot instead of prescription medicines.
President Trump flanked by Jeff Sessions and his wife, Mary Blackshears. Image source: President Donald J. Trump official Facebook page. Photo by Benjamin D. Applebaum.
The other issue is that the Trump administration is in seemingly no rush to consider legalizing medical marijuana. Even though Donald Trump has been in favor of patients having access to medical cannabis, having ardent weed opponent Jeff Sessions as U.S. attorney general means there's very little likelihood of a medical legalization happening anytime soon.
What's more, the U.S. Drug Enforcement Agency (DEA) had its opportunity to reschedule or deschedule cannabis this past summer but chose to keep its current Schedule 1 categorization intact. The DEA suggested that a lack of adequate clinical benefit and risk data on pot, along with inadequate safety checks on an addictive drug, made altering its scheduling a bad idea. Petitions to reschedule a drug can take years to reach the DEA, meaning medical cannabis' chances of a rescheduling are slim at best.
Even though legal pot sales are heating up, marijuana stock investors might be wise to keep their expectations in check given the uncertain future of weed in Washington.
10 stocks we like better thanWal-MartWhen investing geniuses David and TomGardner have a stock tip, it can pay to listen. After all, the newsletter theyhave run for over a decade, the Motley Fool Stock Advisor, has tripled the market.*
David and Tomjust revealed what they believe are theten best stocksfor investors to buy right now... and Wal-Mart wasn't one of them! That's right -- theythink these 10 stocks are even better buys.
Click hereto learn about these picks!
*StockAdvisor returns as of April 3, 2017The author(s) may have a position in any stocks mentioned.
The Motley Fool has a disclosure policy.