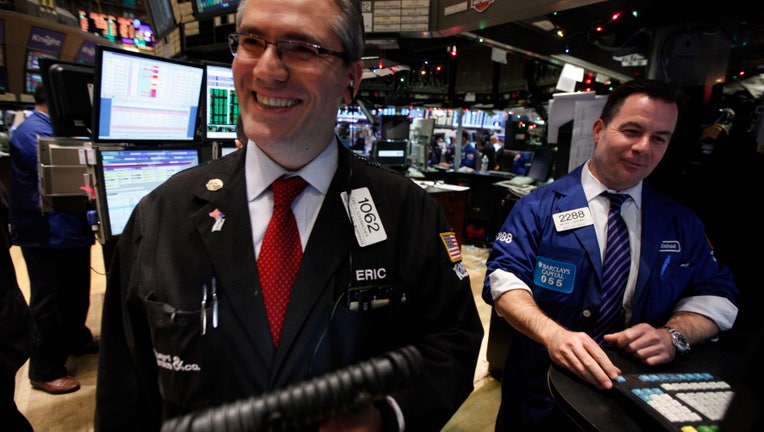 FOX Business: The Power to Prosper
Breaking through resistance and sluggish August sentiment, the S&P 500 leaped to its highest level since early April on Thursday as tech bellwether Cisco Systems surged 10% and concerns about the euro eased a bit.
Today's Markets
The Dow Jones Industrial Average rose 85.33 points, or 0.65%, to 13250.11, the S&P 500 gained 9.98 points, or 0.71%, to 1415.51 and the Nasdaq Composite jumped 31.46 points, or 1.04%, to 3062.39. The FOX 50 picked up 5.87 points, or 0.56%, to 1061.50.
Wall Street started the day in the doldrums once again, failing to respond definitively to another series of conflicting economic gauges on housing starts and initial jobless claims.
But buying picked up steam late in the morning as the euro advanced on comments from Angela Merkel and tech stocks rallied around an earnings beat and upbeat guidance from Cisco Systems (NASDAQ:CSCO).
The rally leaves the S&P 500 at heights unseen in four months and within just a few points of a new four-year high. Also, all three major indexes are now on track to advance for the sixth consecutive week.
"The market is in a good place. We've bottomed here economically. Things have really stabilized," said Jason Weisberg, senior vice president at Seaport Securities.
Most of the Dow's 30 stocks gained ground, led by Home Depot (NYSE:HD) and Cisco. The index's weakest performers were McDonald's (NYSE:MCD) and Wal-Mart (NYSE:WMT), which disclosed weaker-than-expected revenue growth.
Trading volume remains relatively quiet, however the New York Stock Exchange broke its three-day slump of less than 3 billion shares traded.
"We're moving up on vapor volume," said Weisberg.
Still, Cisco helped carry Wall Street solidly higher on Thursday after the tech bellwether revealed a 56% leap in quarterly earnings and an unexpected dividend boost. Importantly, the tech giant's outlook met expectations and CEO John Chambers sounded an optimistic tone about the economy, especially in the U.S.
The news helped lift other tech stocks like SanDisk (NASDAQ:SNDK) and Oracle (NASDAQ:ORCL).
In Europe, German Chancellor Angela Merkel said Germany is committed to do what's necessary to maintain the euro, mirroring comments made by European Central Bank President Mario Draghi last month.
The remarks helped send the euro to session highs, rising 0.56% to $1.2355 as U.S. markets closed. Likewise, European stocks rallied, with the Euro Stoxx 50 climbing 1.1% to fresh four-month highs and Spain's IBEX surging 4%.
"The Europeans have been talking since 2008. I think the investment community is getting a little bit tired of the words and they want to see actions," said Weisberg.
Meanwhile, basic materials stocks such as BHP Billiton (NYSE:BHP) received a bid after Chinese Premier Wen Jiabao opened the door to new stimulus. Warning the "downward pressure" on China's economy is "still big" and "may last for a while," Wen said he sees "growing room for monetary policy operation." China's gross domestic product is projected to slow to just 8% in 2012, its weakest performance since 1999.
In commodities, crude oil gained for the third day in a row, jumping $1.27 a barrel, or 1.35%, to $95.60 -- its highest settle since May 11. Gold picked up $12.40 a troy ounce, or 0.77%, to $1,616.10.
Data Deluge Paints Mixed Picture
U.S. stocks hit session lows after the Philadelphia Federal Reserve's manufacturing index came in at -7.1 in August, up from -12.9 in July but missing forecasts from economists for -5 and marking the fourth consecutive contraction. Inside the report, the six-month index was at its lowest level in a year and the employment component tumbled to its weakest level since September 2009.
The weaker-than-expected Philly Fed report comes a day after a New York manufacturing gauge unexpectedly turned negative in August.
Meanwhile, the Labor Department said initial jobless claims rose by 2,000 last week to 366,000, just slightly trailing forecasts from economists for a rise to 365,000. As usual, the government upped its estimate for the previous week to 364,000 from 361,000. Still, the four-week average of claims slipped by 5,500 to 363,750 -- the lowest level since the end of March.
On the housing front, the government said housing starts declined in July by 1.1% to a pace of 746,000, missing forecasts for a lighter decline to 756,000. However, building permits jumped 6.8% last month to a rate of 812,000 -- the highest level in four years.
Home builders like Pulte (NYSE:PHM) and Hovnanian (NYSE:HOV) advanced on the news.
Corporate Movers
Wal-Mart (NYSE:WMT) narrowly topped expectations with a 5.7% rise in second-quarter earnings. While a 4.5% rise in sales missed forecasts, the world's largest retailer upped its full-year profit targets.
Facebook (NASDAQ:FB) tumbled another 6% and broke through $20 a share to hit new all-time lows as the lock-up period expired, allowing some insiders to start selling. The social network's stock has crumbled 48% from its $38 debut price in May.
Electronic Arts (NASDAQ:EA) rallied almost 6% after the New York Post reported the video-game publisher is exploring a sale. The maker of Madden NFL and Sim City has been approached by private-equity firms KKR (NYSE:KKR) and Providence Equity Partners, the paper said.
Best Buy (NYSE:BBY) climbed 5% after founder Richard Schulze asked the electronic retailer's board to OK a request to form a group to conduct due diligence. Earlier this month Schulze offered to take Best Buy private for $24 to $26 a share.
Dollar Tree (NASDAQ:DLTR) retreated 3% after posting an in-line 26% jump in second-quarter earnings that was overshadowed by a weaker-than-expected outlook for the third quarter.
GameStop (NYSE:GME) narrowly topped estimates with EPS of 16 cents, but suffered a deeper-than-expected 11.1% dive in sales to $1.55 billion. The world's largest video game retailer projected third-quarter EPS of 28 cents to 36 cents, below the Street's view of 41 cents.
Global Markets
The U.K.'s FTSE 100 gained 0.03% to 5834.51, the German DAX advanced 0.71% to 6996.29 and France's CAC 40 jumped 0.91% to 3480.49 -- its highest close since March 26.
In Asia, Japan's Nikkei 225 soared 1.88% to 9092.76 and the Hong Kong Hang Seng declined 0.45% to 19962.95.