Strong quake rattles central Italy: "The town isn't here"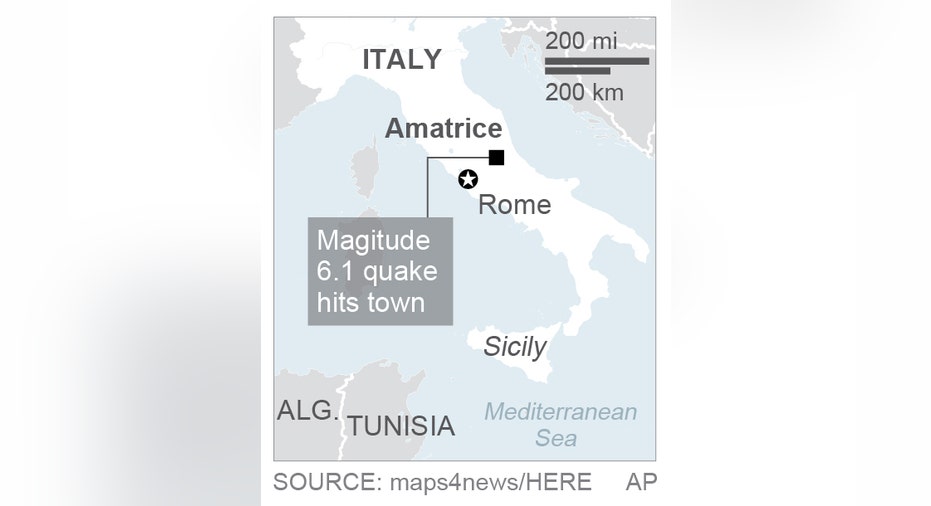 A magnitude 6.1 earthquake struck central Italy early Wednesday, levelling buildings in several towns as residents slept. The mayor of hard-hit Amatrice said people were trapped under debris and that "The town isn't here anymore."
The quake struck at 3:36 a.m. and was felt across a broad section of central Italy, including the capital Rome where people felt a long swaying followed by aftershocks. First images of damage showed debris in the street and some collapsed buildings in towns and villages that dot much of the Umbrian countryside.
The European Mediterranean Seismological Center put the magnitude at 6.1. The U.S. Geological Survey put the magnitude at 6.2 with the epicenter at Norcia, about 170 kilometers (105 miles) northeast of Rome, and with a relatively shallow depth of 10 kilometers (6 miles). The hardest-hit towns were reported as Amatrice, Accumoli and Norcia, with residents running into the streets as aftershocks continued into the early morning hours.
The mayor of Amatrice near Rieti, Sergio Pirozzi, told state-run RAI radio and Sky TG24 that residents were buried under collapsed buildings, that the lights had gone out and that heavy equipment was needed to clear streets clogged with debris.
"The town isn't here anymore," he said.
The office of Premier Matteo Renzi tweeted that heavy equipment was on its way.
In 2009, a 6.3-magnitude earthquake struck in the same region and killed more than 300 people. The earlier earthquake struck L'Aquila in central Italy, about 90 kilometers (55 miles) south of the latest quake.
A 1997 quake killed a dozen people in the area and severely damaged one of the jewels of Umbria, the Basilica of St. Francis in Assisi, filled with Giotto frescoes. The Franciscan friars who are the custodians of the basilica reported no immediate damage from Wednesday's tumblor.
___
This corrects the locator of Norcia to northeast of Rome, not northwest.