Streaming TV Will Put Pressure on Content Providers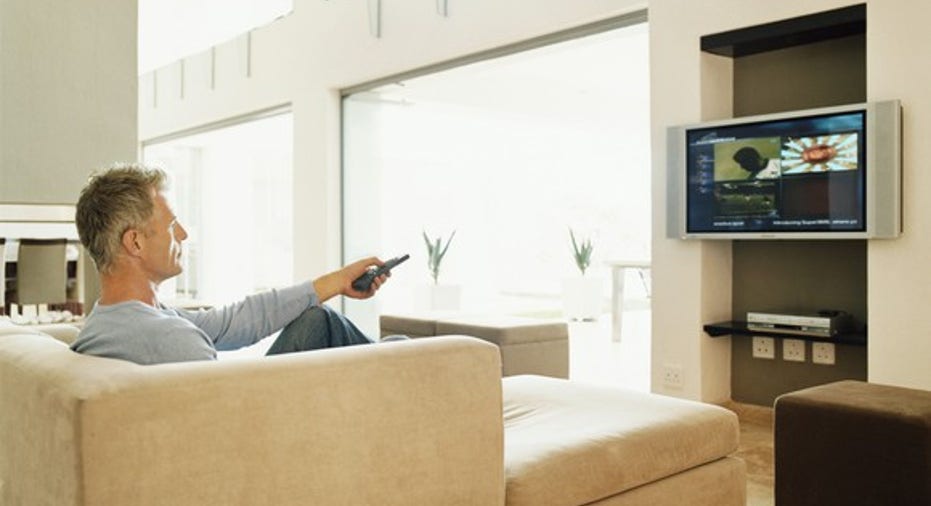 Image source: Getty
Consumers are fed up with their high cable bills. As the average cable bill rises, most pay-TV operators have seen their total subscribers decline. Some 486,000 subscribers cut the cord last quarter, according to MoffettNathanson.
Those high cable bills are the result of tensions between pay-TV companies like Comcastand AT&Tand media companies like Disney (NYSE: DIS) and Twenty-First Century Fox (NASDAQ: FOXA). As media companies raise the rates they charge the pay-TV companies -- these are called affiliate fees -- customers see the impact in their monthly cable bills.
Since most pay-TV providers require a long-term contract, customers are stuck. Media companies continue to raise affiliate fees, and customers end up paying them month after month until they can cancel service altogether.
But a new breed of television distribution threatens to turn that model upside down. Several companies offer over-the-top services, which stream content over the internet instead of delivering it through a traditional cable line or satellite. Such services like Dish Network's (NASDAQ: DISH) Sling TV and Sony's (NYSE: SNE) PlayStation Vue require no contracts, customers can easily switch from one bundle of channels to another, and they can cancel anytime. Additionally, these services' focus on price means that not every network will make it into every bundle of channels.
Where pay-TV distributors have been feeling pressure from rising content costs for several years, media companies could now come under pressure to stay in the bundle as consumers have more options and demand lower prices.
Sony says it doesn't need Nickelodeon and Comedy Central
Sony's PlayStation Vue service is one of the early entries into over-the-top television distribution. Earlier this month, Sony dropped Viacom (NASDAQ: VIA) networks from its bundles. In a blog post, the head of the project said removing Viacom from the bundle is "the best way for us to continue to offer the most compelling value to our fans."
DISH CEO Charlie Ergen was compelled to discuss Sony's situation with Viacom on the company's third quarter earnings call when asked about rising programming costs (emphasis added).
While Sony isn't lowering its pricing, it's adding different channels to its bundle like NBA TV and VICE. These channels may differentiate Sony's product from the growing number of entrants in the market.
No switching costs
When someone signs up for a new cable service, they're typically locked in for at least a year, sometimes longer, at a certain price. The cable companies require this commitment because they have a lot of upfront costs involved with setting up a home for service like providing hardware and installing it. Often times, pay-TV providers require new customers to pay an installation fee.
Getting up and running with an over-the-top service is much less costly -- there's nothing to install, it's all software -- so these distributors don't require a long-term contract.
Savvy over-the-top subscribers will be able to change their bundles a lot more easily through the new digital distributors compared to traditional cable and satellite companies. With no contracts and no installation expenses, switching is as easy as clicking a few buttons. There's literally an app for that.
So, if you can't live without Monday Night Football, you can subscribe to a bundle that includes ESPN for the four months of football. When the playoffs start, you can switch to a lower-cost bundle, change services, or cancel it altogether.
As a result, some media companies could experience more seasonality than in the past. Affiliate fees -- the monthly fees media companies charge pay-TV distributors -- were generally considered a stable cash flow source for media companies like Viacom in the past. Those fees accounted for about 46% of Viacom's Media Networks segment in fiscal 2016.
Viacom, notably, has seen its affiliate revenue decline 7% over the past year. Part of its plan to get that number moving in the right direction involved working with digital over-the-top distributors to get its channels in more skinny bundles.
The biggest losers
One way to combat subscriber churn is to stagger new seasons. Netflix, for example, releases a new original series every few weeks. CBSquickly copied the strategy after launching over-the-top services for CBS and Showtime. Many cable networks could stagger their seasons to reduce the amount of churn they experience.
But a couple media companies don't have full control over their season cycles. 21st Century Fox (NASDAQ: FOXA) and Disney (NYSE: DIS) are heavily reliant on sports programming. Fox operates regional sports networks carrying MLB, NBA, and NHL games as well as the national Fox Sports networks. Disney operates ESPN and its family of channels.
That puts added pressure on Fox and Disney to get their most valuable networks in the lowest tiers of digital distributors. That may mean concessions on pricing, rate increases, or advertising inventory. One way or another, they'll see pressure on revenue and operating profit, as most of their sports content contracts are locked in for years to come.
Find out why Walt Disney is one of the 10 best stocks to buy now
Motley Fool co-founders Tom and David Gardner have spent more than a decade beating the market. (In fact, the newsletter they run, Motley Fool Stock Advisor, has tripled the market!*)
Tom and David just revealed their ten top stock picks for investors to buy right now. Walt Disney is on the list -- but there are nine others you may be overlooking.
Click here to get access to the full list!
*Stock Advisor returns as of November 7, 2016
https://cms.fool.com/dashboard/edit/421470/
Adam Levy has no position in any stocks mentioned. The Motley Fool owns shares of and recommends Netflix and Walt Disney. Try any of our Foolish newsletter services free for 30 days. We Fools may not all hold the same opinions, but we all believe that considering a diverse range of insights makes us better investors. The Motley Fool has a disclosure policy.