Stocks Turn Higher As Investors Try To Shake Specter Of Brexit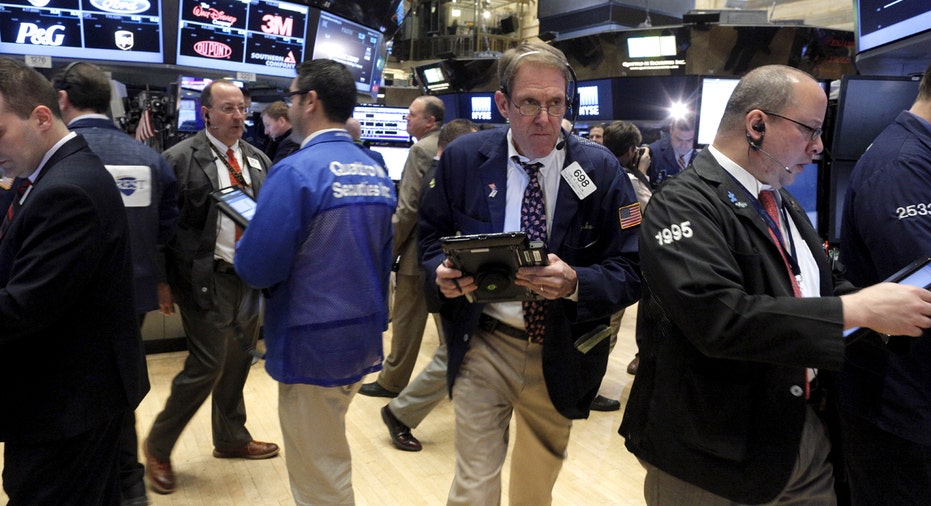 U.S. stocks erased early losses Wednesday and turned higher as investors attempted to shake off worries tied to the U.K.'s vote late last month to exit the European Union.
A stronger-than-expected report on nonmanufacturing activity helped boost confidence, while minutes from the Federal Reserve's most recent policy meeting showed the majority of policy makers were in favor of keeping rates on hold.
"It is hard to explain a reversal in sentiment from this morning. But the modest move higher is insignificant considering the S&P 500 has been stuck between 2,070-2,100 for a year and a half now," said Michael Antonelli, equity sales trader at Robert W. Baird & Co.
Earlier sentiment was colored by a flight to assets perceived as safe, like gold and Treasurys, as the market wrestles with the long-term fallout from the U.K.'s decision to exit the EU.
Treasury yields dipped to record lows in early trade but since then rebounded as the demand for safe assets waned.
The yield on the 10-year Treasurys rebounded from an all-time of 1.332% to yield at 1.380% on Wednesday.
"The news now is that Brexit is really happening and politicians in the U.K. will go through with it. Yet it is still unclear what impact it will have on the U.K. and eurozone economy. That uncertainty is keeping markets from breaking out to new highs," said Maris Ogg, president at Tower Bridge Advisors.
The S&P 500 index was up 4 points, or 0.2%, to 2,092. Gains in health-care and tech led the large-cap gauge's winning sectors. Sectors considered defensive, such as telecoms and utilities, were leading the losses. The Dow Jones Industrial Average was up 35 points, or 0.2%, at 17,873.
The bounce higher was most pronounced in the tech-heavy Nasdaq Composite Index , which was up 20 points, or 0.4%, to 4,843. The rally in Nasdaq was led by sharp gains in biotechnology shares. The iShares Nasdaq Biotechnology ETF (IBB) was up 1.7%.
Economic news:The minutes of the Fed's June 14-15 policy meeting reveal that dovish policy makers are growing more vocal, pushing a divided committee firmly on the side of taking no action.
"Fed minutes are purely an academic interest, because the meeting was happening with an anticipation that Brexit would not happen. It is difficult to see how the Fed would raise interest rates when everywhere else rates are low or negative," said Tom Siomades, head of Hartford Funds Investment Consulting Group.
Fed Gov. Daniel Tarullo speaking at a WSJ Pro event in Washington said markets have only seen the 'first chapter' of Brexit effect on U.S. economy. Tarullo backs waiting on interest-rate hike until inflation gets nearer to 2% target, saying the U.S. economy isn't running hot.
The U.S. trade deficit in May widened by 10% to a three-month high of $41.1 billion, thanks to higher oil prices and stronger demand by consumers for imports such as cellphones, sneakers and home furnishings.
The Institute for Supply Management's service sector index jumped to 56.5% in June, a much stronger reading than expected and a sign the economy may have pushed past the rough patch it hit in May.
Movers and shakers: Shares of American Airlines Group, Inc.(AAL) and United Continental Holding(UAL) fell sharply after Credit Suisse downgraded the stocks. American was downgraded to underperform from outperform and fell 4.3%, while United was cut to neutral from outperform, leaving shares down 3.9%.
Shares of Netflix Inc.(NFLX) fell 2.5% after Jefferies downgraded the stock to underperform on slowing U.S. growth.
Shares of Walgreens Boots Alliance Inc.(WBA) slipped 1.5% after the drugstore chain reported revenue that fell short of Wall Street forecasts.
Shares of Nortek Inc.(NTK) soared 38% after U.K. turnaround specialist Melrose Industries PLC(MRO.LN) said it is buying the Nasdaq-listed manufacturer of cooling and heating systems in a $1.44 billion cash deal. Melrose soared 34% in London.
Tesla Motors Inc.(TSLA) dropped 1.5%, building on a 1.2% loss from Tuesday when the car maker broke a five-session winning streak after disappointing sales figures. Pacific Crest Wednesday cut the price target on Tesla to $190 from $212.
Other markets: European stocks dropped for a third straight day, with the Stoxx Europe 600 index down 1.7%. Asian markets closed mostly lower.
Gold surged to a two-year high, amid the continued rush to safety. Oil prices dropped again, as the dollar inched higher.
Other perceived havens were drawing bids earlier in the session. The yen rose on Wednesday, with the dollar buying Yen100.46, down from Yen101.74 late Tuesday in New York.
Meanwhile, the pound continued its decline and dropped to a fresh post-Brexit low of $1.2798. Sterling, however, trimmed gains in early morning trade, fetching $1.2967.
By Anora Mahmudova and Sara Sjolin, MarketWatch