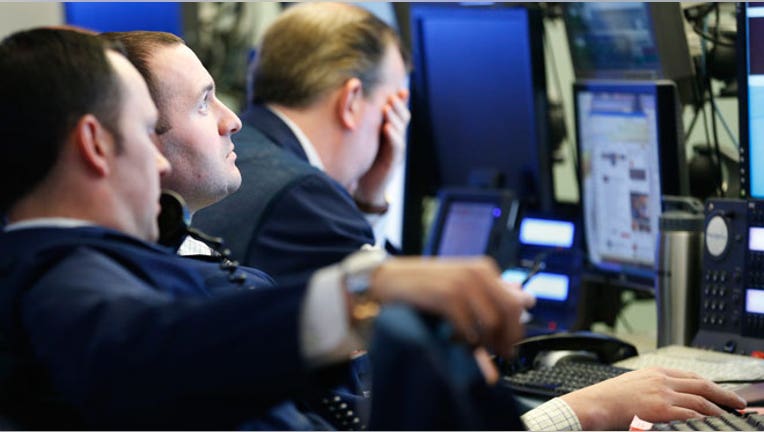 FOX Business: Capitalism Lives Here
Wall Street skidded lower in a volatile, broad-based retreat Friday after an impasse on Capitol Hill dashed hopes for a prompt agreement in fiscal cliff talks.
Today's Markets
As of 1:50 p.m. ET, the Dow Jones Industrial Average dropped 139 points, or 1.1%, to 13172, the S&P 500 skidded lower by 15.5 points, or 1.1%, to 1428 and the Nasdaq Composite sold off by 38.2 points, or 1.3%, to 3012.
Every major sector was stuck deep in the ride, led by financial, technology and consumer discretionary stocks. The VIX, seen as Wall Street's fear gauge and a measure of equity volatility, shot up nearly 11%. Meanwhile, traders sought out the safe havens, like U.S. Treasury bonds.
Late Thursday, a GOP-sponsored bill aimed at staving off the across-the-board tax hikes associated with the fiscal cliff failed to garner enough support for a vote in the Republican-controlled House of Representatives. In a last minute change of direction, House Speaker John Boehner issued a statement saying the vote wouldn't take place, calling on President Barack Obama and Senate Majority Leader Harry Reid to offer a solution.
The plan was widely seen as a backup plan, so its failure rekindled concerns that the U.S. may hurtle off the full fiscal cliff come next year. That would mean painful spending cuts and tax hikes that are likely to pound the already fragile economy would go into effect.
Analysts at Nomura said in a note to clients that "it seems unlikely that any legislation to address the main fiscal cliff policies will be passed before the end of the year." The investment bank said it expects talks to carry into next year.
"It appears as though the Street is finally getting to a point of exhaustion in dealing with Washington's complete and utter incompetence," Peter Kenny, a managing director at Knight Capital wrote in an e-mail following the vote.
With an abbreviated week next week and many traders having closed out positions for the year, volume was expected to be light on the day. This often leads to a situation of higher-than-usual volatility.
Energy futures came under selling pressure. The benchmark crude contract fell $1.78, or 2%, to $88.36 a barrel. Wholesale New York Harbor gasoline slipped 0.69% to $2.735 a gallon.
Safe havens performed relatively strongly. Gold climbed $3.10, or 0.19%, to $1,649 a troy ounce. The yield on the U.S. 10-year Treasury slipped to 1.772% from 1.799% as traders bid up the asset.
There were several economic reports on tap on the day.
The Commerce Department said orders for long-lasting goods climbed 0.7% in November from October, a bigger gain than the 0.2% economists expected. Excluding the transportation component, orders jumped 1.6%, topping estimates of a 0.2% decline.
A separate report from Commerce said consumer spending edged up 0.4% in November from October, a slightly bigger increase than the 0.3% economists forecast. Personal income climbed 0.6%, its biggest increase since February, and also higher than the 0.3% expected.
Consumer sentiment dropped to 72.9 in late December from 74.5 earlier in the month, according to a survey from Reuters and the University of Michigan. Economists expected a reading of 74.7.
The measure is especially important during the key holiday shopping season.
Foreign Markets
The Euro Stoxx 50 fell 0.45% to 2646, the English FTSE 100 dipped 0.64% to 5920 and the German DAX dropped 0.6% to 7626.
In Asia, the Japanese Nikkei 225 sold off by 1% to 9940 and the Chinese Hang Seng slumped 0.68% to 22506.