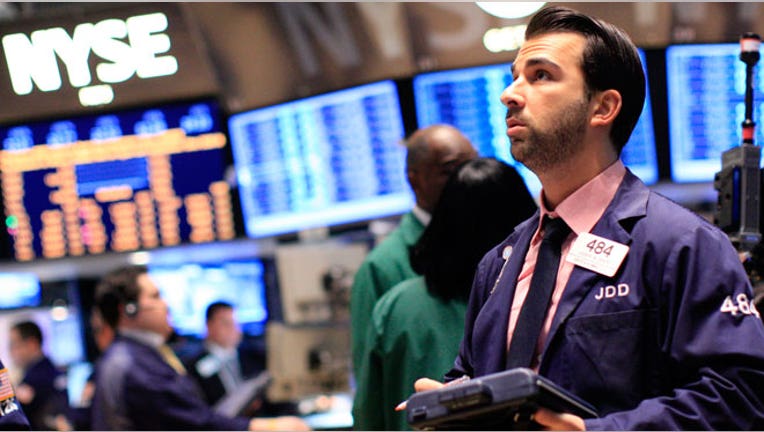 FOX Business: Capitalism Lives Here
Burgeoning malaise over a stalemate in Congress over ending a nearly week-long government shutdown and boosting the debt limit sent stocks sliding into the red.
Today's Markets
As of 2:25 p.m. ET, the Dow Jones Industrial Average slid 82.2 points, or 0.55%, to 14991, the S&P 500 dropped 7 points, or 0.41%, to 1683 and the Nasdaq Composite skidded 20.5 points, or 0.54%, to 3787.
Congress has spooked Wall Street.
The legislative body triggered the first partial government shutdown since 1996 last Tuesday amid deep divides over the Affordable Care Act -- President Barack Obama's signature health-care law. Almost a week has passed, and little has happened. Meanwhile, the October 17 deadline to raise the debt ceiling and stave off a caustic default on American obligations is right on the horizon.
"The Sunday political talk shows revealed nothing new and that in turn is what markets are worried about," Peter Boockvar, chief market strategist at The Lindsey Group, wrote in an email to clients.
Adding to gloom, economists are growing increasingly nervous about the shutdown materially affecting the U.S. economy. Economists at Bank of America Merrill Lynch slashed their third and fourth quarter gross domestic product forecasts late Friday, and said they expect the shutdown to last at least two weeks.
"This is just the beginning as Congress and the President hold their stubborn positions and refuse to even look at each other, yet alone talk," Todd Schoenberger, managing partner at LandColt Capital said. "Main Street need to either stay in cash or look to gold as investments until this childish nonsense ends."
Still, many Wall Street traders were holding out hope that the weakness will be short-lived. Dan Greenhaus, chief global strategist at BTIG, said the "overwhelming consensus remains that a solution will be found in the eleventh hour."
Michael Block, chief strategist at Rhino Trading Partners, echoed that view, saying it "will take one comment about this getting done eventually and we rally back to unchanged."
Looking at fixed income markets, the yield on the 10-year Treasury bond fell 0.024 percentage point to 2.624% as traders bid up the safe-haven asset.  Commodities were lightly changed. The benchmark U.S. crude oil contract slid 92 cents, or 0.89%, to $102.92 a barrel. Wholesale New York Harbor gasoline dropped 0.59% to $2.592 a gallon. Gold rose $8.90, or 0.68%, to $1,319 a troy ounce.
The economic docket was light on the day. The Federal Reserve said consumer credit jumped by $13.6 billion in August -- higher than expectations of a $12 billion increase.
Foreign Markets
The Euro Stoxx 50 fell 0.85% to 2904, the English FTSE 100 dipped 0.77% to 6404 and the German DAX stumbled 0.92% to 8543.
In Asia, the Japanese Nikkei 225 sold off by 1.2% to 13853 and the Chinese Hang Seng dropped 0.71% to 22974.