Stocks to Watch in Publishing: Gannett Co Inc. and The New York Times Co.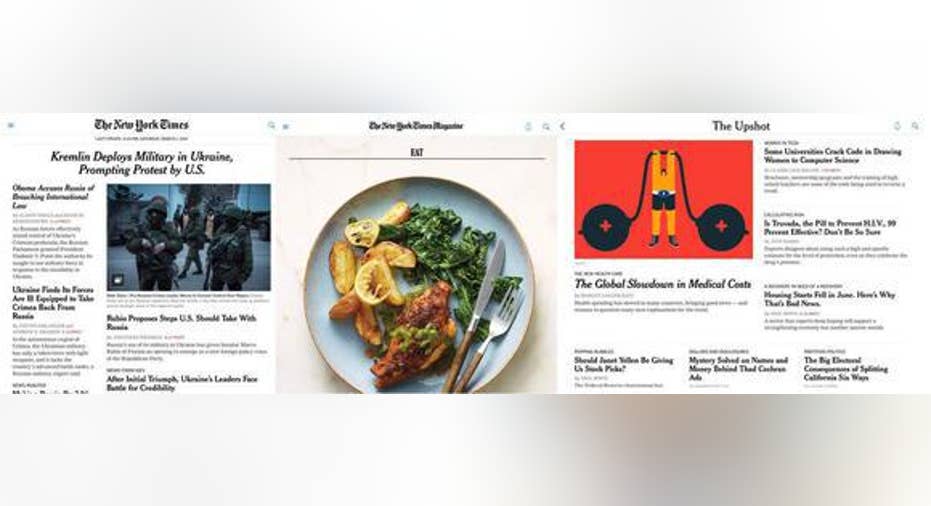 Newspaper publishing is often considered a dying industry. Research firm PWC claims that worldwide newspaper revenues declined almost 1% annually last year, and will continue falling through 2019. But despite that dire forecast, investors should keep an eye on Gannett , which is aggressively consolidating the domestic newspaper market, and The New York Times , which staged a surprising digital recovery under a new CEO.
Source: Pixabay.
The consolidator: GannettGannett, which owns USA Today and various other newspapers, split into two companies in June. Tegna retained Gannett's higher-growth broadcasting anddigital businesses, while the newly spun off Gannett retained the slower-growth publishing business.
Before the spin-off was completed, Gannett bought the remaining 59.4% stake of the Texas-New Mexico Newspapers Partnership that it didn't own from Digital First Media. That acquisition, which added 11 regional newspapers to its portfolio, gave Gannett a digital, mobile, and print presence across a total of 92 local U.S. markets, 16 markets in the U.K., and Guam.
In October, Gannett announced that it would acquire Journal Media Group , which owns the Milwaukee Journal Sentinel, The Commercial Appeal of Memphis, 13 other daily newspapers, and other publications across 14 U.S. markets. The $280 million deal, which will be mostly funded by a $500 million credit facility, is expected to close in the first quarter of 2016. Gannett expects the acquisition to add $450 million to its annual revenue, $60 million to its adjusted EBITDA, and $25 million in cost-saving synergies by the second year. Analysts currently expect Gannett to report $2.9 billion in 2015 revenue.
Last quarter, Gannett's revenues fell 8.6% annually to $701.2 million, and missed estimates by $25.4 million. Excluding reporting changes for digital ad products, divested businesses, and currency impacts, revenue fell 4.5%. Advertising revenue fell 13.1% to $384.1 million as circulation revenue slipped 3.4% to $265.2 million. But despite those declines, its adjusted EPS of $0.43 (down from $0.49 a year earlier) topped estimates by six cents a share.
During the quarter, digital-only subscriptions rose 37% annually and generated $159.9 million in revenues. Gannett hopes that stronger digital growth in advertising and subscriptions will eventually offset its print revenue declines.
The survivor: The New York TimesMany industry watchers thought that The New York Times couldn't survive in a digital world. Between fiscal 2005 and 2011, the Times' annual revenue was cut in half from $3.37 billion to $1.55 billion. To reverse that trend, the Times aggressively slimmed down and streamlined its business over the past few years.
In 2011, it sold off its Regional Media Group, which included 16 regional newspapers and other print publications, to Halifax Media Holdings for $143 million. In 2013, it sold the Boston Globe, which it originally purchased for $1.1 billion, for a mere $70 million. It also sold off numerous local TV and radio stations, laid off employees, and hired new execs to strengthen its digital and mobile efforts.
CEO Mark Thompson, who took over the top job in 2012, believes that the Times can double its annual digital revenues to "around $800 million by 2020", which would be equivalent to about half of its projected sales for fiscal 2016. Digital revenues only account for about athird ofThe Times' top line today. Last quarter, the company added 51,000 digital subscribers for a total of 1.04 million subscribers, which represented its biggest quarterly gain since the fourth quarter of 2012.
Looking ahead, the Times plans to expand international readership, strengthen video initiatives, and"reimagine" its print business to reach new readers. Based on this positive progress, analysts believe that the company's annual revenue can stabilize at around $1.57 billion in fiscal 2016 and 2017 instead of continuing its year-over-year declines.
The NY Times' iPad app. Source: iTunes.
Last quarter, The Times' revenue rose 0.7% annually to $367.4 million and beat estimates by $2.7 million. Circulation revenue inched up 1.1% to $209.1 million, but advertising revenue slipped 2.1% to $135.4 million. On the bottom line, adjusted earnings tripled to $0.09 per share, exceeding expectations by three cents.
Watch these stocks, but don't buy them yetThe new Gannett and The New York Times are both key publishing stocks to watch, but neither one is a compelling buy yet. Gannett's trailing P/E of 10 looks cheap compared to the industry average of 14 for the newspaper publishing industry, but its circulation and advertising revenues are still headed in the wrong direction. Meanwhile, The New York Times looks like a compelling turnaround story, but its P/E of 50 looks a bit too pricey.
The article Stocks to Watch in Publishing: Gannett Co Inc. and The New York Times Co. originally appeared on Fool.com.
Leo Sun has no position in any stocks mentioned. The Motley Fool owns shares of Tegna. Try any of our Foolish newsletter services free for 30 days. We Fools may not all hold the same opinions, but we all believe that considering a diverse range of insights makes us better investors. The Motley Fool has a disclosure policy.
Copyright 1995 - 2015 The Motley Fool, LLC. All rights reserved. The Motley Fool has a disclosure policy.