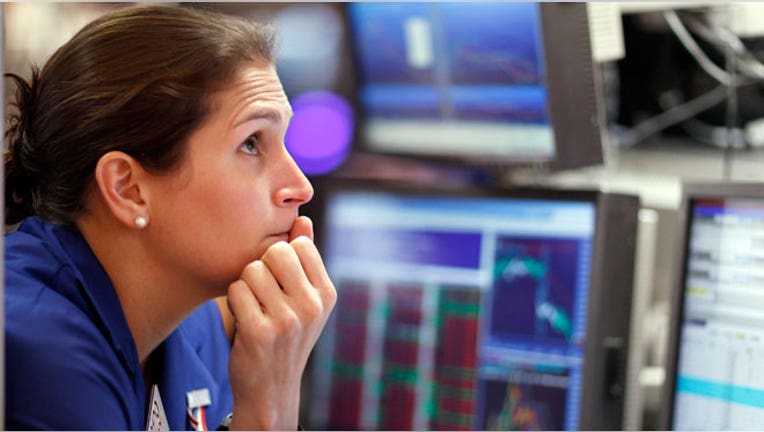 FOX Business: Capitalism Lives Here
Wall Street tilted slightly lower Tuesday as traders remained anxious over apparently stalled budget talks and received little in the way of other guidance.
Today's Markets
The Dow Jones Industrial Average fell 13.8 points, or 0.11%, to 12952, the S&P 500 dipped 2.4 points, or 0.17%, to 1407 and the Nasdaq Composite slumped 5.5 points, or 0.18%, to 2997. The FOX 50 slipped 2.7 points to 1040.
The month got off to a gloomy start Monday after a disappointing manufacturing report added yet another layer of doubt to the shaky U.S. economic and political situation. Still, the S&P 500 is looking to close the year out with a 11.9% annual gain.
The markets were broadly mixed, telecommunications and utility stocks fared the worst. Then, on the other end of the spectrum, industrial, health-care and materials names outperformed.
With the economic calendar barren on the day, traders are once again setting their sights on Washington, D.C. There, lawmakers continue quibbling over a budget deal that averts the looming fiscal cliff -- tax hikes and spending cuts that go into effect in January. If the cliff isn't avoided, the U.S. economy is expected to take a powerful punch, potentially sizeable enough to create a minor double-dip recession.
Republican leaders in Congress rejected President Barack Obama's budget plan Monday, calling for a new one with $2.2 trillion in savings over the next decade. The new plan includes $800 billion in new tax revenue, $600 billion in savings from health-care programs (like Medicare), $300 billion in other military and domestic spending cuts and other changes aimed at lowering the overall budget.
However, the White House almost immediately rejected the new plan.
"The (proposal) does not meet the test of balance," White House Communications Director Dan Pfeiffer said, according to Fox News. "While the president is willing to compromise to get a significant, balanced deal and believes that compromise is readily available to Congress, he is not willing to compromise on the principles of fairness and balance."
In corporate news, Baxter International (NYSE:BAX) revealed plans to buy Gambro, a privately held Swedish dialysis firm, for $4 billion. Baxter hopes to solidify its renal business in the move.
Energy futures were solidly in the red. The benchmark crude contract dipped 59 cents, or 0.66%, to $88.50 a barrel. Wholesale New York Harbor gasoline dropped 1.4% to $2.689 a gallon. In metals, gold slumped $25.30, or 1.54%, to $1,696 a troy ounce.
Foreign Markets
The Euro Stoxx 50 rose 0.62% to 2598, the English FTSE 100 was flat at 5871 and the German DAX climbed 0.25% to 7453.
In Asia, the Japanese Nikkei 225 slipped 0.27% to 9432 and the Chinese Hang Seng edged up by 0.15% to 21800.