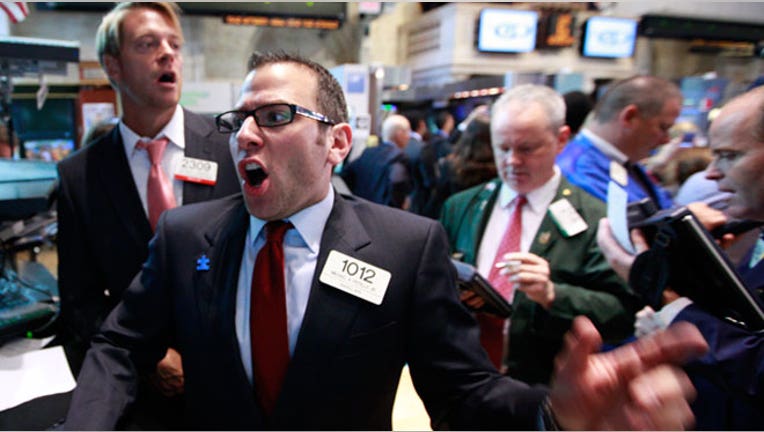 FOX Business: Capitalism Lives Here
Wall Street roared higher Monday in a stark contrast to losses seen last week as traders cheered progress on negotiating a budget deal in Washington and upbeat reports on the housing market.
Today's Markets
The Dow Jones Industrial Average surged 208 points, or 1.7%, to 12796, the S&P 500 rallied 27 points, or 2%, to 1387 and the Nasdaq Composite surged 62.9 points, or 2.2%, to 2916.
It was the best day for the Dow and S&P 500 since September, and the best for the Nasdaq since July. Every S&P 500 sector ended in the green besides utilities. The best performers were technology, materials, energy, telecommunications, consumer discretionary and industrial stocks.
Volatility plummeted 7.3% as tracked by the CBOE's VIX, frequently referred to as Wall Street's fear gauge. Traders also ditched safe-haven U.S. Treasury bonds, pushing the yield on the 10-year up 0.038-percentage point to 1.611%.
Fiscal Hopes Abound
The markets took a beating last week, with the Dow tumbling 1.8% in its fourth-straight weekly retreat. Headlines concerning the looming U.S. fiscal cliff have been garnering much attention in recent weeks.
On Friday, President Barack Obama met with lawmakers on both sides of the aisle. The conversations were constructive, according to statements by the White House and House of Representatives Speaker John Boehner, the leading Republican in Congress. Over the weekend, the president held calls with a wide range of business leaders, including J.P. Morgan Chase's (NYSE:JPM) Jamie Dimon and Apple's (NASDAQ:AAPL) Tim Cook.
"The late-day rally in the U.S. on Friday on hopes that Republicans and Democrats may reach a compromise ahead of the fiscal cliff has carried market sentiment," analysts at Nomura wrote in a note to clients.
The fiscal cliff, which is a painful dose of automatic spending cuts and tax hikes that go into effect at the beginning of next year, represents a significant risk to the economy, according to many economists. However, a sharply divided Congress has put the passage of measures to avert the cliff in jeopardy.
'Encouraging' Housing Data
On the economic front, existing home sales rose 2.1% in October from September to a 4.79-million unit annualized rate, coming in slightly ahead of estimates of a 4.75-million unit annualized rate, according to the National Association of Realtors. The median sale price for an existing home has lurched higher by 11.1% to $178,600 from the year before.
"Altogether, the report is encouraging," Barclay's Michael Gapen wrote in a note to clients. "Our view is that housing is in a recovery phase, but one that will be restrained by the availability of credit, the pace of improvement in labor market conditions, and the overhang from distressed and foreclosed properties."
The housing market that was pounded during the financial crisis has been showing fresh signs of life in recent months, although economists warn the rebound seen of late comes from very depressed levels.
Commodities Rally; Mideast Tension Swells
The conflict between Israel and Palestine continued heating up over the weekend, with both sides repeatedly striking each other. The growing specter of war in the Middle East has put upward pressure on energy markets that tend to be particularly vulnerable to geopolitical uncertainty. The benchmark oil contract traded in New York climbed $2.36, or 2.7%, to $89.28 a barrel. Wholesale New York Harbor gasoline rose 1.6% to $2.755 a gallon.
Gold advanced by $19.70, or 1.2%, to $1,734 a troy ounce.
In corporate news, Intel (NASDAQ:INTC) President and Chief Executive Officer Paul Otellini will retire in May, the chipmaker said. Standard & Poor's upgraded Google's (NASDAQ:GOOG) credit rating to 'AA' from 'AA-' giving shares a boost.
Lowe's (NYSE:LOW) posted better-than-expected results on the top and bottom lines. HSBC (NYSE:HBC) said it was in discussions to sell its stake in Ping An Insurance, China's No. 2 life insurer. According to news reports, the deal could bring in $9.3 billion.
Cisco (NASDAQ:CSCO) unveiled plans to scoop up cloud networking startup Meraki for $1.2 billion in cash.
Foreign Markets
The Euro Stoxx 50 rallied 2.8% to 2495, the English FTSE 100 jumped 2.4% to 5738 and the German DAX zipped higher by 2.5% to 7124.
In Asia, the Japanese Nikkei 225 advanced 1.4% to 9153 and the Chinese Hang Seng edged up by 0.49% to 21262.