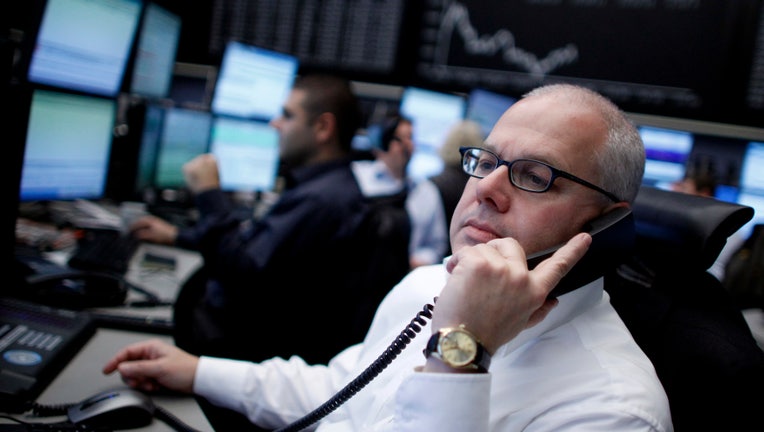 FOX Business: Capitalism Lives Here
The markets shook off heavy losses in late-day rebound Monday, closing with mild gains. The major market averages also snapped a two-day slump.
Today's Markets
The Dow Jones Industrial Average rose 2.4 points, or 0.02%, to 13346, the S&P 500 gained 0.62 point, or 0.04%, to 1434 and the Nasdaq Composite climbed 11.3 points, or 0.38%, to 3017.
The Dow was down as much as 108 points at the lows of the session, but managed to eke out a slight gain by the end of trading. Meanwhile, the Nasdaq posted a fairly solid performance as the technology sector outperformed.
Traders focused closely on corporate news. Caterpillar (NYSE:CAT) revealed mixed quarterly results ahead of the opening bell.
The world's biggest heavy-machinery maker, posted a third-quarter profit of $2.54 a share, beating estimates of $2.22 a share. Revenues came in at $16.45 billion, shy of estimates of $16.77 billion. The Dow component also slashed its full-year profit forecast to a range of $9 to $9.25 a share from $9.60. Analysts on average expected 2012 profits of $9.40 a share.
Quarterly results from Yahoo! (NASDAQ:YHOO), which is undergoing a significant restructuring under new chief executive Marissa Mayer, and Texas Instruments (NYSE:TXN) are on tap for after the closing bell.
Oil giant BP (NYSE:BP) agreed to sell its 50% stake in TNK-BP to Rosneft, an oil company that is majority owned by Russia's government, for $17.1 billion in cash plus shares. A group of businessmen that owns the other 50% also agreed to sell their half. The deal represents a shift to greater public ownership in Russia of its oil output.
On the European front, elections in Spain showed mixed results. Prime Minister Mariano Rajoy's Popular Party held control of the Galicia region, but fell behind two other parties in Basque Country. Rajoy has been working to cut the country's enormous public debt through various programs, including unpopular austerity measures. Analysts generally saw the outcome as in line with expectations.
The economic calendar is empty on Monday but is set to pick up later in the week. Traders will get reports on U.S. economic output, manufacturing activity in China and the monetary-policy statement from the Federal Reserve's two-day meeting.
Oil prices pushed higher. The benchmark crude oil contract traded in New York slid $1.32, or 1.5%, to $88.73 a barrel. Wholesale New York Harbor gasoline sold off by 1.8% to $2.648 a gallon.
In metals, gold advanced $2.30, or 0.13%, to $1,726 a troy ounce.
Foreign Markets
The Euro Stoxx 50 fell 0.44% to 2531, the English FTSE 100 drifted lower by 0.22% to 5883 and the German DAX slid 0.71% to 7328.
In Asia, the Japanese Nikkei 225 rose 0.09% to 9011 and the Chinese Hang Seng climbed 0.68% to 21698.