Stocks Slump as Euro Fears Mount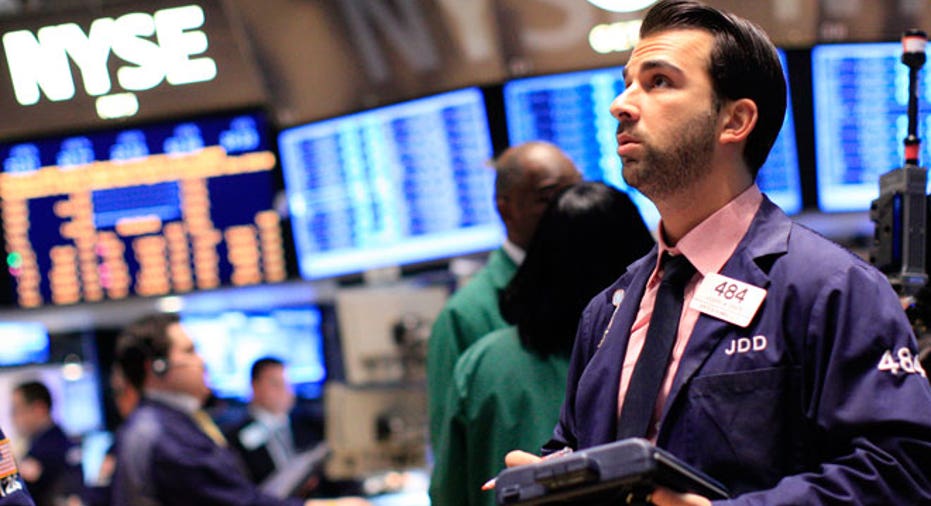 FOX Business: Capitalism Lives Here
Wall Street ended solidly in the red after a choppy trading session as traders made sense of a deluge of headlines from embattled Cyprus.
Today's Markets
The Dow Jones Industrial Average fell 61.1 points, or 0.43%, to 14552, the S&P 500 slid 8.6 points, or 0.55%, to 1552 and the Nasdaq Composite slumped 11.5 points, or 0.35%, to 3238.
Wall Street's seemingly untouchable rally showed signs of cracking Monday, with sentiment taking a turn for the worse across many global trading desks.
In fact, Goldman Sachs issued a note to clients saying it had upped its year-end forecast for the S&P 500 to 1625 from 1575. The investment banking giant also said yields on 10-year Treasury bonds will move up half a percentage point to 2.5% by the end of the year, and another half point by the end of next year as more money moves out of the safest asset classes.
Cyprus Woes Weigh on Global Markets
In an unprecedented, and potentially caustic move, eurozone finance chiefs called on Cyprus to fund a roughly $13 billion bailout by tapping the bank accounts of every Cypriot. Specifically, the plan called for levying 6.75% of all accounts up to $129,000 and 9.9% for those above that threshold. Banks in Cyprus were closed for a holiday Monday, but the closure is expected to be extended through Wednesday, according to multiple media reports.
President Nicos Anastasiades called on Cyprus' parliament to push the plan through, lest, the country's two biggest banks could be at risk of toppling. There is no single party with control in the Cypriot parliament, and it remained unclear whether Anastasiades would be able to cobble together the votes. In fact, a vote initially scheduled for Sunday has been pushed back twice, most recently until Tuesday.
The move threatened to spark a run Cypriot banks and once again destabilize the 17-member eurozone currency bloc. Indeed, it almost instantly ricocheted into global financial markets.
The euro slid 0.93% to $1.2955 in recent trading, while the Euro Stoxx 50, which tracks eurozone blue chips, dropped 1.7%. The yields on Italian and Spanish debt jumped as traders piled into safe-haven bunds and Treasury bonds.
"Simply put, the Cyprus news is a disaster," Todd Schoenberger, managing partner at LandColt Capital wrote in an email. "Topics such as 'debt,' 'sovereign funds' and 'bailouts' will be part of our vernacular on Wall Street" again.
Still, analysts at Barclays wrote in a note to clients over the weekend that the potential contagion of the situation in Cyprus to the banking systems of other eurozone nations, like Greece, would be "limited" in scale.
Can Wall Street's Rally be Stopped?
U.S. markets have been in rally mode this year, with the Dow hitting its record high just weeks ago, and the broader S&P coming within points of its peak last week. Analysts have attributed the rally, in part, to moves last year by the European Central Bank to ease the eurozone's financial crisis.
Dan Greenhaus, chief global strategist at BTIG, wrote in an email that the news about Cyprus could "shake what has been unshakable confidence in ever higher prices."
Both Schoenberger and Greenhaus noted that some market participants have been looking for an excuse to cash in on the big gains seen this year – and this could be one.
Elsewhere, energy futures were initially under pressure, but then oil bounced back. The benchmark U.S. oil contract rose 29 cents, or 0.31%, to $93.74 a barrel. Wholesale New York Harbor gasoline sold off 1.1% to $3.129 a gallon.
Gold advanced $12.00, or 0.75%, to $1,604 a troy ounce. The yield on the 10-year Treasury bond slumped 0.048-percentage point to 1.945% as traders bid up the safe-haven asset.